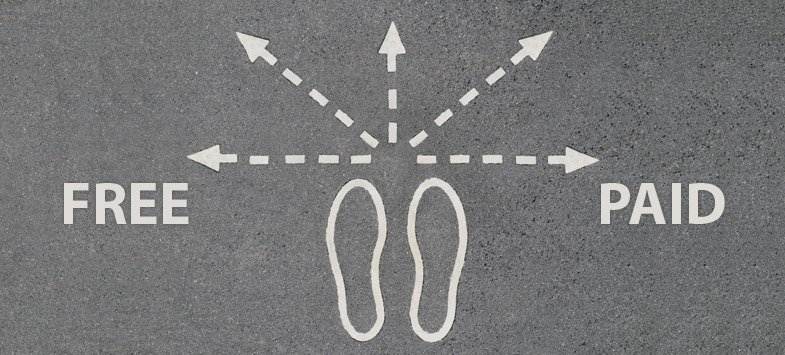 Free and paid VPN services both have their advantages. Most business users or serious personal users, however, will want to go with a paid option. Here are some of the pros and cons to consider about each.
Free VPN
The pros of free VPN services include:
The price, obviously
It's easy to quite using one service and start using another
You can use different services for different nations
No contracts
Remember that some free VPN services may not be what they seem and may, in fact, be vectors for viruses and malware. Some paid VPN providers offer small, free accounts as ways of promoting their services. These are usually the safest options for getting a free VPN services.
The cons of free VPN services include:
Limited bandwidth
No tech support
Software may contain adware or malware
No guarantee of availability when you log on
Slow service
Paid VPN
Paid VPN services are really the only options for serious users. The benefits, compared to free VPN services, are many. There are sometimes issues with understanding how the billing works. Remember: block accounts allow you to download based on a total amount of bandwidth and must be repurchased once you reach that limit; unlimited accounts allow you to download as much as you want and usually bill monthly.
Pros of paid VPN:
Reliable service
Usually much faster than free VPN
Tech support
Option to increase/decrease service plan
Reliable terms of use and privacy agreements
Software is usually updated and improved regularly
Generally many more server options than free services
Cons of paid VPN:
Cost
Switching providers may be difficult
Limited bandwidth accounts may not be enough for serious users
Which to Choose?
If you barely use a VPN and just need to have the option, you may be completely happy with a free account. One of the free accounts offered by promotions by the large VPN providers will be the safest bet. If they discontinue the account, just find another provider.
Paid accounts will be necessities for anyone who really needs to have a VPN connection available. If your business or your personal privacy requires that you have some sort of security, then you'll want to go the paid route. If you have issues with the service, you can call tech support. If you're not happy with the service at all, you can just sign up with someone else and see what they offer.