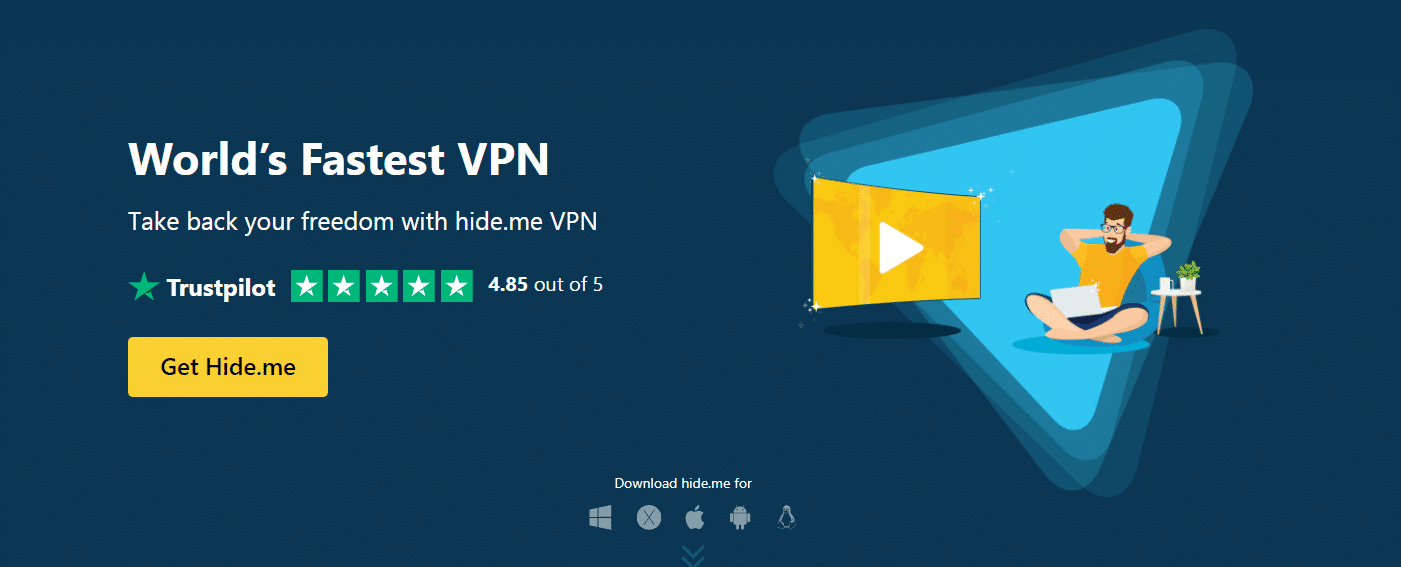 Affiliate Disclosure: Some links here may earn us a commission at no extra cost to you. We only endorse products we trust. We don't receive payment for positive reviews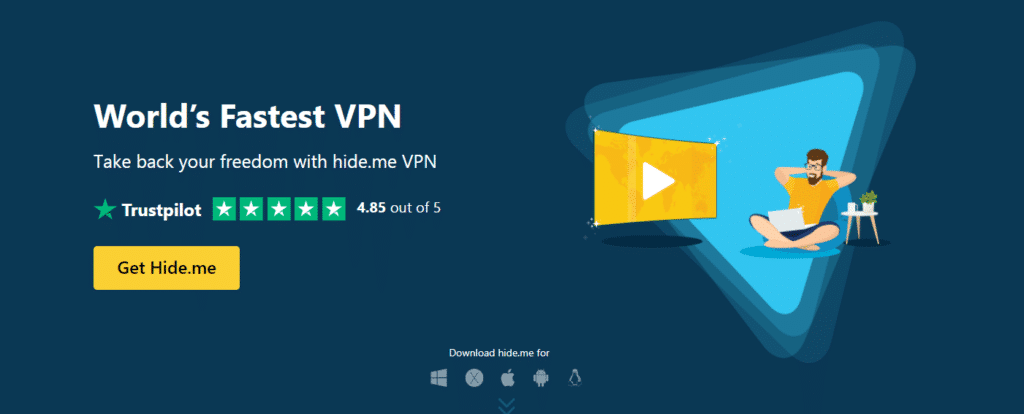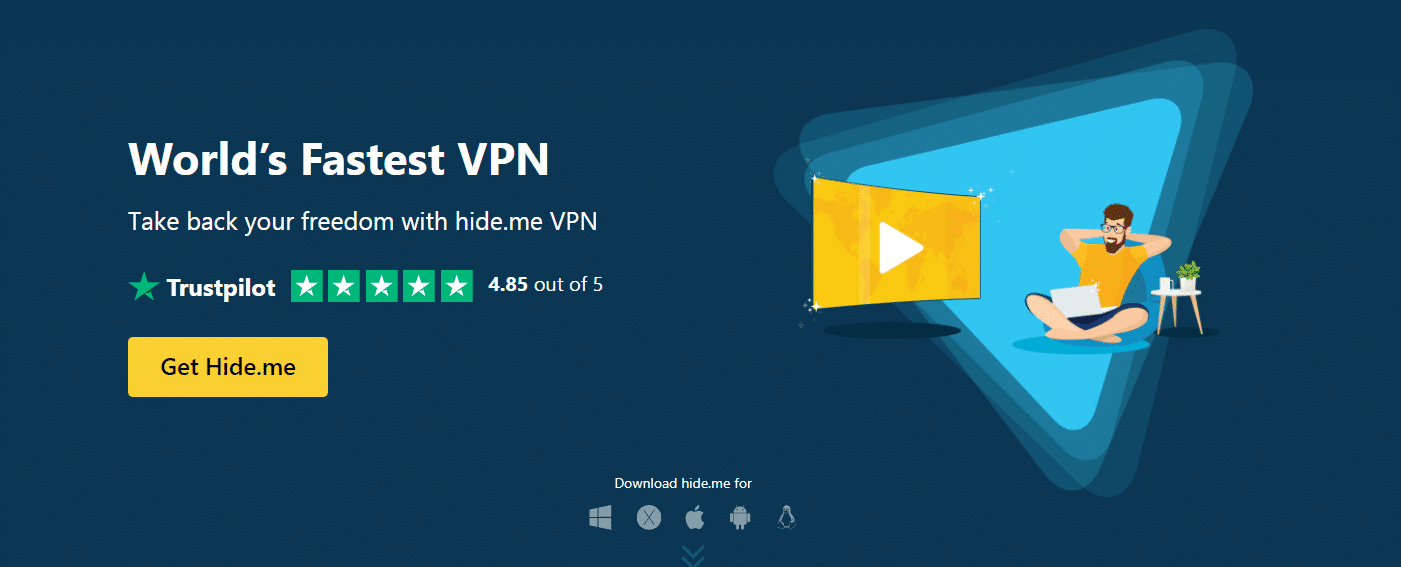 Are you confused whether it is worth paying for Hide.me or not? Are you confused whether Hide.me would work exactly how you want or expect it to? Do you want to do thorough research on Hide.me to know whether the services offered by Hidee.me would be enough for you?
If yes, you don't have to worry about anything, because we have already done all that research for you.
Here, in this article we will be talking about everything about a famous VPN service called hide.me.
We will discuss in detail how you can make sure that the service is good enough to pay for it. So, stay with us to the end.
You can try Hide.me VPN free for 30 days before you commit to a purchase. We know that many of our visitors are hesitant to buy without trying the service first, so hide.me made it easy for you to!
Hide.me VPN: The Basic Overview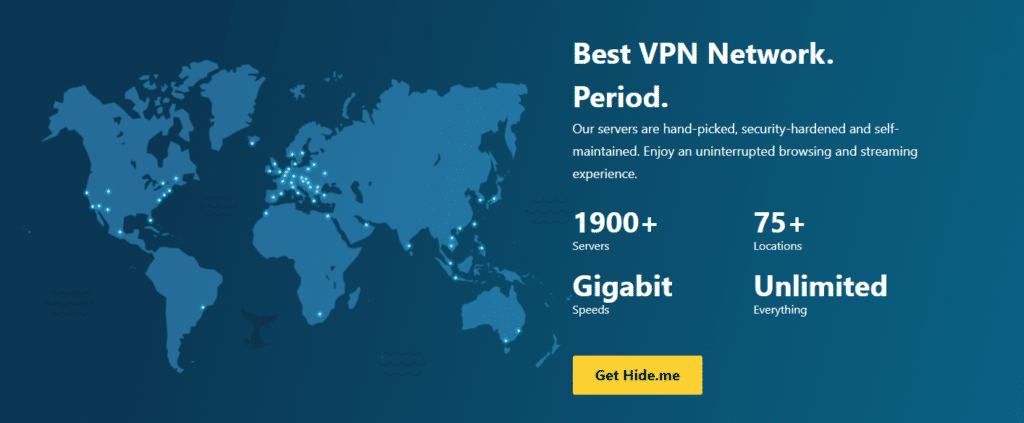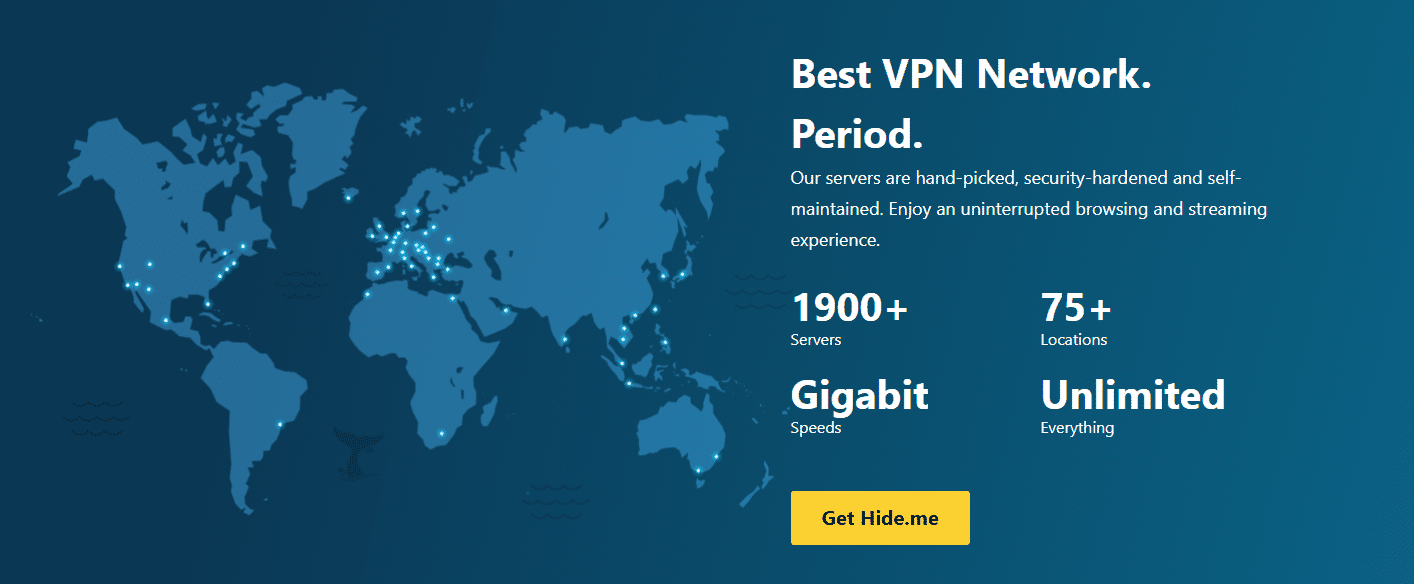 Hide.me is renowned for its transparency, security, and speed. They do not maintain logs, which makes their privacy statement very trustworthy.
Additionally, with applications available for virtually all the major platforms, they continue to be a popular choice for millions of people.
I'll go into more detail about this later in the review.
Additionally, it joined the i2Coalition, demonstrating its commitment for internet safety. The i2Coalition is an alliance of VPN providers dedicated to enhancing global digital and online security.
Additionally, it contributes to the development of ethical privacy standards for all VPN providers and ensures that the standards are implemented.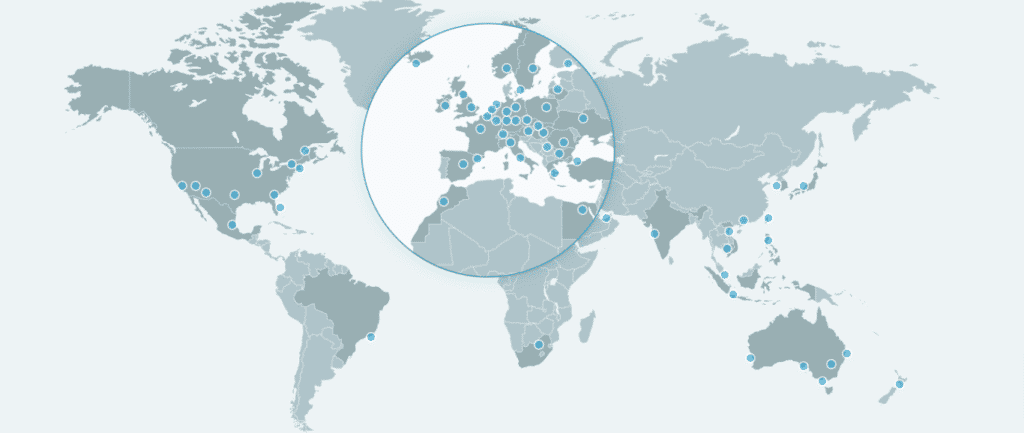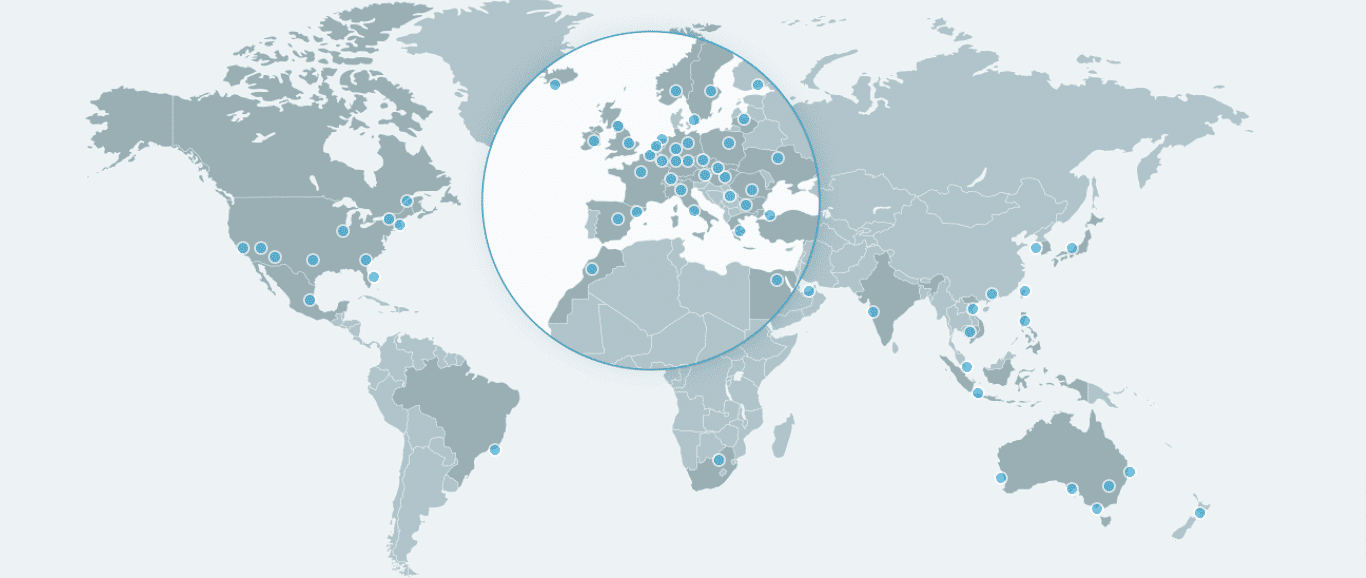 Hide.me has in total 1,900 servers in more than 75 locations throughout South America, North America, Europe, and Asia. The service supports a variety of protocols, including OpenVPN, IKEv2, as well as WireGuard, SSTP, and Softether.
For optimum security, they have a kill switch and AES-256 encryption. The service is compatible with a variety of platforms, including Amazon Fire Stick, BlackBerry, Firefox, Chrome, Windows Phone, Routers, macOS, iOS, Android, and supports up to ten concurrent connections.
It just upgraded its macOS software to Version 4, which adds support for more protocols like WireGuard, OpenVPN, and IKEv2. To use these features, you must have macOS 10.15 or later; an added benefit is that it already supports the future Apple versions of Big Sur and Apple Silicon.
The kill switch, complete stealth guard, split tunneling, and IPv6 support are all included in version 4. Additionally, it has a new auto-connect function.
Hide.me is another excellent option for streaming. Hide.me has added support for the United States streaming providers in response to customer concerns.
DAZN, HBO Now, Vue, PlayStation, Hulu, Amazon Prime, Disney+, and Netflix are all included. Additionally, it unblocks numerous European providers, such as RAI, ITV, and BBC iPlayer.
Why Choose Hide.me VPN Services?


Here are some of the reasons as to why you should choose Hide.me for VPN services –
24/7 customer support available
Affordable pricing plans with a 30-day money-back guarantee
No extra charges for unlimited server switching
Dynamic port forwarding
Complete protection from any sort of leaks that includes WebRTC, IPv6, IPv4, and DNS.
With the premium plan, you get 10 simultaneous logins
Compatible with Smart TVs, consoles, routers, Linux, iOS, Android, macOS, and Windows.
Unlimited data transfer with premium plans
Strong AES-256 bit encryption with 8192-bit keys
Multiple VPN protocols including SSTP, SoftEther, OpenVPN, and IKEv2
More than 1900 servers available in 75 locations across the world
99.99 % of uptime
Gigabyte speeds for surfing, viewing, streaming, and downloading
Privacy is guaranteed
Features and Benefits of Using Hide.me
Their Application Is Simple to Use:


Hide.me's UI is simple to use regardless of the device being used. On a PC or Mac, connecting to Hide.me is as simple as pressing a button. Additionally, switching server locations is a breeze.
Simply open the master list, browse through it until you locate the place you're searching for, and tap. You'll be connected in a matter of seconds.
Hide.me's mobile application is well-designed. As with the desktop version, you can instantly connect to a server with the click of a button.
They do an excellent job at minimizing the number of clicks (or taps) required to locate anything.
Users may browse for locations and servers, and customize the app's settings to meet their particular VPN requirements. So far, we've been pleased with Hide.me.
Compatible with torrenting:
Hide.me offers a dedicated proxy that is optimized for fast P2P connections, which are ideal for torrenting. Although the SOCKS5 proxy is not encrypted, it may be used in conjunction with a VPN to provide additional security.
Due to the fact that the majority of browsers and peer-to-peer torrent clients support SOCKS5, this proxy may serve as a kill switch for safe torrent downloading.
According to Hide.me, this proxy and VPS configuration may also result in much quicker P2P application transfer rates.
Additionally, a premium membership includes dynamic port forwarding. This enables P2P applications to establish a direct connection rather than through a centralized server environment.
Protection Against IP and DNS Leaks:


Hide.me goes above and above to secure your IP address. Once connected to the Hide.me VPN, the software will remove the default local gateway for your internet connection, rendering your IP totally unreachable.
Additionally, they block outbound IPv6 connections as well, if your ISP has given you one of these IP addresses.
When DNS queries are routed via your computer and network, rather than the VPN you're using, a DNS leak occurs.
With Hide.me, you may instantly configure a public DNS server to point to the Hide.me network interface. Thus, each DNS request is routed via this VPN network, and you remain invisible once again.


All of this sounds wonderful in principle, correct?
However, we do not end with theory. As a result, I put these assertions to the test. After connecting to a Hide.me server, I visited ipleak.net to see if my real IP address had been concealed.
I also used Perfect Privacy's Leaktest program to check for DNS leaks with this VPN and discovered none.
This demonstrates that Hide.me is speaking the truth when they claim to guard against IP and DNS leaks. Users may be confident that Hide.me has no IP or DNS leaks.
Integrated Internet Kill Switch:


A kill switch ensures that you remain secure even if the VPN connection is lost. You may consider this an optional feature, but here's why it's very necessary.
If your VPN connection is lost at any point, your computer will often attempt to reconnect automatically (through a recognized WiFi network or your mobile's cell data).
Generally, this is a positive development. You regain access to the internet without incident, allowing you to continue surfing, streaming, or downloading.
The issue is that all of your data — including physical location — is now public.
To prevent this from occurring, a kill switch disconnects your internet connection.
A Straightforward and Simple "No Log" Policy:


One of Hide.me's primary selling factors is its log-free policy. They will not record your browsing behavior, connection details, IP addresses, or any other personally identifiable information.
Unlike many other VPNs, which added no-log capabilities after they were launched, Hide.me was designed with no logs in mind from the start.
We also conducted thorough research on logging practices and discovered that although Hide.me really does not retain logs, certain other providers do.
However, do not take my word for it. Additionally, they are inspected on a regular basis by VPN security experts, including Leon Juranic, who has certified them as logless VPN.
Additional Security Features: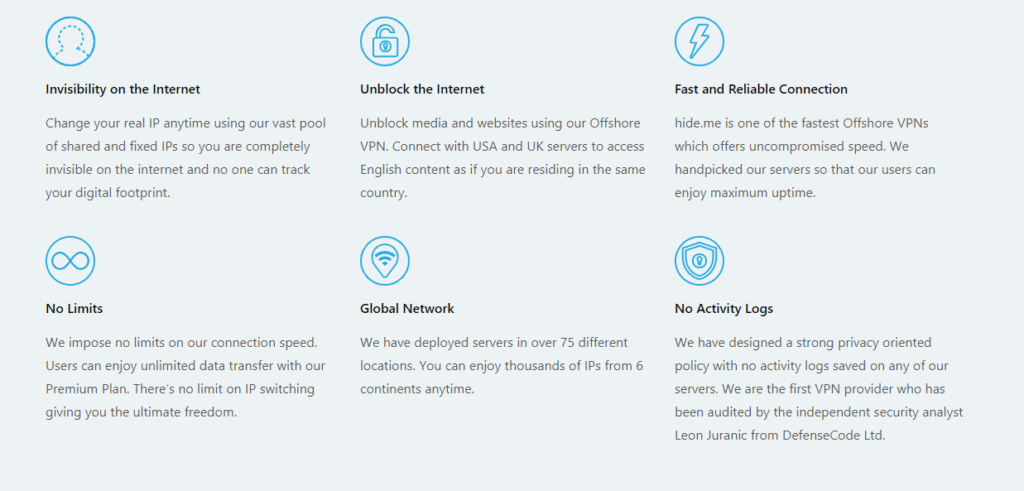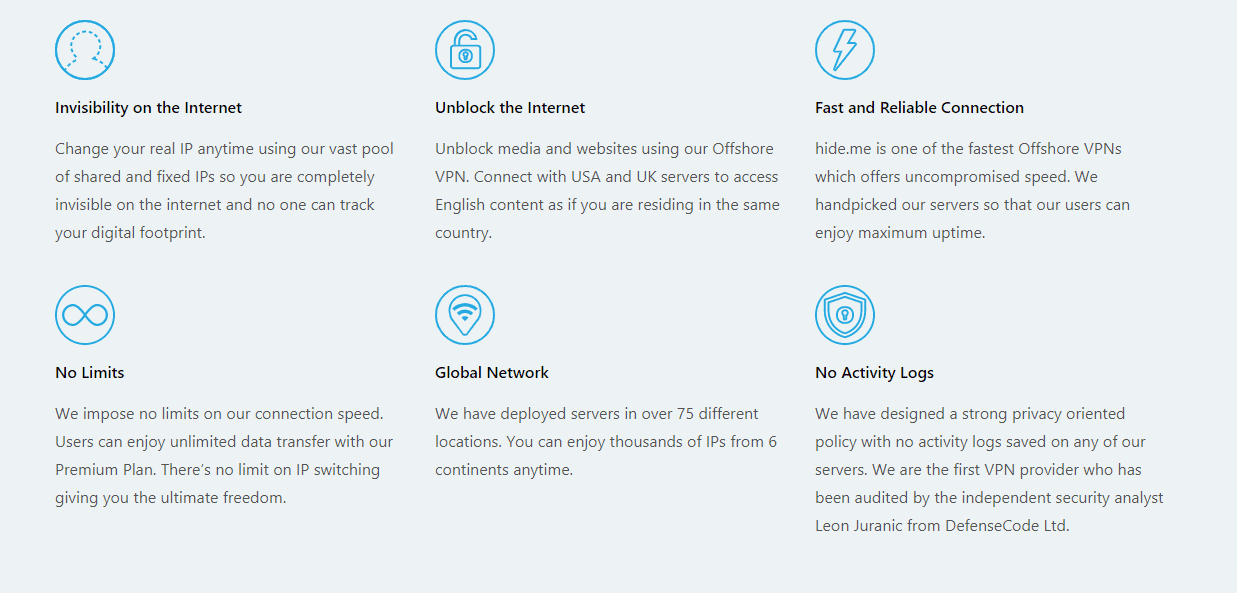 Hide.me utilizes sophisticated encryption methods and a few other security measures, making it one of the most secure VPNs available.
To begin, they support AES encryption up to 256 bits.
Additionally, the encryption goes beyond your browser, encrypting access to your passwords, personal files, credit card, and other potentially vulnerable personal information.
In a word, Hide.me safeguards your data, conceal your IP address, and keep you safe when using public Wi-Fi. Hide.me is also compatible with TOR, which enhances the security and anonymity already provided by the VPN.
Pricing Of Hide.me | Is it Affordable?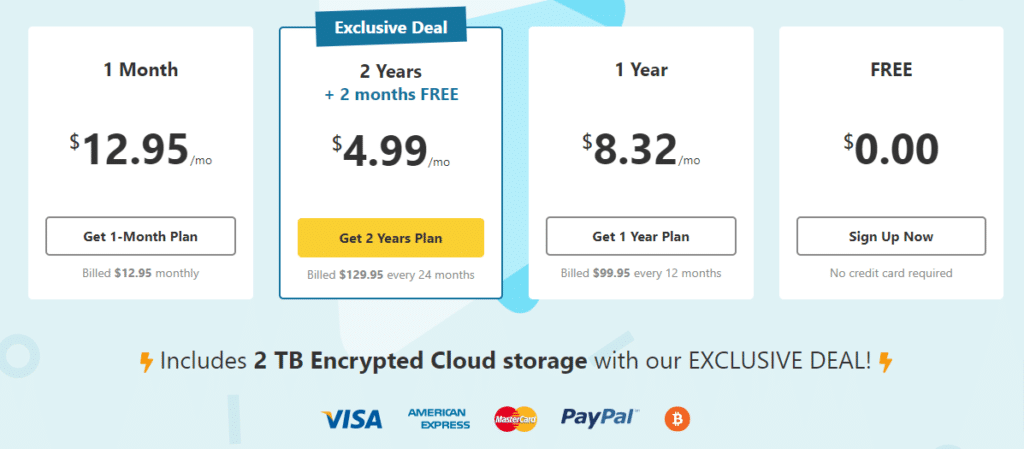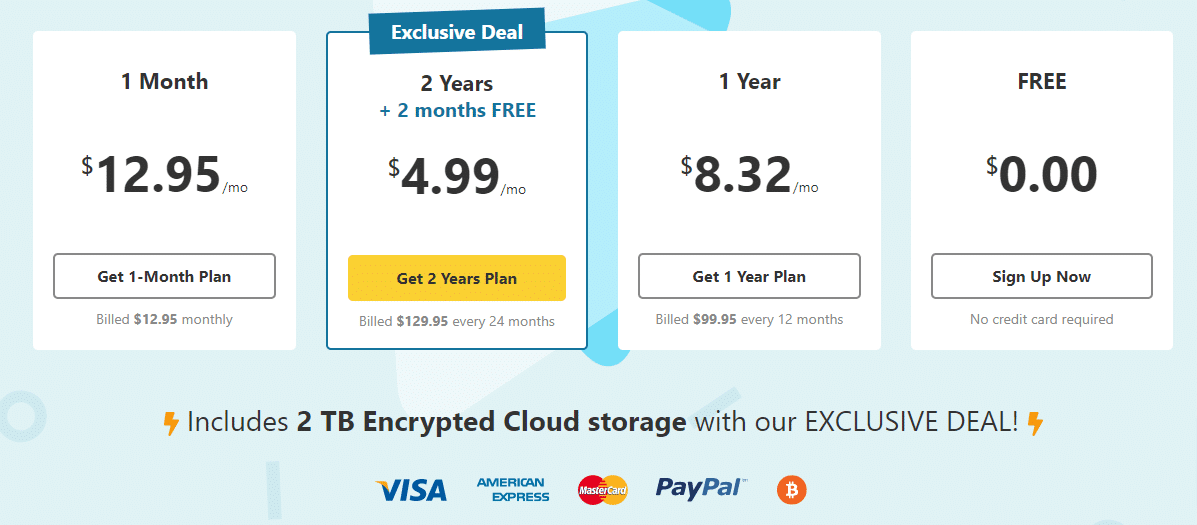 The price structure is divided into 3 Plans –
1-Year Plan ($ 8.32 per month): Billed $ 99.95 every 12 months
2-Year Plan ($ 4.99 per month): Billed $ 129.95 every 24 months (Some lucky users may get 2 months extra for free on this plan)
1-Month Plan ($ 12.95 per month): Billed 12.95 every month
There is a 30-day money-back guarantee in place, and there is no reason to believe it is a fraud. They will follow their promise and will immediately refund your money if you find their services inadequate.
In terms of payment options, Hide.me support various payments methods as listed below:
Card: Credit Card- MasterCard, VISA, AMEX, PayPal, SEPA etc.
Cryoto Currencies: Bitcoin Etherum, Litecoin etc.
Wire Transfer: You can choose to pay with web money.
Additionally, Hide.me offers a fourth alternative. This is a free plan.
With this plan, you'll be restricted to five server locations, a monthly data transfer limit of 10 GB, and a single connection. That is why we recommend the paid plans only.
Hide.me Pros and Cons
Pros
Supports IPv6 traffic
Privacy-friendly jurisdiction
Strong security features
Streams four Netflix libraries including the US
Almost zero logs
Super Fast WireGuad Protocol
Cons
Can be slow to establish connections
Unreliable in China
Tests on Hide.me Conducted by Us
Hide.me provides rapid short-distance travel, but long-distance travel is a different issue.
While Hide.me is not the fastest VPN available, the free version does not impose speed limits within the 10 GB monthly data limitation.
This implies that free users will enjoy speeds comparable to paid users, making Hide.me one of the fastest free VPNs we've tested.
Once you exceed the monthly data limitation of 10 GB, however, speeds are restricted to 3 Mbps.
Results for Long Distance Speed Test:
We evaluated Hide.me's performance across long-distance connections. We established connections to servers in Germany, the United States of America, Australia, and Singapore.
On long-distance connections, we discovered that Hide.me performed around average –
Singapore: 41 Mbps (download) & 43 Mbps (upload) – 20 % speed loss
Australia: 30 Mbps (download) & 19 Mbps (upload) – 15 % speed loss
Germany: 91 Mbps (download) & 91 Mbps (upload) – 10 % speed loss
USA: 58 Mpbs (download) & 46 Mbps (upload) – 11 % speed loss
A speed loss of 11 % while connecting from the UK to the US is a very excellent result when compared to the performance of many other VPNs.
Results of Local Speed Tests:
We benchmarked Hide.me's short-distance performance by connecting to a server located near our physical location in London, United Kingdom.
The VPN only slowed our connection by 11 %, which is quicker than most leading providers.
Here are the results of our whole speed test –
Download speed with Hide.me: 93 Mbps
Download speed without Hide.me: 100 Mbps
Our download speed loss when Hide.me is running 10 %
Any speed loss of less than 11 % is acceptable with a VPN.
How is Customer Support at Hide.me?
Hide.me offers a robust customer support system that includes instructional setup videos, a large online knowledge base, and live chat assistance 24 hours a day. Customer service is the same for Hide.me Free users as well.
Additionally, you can submit a support ticket directly from the app, which is very easy and ideal for VPN novices.
We evaluated the live chat function on the main page of the Hide.me website.
Our question was automatically forwarded through email rather than initiating a live chat, indicating that the service is not always available 24 hours a day.
Having said that, we found Hide.me's live chat operators to be prompt and somewhat knowledgeable in their answers.
We were instructed to submit a support email for more complicated inquiries. However, if you have a basic query, the live chat staff can assist you.
The ticketing system is committed to protecting your privacy, allowing you to opt-out of submitting logs and system diagnostics.
Additionally, there is an in-app messaging system that keeps you informed about the new Hide.me developments, such as the installation of additional servers and features.
How Safe is it to use Hide.me?
Hide.me's free and commercial VPN applications are superior to the competition, successfully concealing your IP address, encrypting your online browsing activity, and safeguarding your data on public WiFi.
Both VPN versions provide fast connections and a comprehensive set of sophisticated setup options.
The logging policy is sensitive to privacy concerns, and the customer assistance is outstanding.
Additionally, Hide.me's specialized US servers are ideal for American Netflix viewing. Hide.me's ability to stream BBC iPlayer is very remarkable.
For individuals interested in testing a secure free VPN, we suggest Hide.me's free version. The premium membership options are perfect for individuals who value their online privacy above everything else.
Is Hide.me VPN worth the HYPE?


Hide.me is a free and premium VPN service that is secure, quick, and P2P-friendly. It has virtually no logs and excellent customer support.
Additionally, the premium VPN unblocks US Netflix and sometimes overcomes tight restrictions.
Hide.me has many outstanding characteristics. Its privacy statement is extremely comprehensive and clear, albeit lengthy. It utilizes the most advanced VPN technology, allows ten simultaneous connections, and has a diverse network of servers located around the world.
Hide.me also offers a rather generous free option, which is somewhat unusual.
After all this and a lot more, we can say with certainty that yes, Hide.me is worth the HYPE.
Hide.me Review Conclusion
A well-known, simple-to-install VPN that excels in terms of speed, security, and simplicity Hide.me is a VPN service that maintains no records and prioritizes safety and security. They have servers in more than 75 locations.
Additionally, the speeds are usually excellent, quicker than many other services we've experienced, despite the high degree of encryption (AES-256 bit) that they provide.
You may choose from a variety of protocols to meet your specific requirements. Additionally, they provide limited free access to five places, enabling you to test the system without time constraints.
In conclusion, we can say that Hide.me VPN services are incredible, after all the research and tests.
Hide.me Review FAQs
Is Hide.me's free VPN service any good?
Indeed, it is. Hide.me also provides a free anonymous proxy browser for accessing restricted websites, but if you're already using one, it's worth using their free VPN. The greatest part about hide.me is that their free VPN is completely ad-free.
How can I utilize Chrome's Hide.me feature?
Launch the Google Play Store application or go to play.google.com. Type hide.me VPN into the search box and click on our app when it appears. Following that, click the Install button, which will immediately download and install our software on your Chrome OS. That is all!
What is a Hide.me VPN?
As the name implies, this is a virtual private network (VPN) service. Hide.me provides mobile applications for Android, iOS, macOS, and Windows devices. These alter the IP address and apparent location of your browser traffic, and just your browser traffic, but do not encrypt your traffic in the same way that a standard VPN software does.
Is Hide.me free?
Yes, it is; but, you can get away with utilizing the free plan, but you will be restricted in terms of data use and server access. If you choose the free plan, bear in mind that you must renew your membership every 14 days to maintain service.
Here are some of the best alternatives to Hide.me –
1) Proton VPN:
Proton VPN is a secure, high-speed Swiss VPN service that safeguards its customers' online anonymity. The program forwards its customers' internet traffic via a protected, encrypted VPN tunnel, providing the greatest level of protection for sensitive data and passwords. Additionally, users may rely on the to keep their browser history secret.
Proton VPN does not monitor or disclose its users' internet activity with other parties. As a result, they can browse the internet anonymously. Additionally, the platform has integrated cipher suites that provide Perfect Forward Secrecy.
Thus, all possibilities of data collection and decryption are eliminated. The program was created specifically to safeguard activists and journalists who use ProtonMail. Proton VPN enables users to effortlessly access any website or content by circumventing internet censorship restrictions.
The servers that store user data are housed in an underground data center in Sweden for further security.
2) Express VPN:
Express VPN's chrome extension has exceptional website unblocking capabilities and is often regarded as the quickest accessible alternative. It provides unlimited access to websites on a worldwide scale.
Users may browse the web privately and securely without the worry of a security compromise. It is discovered to be compatible with HD/4K streaming. Users get unrestricted access to torrenting and peer-to-peer (P2P) files. You get full access to BBC iPlayer and Netflix. Apart from Chrome, it also offers Safari and Firefox extensions.
It may mask your IP address and you can choose from 140+ places in 90+ countries. It enables lightning-fast connectivity. It is possible to browse and download anonymously.
3) Nord VPN:
The browser-based Nord VPN program enables users to guarantee the security of their internet connections and network 24 hours a day. Although this is a SaaS application, it can also be simply installed on Mac, Windows, Android native, and iOS native platforms.
From any location in the globe, users may simply access region-specific digital material. This VPN application adds a degree of security through strong encryption to safeguard your online incoming and outgoing conversations. Nord VPN protects financial data, prevents DNS leaks, protects against vulnerabilities, and also protects against IP leaks.
Additionally, it has essential features such as a kill switch, peer-to-peer networking, and online threat management.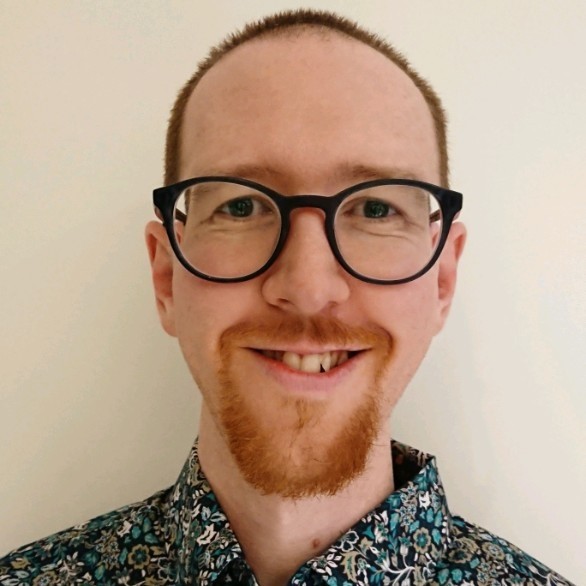 Tristan is a cybersecurity expert with over 10 years of experience in the industry. He specializes in virtual private networks (VPNs) and has helped numerous organizations and individuals secure their online activities through the use of VPN technology.