On the fence about choosing Smartproxy?
Well, if you haven't made the decision yet, this in-depth Smartproxy review will give all nitty-gritty details about Smartproxy and reasons why you need to choose Smartproxy over other proxy networks.
Since its inception in 2018, Smartproxy has been thriving proxy industry with fast proxies along with no limits and affordable prices. The unparalleled customer support of Smartproxy is what sets them apart.
There are plenty of other proxy providers out there; the problem is the balance between the features and the price.
Luckily that's the case with Smartproxy; they have made the perfect balance between the price and features. You can easily scale your business, use as many IPS as you need without any
limitations. What's more, you can manage several accounts, do online marketing, SEO, and grow your business hassle-free.
This in-depth review of Smartproxy includes detailed insights into this proxy network such as — key features & benefits, proxies offered, location of proxy servers, the Smartproxy dashboard overview, pros & cons, and more.
Read on the know, whether Smartproxy is the best shot to take or should you look elsewhere.
Smartproxy Review : In A Nutshell
Smartproxy is a renowned proxy service provider that has been catering to its services to its customers since 2018. Smartproxy provides you a safe passage to your destination website, giving you a secure and personalized browsing experience.
Smartproxy gets traction with its blazing fast residential proxy network at affordable prices. With the private IP address of residential IP, all your requests will be routed through desktop and mobile devices when accessing the web.
Smart Proxy provides a bunch of features that make it stand out. :
Rotating proxies.
Anonymous proxies
No subnets
Datacenter proxies.
Unlimited threads.
24/7 customer support.
3-days money-back guarantee.
Affordable prices for its subscriptions.
Smartproxy Key Features & Benefits
Smartproxy has been dedicatedly working on it's new as well as existing features to make it deliver a better and a secured experience to its customers, and we are happy to say that Smartproxy has been successful in doing that.
Not to brag too much about Smartproxy, but it has been used by a significant number of IT professionals as well as other cooperative firms as well as for personal use. Some of the features that bring the best out of Smart Proxy are:
Rotating Proxies, Smartproxy makes use of some exceptional technology for this. Rotating proxies allows you to send infinite scripts to several websites resided on different Web servers.
Smartproxy also provides a feature called Anonymous proxies that masks your authentic IP by an anonymous proxy server so that the user's anonymity is maintained.
Residential proxies, Smartproxy provides you with a Residential proxy that will give you the IP address of a real mobile phone or Desktop that is used as a delegate for your connection.
Smartproxy also provides an option of a Backconnect proxy. Backconnect proxy is a pool of residential proxies that continually jumps from one IP to another to maintain the anonymity of the client and provide better security.
Smartproxy makes use of HTTPs protocols to provide more secure and untraceable browsing.
It uses IPv4 addresses to hop from one IP to another simply.
Smartproxy is always on standby for its customer, providing 24/7 technical support to compensate for any bottleneck that the client encounters quickly.
Smartproxy also provides a 3-days money-back guarantee to its clients. If at all you don't like the service, Smartproxy will refund you.
These features, as mentioned above, are just a glimpse of Smartproxy services. It also provides you with unlimited connections, over 10 million diverse IPs, a Geo-targeting option, and a 95% success rate.
Smartproxy Speed Test | What We Found In Our Test?
While choosing a proxy network, we're pretty sure you won't compromise with the speed and latency. As mentioned earlier, there are cheap proxies available in the market. The proxies are slow, and even you will have to sacrifice other essential features.
Latency and speed are two aspects that need to be taken under consideration because latency is the time taken by the data packet to reach the server and back to the requesting device. If the ping is high, then it depicts that the data packet is consuming a high amount of time, and if the sound is low, then the data packet is taking less time to reach the server. Speed determines the amount of data that can be uploaded and downloaded within a second.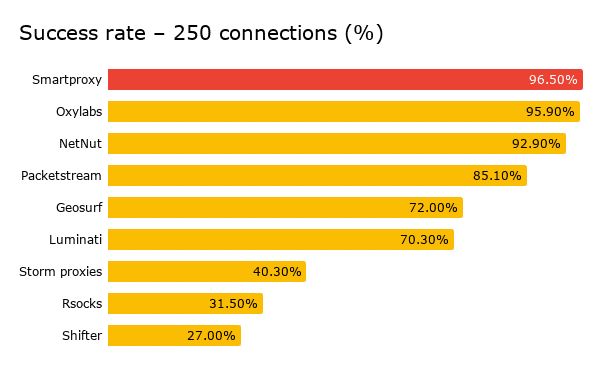 So to test, Smartproxy performed a test against market top proxy providers to see whether or not the up and the download speed is up to standard. The results of the tests were astonishing. Smartproxy stood first with a success rate of 96.50%, stood first with a 96.50% success rate providing 250 concurrent connections, and gave a download speed 46.35 Mbps and sn upload speed of 391.68 Mbps.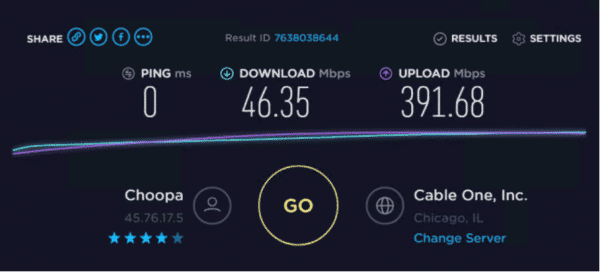 SmartProxy is well known for many applications like Instagram Automation, Ad-verification, Market support, Sneaker copping & web scrapping. Well, we haven't tested it for social media yet, but I am sure that it won't disappoint you.
Proxies Offered by SmartProxies
Smartproxy is famous for its Rotating proxies that revolve around providing Residential and Datacenter proxies. These proxies aid in maintaining your authenticity.
Rotating Residential Proxies
You might want to scrape data from various websites, or you might want to buy your favorite merge or your funky pair of sneakers. Whatever it might be, Smartproxy has got you covered with its Rotating Residential proxies.
These proxies keep on changing their IP from a pool of 40M IPs of actual mobile phones and desktops to hide your real identity and allow you to surf on the website for your desired time.
While if you consider standard Residential proxies, then there is one limitation that you can only make one request from one IP, so there might be a more significant uncertainty of you getting banned by your search engine.
This snag does not happen in Rotating Residential proxies because these proxies keep on jumping from one IP of an actual device to another IP of a real machine on each new request you make, or you can even stick to the same IP if you want.
Datacenter Proxies
In the digital era, it is said that information is the new gold. However, it might be challenging to obtain a piece of central details that might be compromised by the lack of robust, fast, and reliable resources at your disposal. Smartproxy has a solution to step up to the described challenge by providing you Datacenter proxies.
Datacenter proxies are widely used in the data extraction world for broad purposes like Brand protection, Market research, Ad verification, SEO monitoring, Ecommerce, Pricing Intelligence, Travel fare aggregation, and many more.
Smart Proxies offer numerous Global locations with over 40,000 dedicated IP's. Datacenter proxies work like first, a client that is you sends a GET request to Smartproxies datacenter proxies then in a seriously exciting time your request to the chosen targeted website is quickly supervised, and the consolidated data commutes back to you. Isn't that great?
Location of The Proxies Servers
Another principal aspect that matters while selecting the proxy provider is its Location. Smartproxy has dedicatedly chosen every location ideally that has over 50 IP addresses. Smart proxies currently offer Residential IP addresses from 8 different cities.
This does not mean that the list of cities ends here, the list of cities is another tradeoff. While the eight countries where Smartproxy provides Residential IP addresses are:
Berlin.
Chicago.
Houston.
London.
Los Angeles.
Maimi.
Moscow.
New York.
How to Use Smartproxy?
Not everyone is born tech-geek. Every person that is an expert in technical fields was once a beginner. Having a VPN that is tough to use can be teeth-clenching. An easy to use interface will let you have a smooth experience, and the provider can assure commitment from their users. Let us look at the user interface offered by Smartproxy.
The Smartproxy Dashboard: An Overview
Smartproxy has built a User-friendly and user-interactive interface to ease the application process.
Here is a full description of How you can use Smartproxy. First and foremost, you need to create an account to access the Smart Proxies dashboard if you don't have one, then create a new one by entering the details like name, E-mail, and other vital information that are required. Once you have created your account, you can now access the SmartProxies Dashboard.
As mentioned above, Smartproxy has worked on its platform to provide convenient proxy management. Smartproxy has also appended its Introductory Tutorial and Walkthroughs that can be readily understood by newbies.
The dashboard is so conveniently managed that you can easily Buy new subscriptions, upgrade the existing ones, access the lists of back connect proxies servers, and easily manage traffic usage.
You can even limit the traffic for sub-users, which allows easier task management. One thing that I like about Smartproxy is Help & support. Smartproxy is always on standby for its client to neutralize whatever the situation it's clients are suffering. There is also a bar at the top that shows you the traffic allowance and allows you to manage it.
Setting up a proxy with Smartproxy:
Setting up a proxy is pretty simple; you just have to create a user or whitelist an IP address. Smartproxy has a feature that filters and gives you what you need and gives you the right gateway address. The gateways are selected according to countries and cities as different countries and towns have various portals.
Smart proxy has also got you covered with Client URLS requests, granting you with a command-line tool and a library to transfer data through several transfer protocols. Smart proxy has a checklist where you are supposed to fill in your configuration, and the Client URL command will automatically be generated for you.
Smartproxy also provides an extension for Chrome and Firefox that lets you work efficiently around proxies within the browser itself. Navigate yourself to settings and select a country along with that also select the type of proxy you want, whether you want your proxy to rotate or be sticky and permit them to use whitelisted IP or else provide them with user and pass.
Smartproxy also has its vast library of documentation that you can use to assist yourself if you get stuck at any point in between. The library is divided into various modules.
Resources consist of Blogs and Testimonials that provide introductory information about its concept and the experiences of its customers.
Implementation, this module is divided into three sections Integration, configuration, and Starter guide.
About & FAQ, this module contains all about Smartproxy and the question that has been asked by clients in the past.
Smartproxy Customer Support | Reliable Or Not?
Excellent customer support will make your experience even better. No matter how expert you're in your field, you'll face unwanted obstacles for which you'll require constant assistance at every interval. Having excellent customer support that you can get in touch with any time and any day will help you in the long run.
The customer support team of Smart proxy is fabulous and is ready to help its customers 24/7. Smartproxy also offers you live chat as well as email support. You can shoot your queries, and they'll get in touch with you in a second.
The live chat is quick and responsive. The Smartproxy representative responds to all your questions immediately, and you don't need to wait for a long time. Along with helping you, the representative will also give you some tips on how you could improve your experience.
Hands down Smartproxy has one of the best, responsive, and quick customer support teams always ready. This is what makes them different and reliable from other proxy service providers.
Why Choose Smartproxy Over Others?
Smartproxy provides you a cutting edge over the proxies in the market. The value proposition that Smartproxy different from other proxy service providers is that Smartproxy majorly focuses on client satisfaction. If the client is not satisfied with the service that is being provided, Smart proxy offers them a 3-day money-back guarantee while others don't offer that service.
Smartproxy knows how to keep the confidentiality of its client and his information. Every customer who signs up with Smartproxy and uses its services is undoubtedly safe, and his anonymity is maintained.
There are numerous reasons why someone should choose Smartproxy. Of course, Smartproxy is client-centric and knows how to maintain confidentiality, but at the same time, it provides premium features to its customers at an affordable price. To describe in brief:
Smartproxy provides Rotating Proxies so that you never get nabbed or get flagged.
Smartproxy has 8 data centers at different locations.
Smartproxy provides Geo-location proxies.
Smartproxy provides 24/7 customer support with an online technician for your assistance.
Easy to set up and easy to configure Dashboard.
Use of HTTP & HTTPs protocols.
I can go on and on with the list, but the file won't end because Smartproxy has so many features and services with it that one can go on with all the features.
Smartproxy Pros & Cons
SmartPtoxy has a lot of features that make it one of a kind. Nothing is perfect in this world. Everything has its pros and cons. Smartproxy is one of them too. It brings some good and some negative things to your table. Let us have a look at Smartproxy's pros and cons below.
Smartproxy Review : What I like
Affordable price: Smartproxy delivers a bunch of extra features at a pocket-friendly price.
Diversity in IP addresses: It has up to 40Million IP's.
Smartproxy offers Worldwide coverage.
Easy to use: Smartproxy is convenient and easily manageable.
High proxy speed.
One hundred ninety-five countries and eight major cities.
Say goodbye to slow speed with SmartProxy's Nonnegotiable proxy speed.
You get excellent customer support
3-days money-back guarantee.
Smartproxy Review : What I Don't Like
No SOCKS5 protocol
Limited Geo-Targeting.
Slow Email support sometimes.
Conclusion
Now that we have come to an end, we can conclude that Smartproxy is a smart VPN that offers prominent speed proxies and excellent customer support for their users to make surfing the internet feasible for you.
Smartproxy offers an excellent service at affordable pricing, and it won't leave your bank account in a trauma. Like every coin has two sides, Smartproxy also has some cons. Even after that, Smartproxy outshines all the excellent features and brings some of the smartest proxies at the tip of your fingers.
We have been using Smartproxy for a while now, and we could surely recommend using Smartproxy as one of the reliable and secure proxy networks. You can, hands-down, rely on Smartproxy.
I hope you found this article helpful. Let us know what your thoughts are regarding Smartproxy VPN in the comments section below.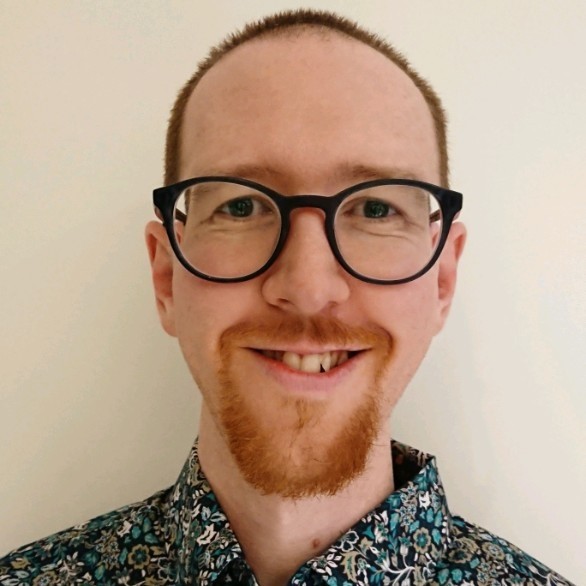 Tristan is a cybersecurity expert with over 10 years of experience in the industry. He specializes in virtual private networks (VPNs) and has helped numerous organizations and individuals secure their online activities through the use of VPN technology.