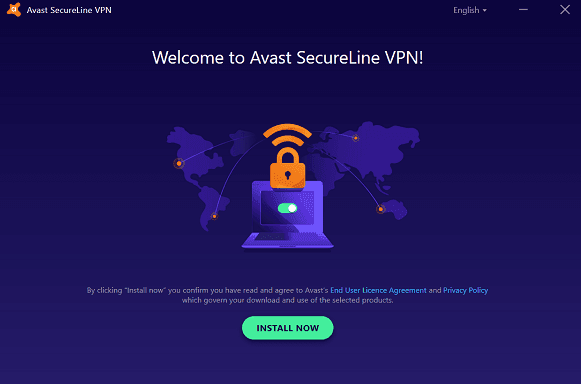 Are you looking to claim the Avast VPN Free Trial? If so, you're at the right spot. With many blocked sites on the web, getting access to some essential work-related sites is difficult for us. VPNs are beneficial in our day to day life as they help us get past these regulations. However, it becomes difficult to choose the right VPN in a massive market with heavy competition. 
 Avast Secureline VPN is a great VPN that lets you browse safely at high speed. The best part is that it offers you a free trial, this way, you know if you should purchase this VPN or not.Avast Secureline VPNs free trial does not ask you for any billing information. As such, all you need is an email ID to start.
To help you claim the Avast Secureline VPN free trial, we have featured a step by step walkthrough. The Avast Secureline VPN offers significant usage for seven days so that you can stream effortlessly. 
So let dive in.
How to get Avast VPN Secureline free trial?
We have made it very simple to have Avast VPN secure line free trial and follow our simple steps to enjoy the VPN.
How to claim Avast VPN free trial for seven days
Step 1– Click the link.
 Head to Avast VPNs official website by clicking here. You will then be directed to the main website page.
Step 2– Click START FREE TRIAL
Click the start free trial option on your screen.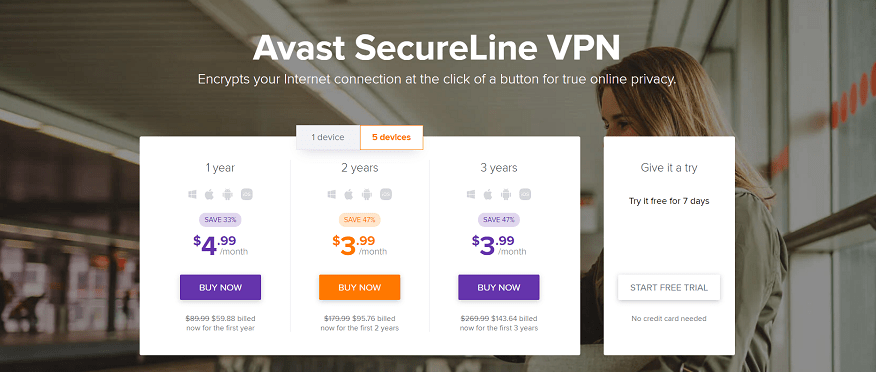 The VPN will automatically start downloading once you click the button. You can also contact the helpline for queries while downloading.
If your download does not begin after clicking the link, you can see the click here option given as a note which will help you download the app.
You need to let your installer run after clicking the button.
Once the download is complete, you will be on the main page of the software. Install the app by clicking INSTALL NOW to continue further.
Step 3– Click START 7-DAY TRIAL
To start with your trial, click on the START 7-DAY TRIAL button. You don't have to enter any credit card details to get started.
Step 4– Enter your Email ID
Enter your email ID to get started with their 7-day trial. The best part is that you will not be asked for any billing information, such as your card details.
This pop-up will appear once you enter your valid email ID. Click on GET STARTED, and you will be ready to use the VPN at no cost for seven days.
How to buy Avast Secureline VPN and Get Refund?
Step 1– Click the link.
Head to Avast VPNs official website by clicking here. The main page of the website will open.
You will see a table that has a comparison and the pricing plans for you. You can also check out their official website for all their features.
However, we have explained it all to you on our website.
Step 2– Choose your plan.
Choosing a plan is very important. You must know how many devices you want to use the software. You can then chose a plan accordingly.
Step 3– Payment
Once you choose your plan, you can click BUY NOW, and you will be directed to the payment page.
The payment page will show your complete order.
Enter your accurate billing details if you are paying through your card.
You will be asked your first and last name, card number, expiry date, CVV, and other essential information.
You also have the option to pay your bill through PayPal.
Once the details are entered, click on the PLACE YOUR ORDER to get started with your plan.
Step 4– Refund process
Once you have paid for the plan, you can apply for a full refund before 30 days.
Check the CANCELLATION AND REFUND POLICY FOR AVAST to know more about how you can apply for the refund and what conditions your plan will be canceled to reimburse your amount.
Note- Initial purchase of any plan has to be paid for one year.
However, if you apply for a refund before the completion of 30 days, the whole amount will be reimbursed.
Avast VPN Secureline Overview:
Avast VPN is known widely for its top-notch antivirus suites; many users do not know they provide a virtual private network.
With over 100 servers in 34 countries, it has legitimate no logs policy with robust security features and is available across popular platforms like iOS, Android, Windows, and even macOS.
The best part is you can use this VPN free for seven days without entering any credit card details.
Avast SecureLine VPN uses a powerful AES 256 bit encryption. Apart from that, this provider has various protocols, including OpenVPN, IPsec, and IKEv2.
The protocol that you will be using for your VPN connection also depends on your operating system.
Why Choose Avast VPN Secureline?
In a vast market of competitors, you will go in a dilemma when it comes to choosing what's best for you.
The 7-day free trial is the best reason you chose Avast VPN as it provides you all the features that would cost you about 50$ annually.
Another plus point would be that you will not have to enter any billing information such as your credit card details, and so on, all you have to do is give your valid email id, and you will be ready to start using the software.
What do you get with an Avast VPN free trial?
Avast has numerous features about which you must know about so that you can not only fully utilize the seven days of your free trial but make the right decision on whether you must purchase this product or not.
Features of Avast VPN Secureline
Ease of Use – It's a very user-friendly tool for you to access, from the purchase to the cancellation, and all the steps involved to make your browsing better offer a lot of ease.
Customer care & Support- If you have any queries or questions, you will find the answers to it on Avast's help center. It is effortless to use, and it will help you with solutions to your problems. They have a handy troubleshooting guide and helpful FAQs section to help you out.
No logs policy- It is one of the many legitimate apps that strictly does not maintain any logs, and you can be sure that nothing is being stored about your search and browsing.
Lightning-fast- We all love high speeds while browsing doesn't we, many VPNs slow down your pace to a great extent, but it is not the case with Avast. They provide high speeds for you, and you will not feel that you are using a VPN at all.
DNS leak protection– helps you keep your real IP under wraps over IPv4 and blocks IPv6 requests.
Security for all Android TV devices- You can easily connect all of your android tv devices and access streaming from blocked sites such as Netflix.
Single shared IP– this feature helps you get lost among a huge crowd of users so that no one can track your whereabouts.
256-bit AES encryption– your data is encrypted so that it is invisible to snoopers.
P2P support– you can simply share privately, it supports Peer-2-Peer networking.
How to continue with Avast VPN after the free trial?
Once you are done with the free trial and wish to continue, you can go to the Avast Secureline page, choose a pricing plan of your choice, and get started with it.
However, if you want to discontinue due to any reason, you will have to do it before a period of 30 days to get your total refund.
How much does Avast VPN Cost?
Avast Vpn is quite affordable. You get it at an excellent price. They just have one plan, but they have sorted their pricing plans mainly on two categories, the duration of use and the number of devices.
You can see the price range for a single device in the above image, and it has been offered to you in three options, a unique year plan, a2-year plan as well as a3-year plan.
The prices have been mentioned every month, but the payment will be billed annually.
Another option you have at your hands is to choose a plan for five devices, and you may notice that plans for five devices are similar to that of the price for a single device when paid for two years or three years. The features offered are the same; however, the number of devices at use is more.
You save about 47% when you take the five device plan for 2 or 3 years—a great deal at a high price.
Avast SecureLine VPN-Speed
Avast VPN ensures that the speed of your internet doesn't drop at all. No one likes to wait for Netflix, we know it takes time to load especially when you are connected to a VPN . We have tested this VPN and you can totally rely on our test results to consider this VPN.
The results of speed tests can be helpful, but it's essential to know how your browsing speed is affected by your VPN.
We did not notice any issues while browsing, Web pages were loading very quickly and without problems.
Streaming in almost all cases was smooth and pleasant. Spotify and Youtube were smooth too without any lags.
Netflix U.S worked fine as well, though their content did take time to process, it was quite good.
P2P servers make downloading comparatively easy while using Avast. We were able to download files from the internet within a very few minutes.
You will be safely able to download torrent content with Avast VPN as well.
While we did not get access to The Pirate Bay with our local servers, with Avast VPN, it was downloading quite fastly on a U.S server.
You won't find any differences while you are online gaming as well.
Does Avast SecureLine VPN Work with Netflix?
If you are a Netflix streamer, then this Vpn works very well with Netflix.
However, if you want to stream on other sites like Amazon Prime or Hulu, I must say it is not compatible.
What are the servers and locations available to users?
Avast SecureLine doesn't have a vast server network with 34 countries and 55 servers. It is less compared to the thousands of servers offered by the competitors.
Even so, Avast SecureLine has various other options. For example, the software has a feature that will automatically determine which server is your optimal location; this way, you can use it to ensure you've got the fastest connection.
Avast claims that they will display your location to others online as "Gotham City, USA." We all know this place doesn't exist.
Instead, you'll get an IP address in New York and one in London if you choose Wonderland.
To strangers online, it'll seem like you're in one of the two cities, instead of the fictional ones.
Customer service for Avast secureline VPN
Avast SecureLine's customer service is only available in English and not open to its free users. The customer service and support do not have an excellent response, however.
You will mostly be able to find an answer to your questions in the Avast SecureLine knowledge database, but if you run into trouble, you will have no option but get a paid account to get help.
If you're a free user trying to contact the customer support, you'll be directed right back to the database and the Avast Forum, where other users will possibly be able to help you.
FAQs
How do I cancel my subscription after the avast VPN free trial expires?
Your subscription automatically gets canceled after your 7-day trial period ends. If you want to continue, you will have to purchase a plan.
Is it worth purchasing the premium version of Avast VPN?
Yes, Avast offers excellent safety with no legitimate logs at a high price, so I would say it is worth it.
Is Avast SecureLine VPN safe?
It provides excellent safety standards to its users, and you can rely on this VPN for all your work.
Is Avast SecureLine VPN Compatible with My Device?
Avast SecureLine VPN offers its services for Windows, macOS, Android, and iOS devices.
Final Thoughts
Avast Secureline VPN is a great tool, and my suggestion is that you all must check it out at least once. It is easy to download and use; the trial lets you browse effortlessly and have a great day at work.
Try it out for free by following the steps mentioned on our websites, let us know if you have any suggestions and drop your valuable feedback in our comment section below.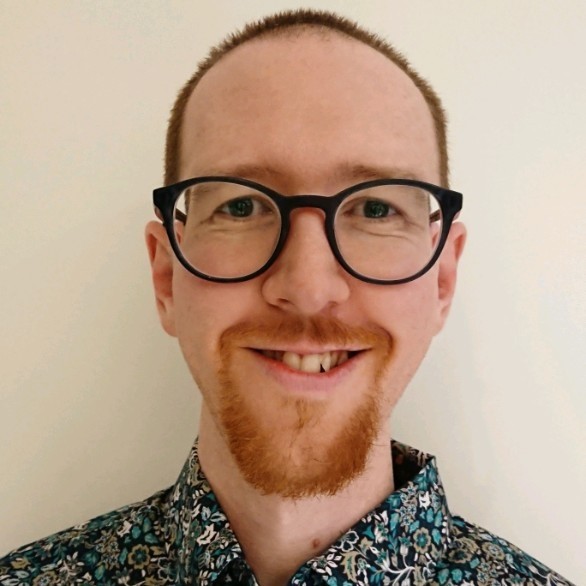 Tristan is a cybersecurity expert with over 10 years of experience in the industry. He specializes in virtual private networks (VPNs) and has helped numerous organizations and individuals secure their online activities through the use of VPN technology.