Are you still figuring out on how to claim your free HideMyass VPN free trial?
Well, you have come to the right place.
Everyone looks for simplicity and affordability while picking up any VPN service for their device, and we know that HideMyAss is the best in both parameters.
HideMyAss is not only popular for its price and simplicity but also very popular for its high-quality services and Customer support.
This User-friendly VPN caters dedicated streaming servers, along with a smart server and unlimited bandwidth, that makes it completely suitable for streaming.
One of the best things about HMA is that the service gives a 7-day free trial where you can examine the VPN's unblocking abilities for yourself.
In the following article, we would be providing you tricks on how you can claim your HideMyAss free trial and an in-depth review of HideMyAss, so you are well versed with everything about HideMyAss.
Roadmap on 'How to claim HideMyAss free trial.'
Some VPN free trials can be tricky because they don't provide you access to the similar functionalities that you would get if you were a legitimate paying user.
Some free trials bait you with limited data usage, limited control over server selection, and very few functionalities.
Unlike other VPN providers, HideMyAss does not put any limitation on your usage during your seven days of the free trial.
You would be able to access each and every feature just like a paid user would get access to 940+ servers across 280+ locations.
You would also get access to a dedicated server for streaming and server for P2P sharing.
STEP: Availing your HideMyAss subscription:
Visit the official website of HideMyAss or just click on this link hidemyass.com. Now click on 'Get it Now.'
This will redirect you in the page of the plan and pricing.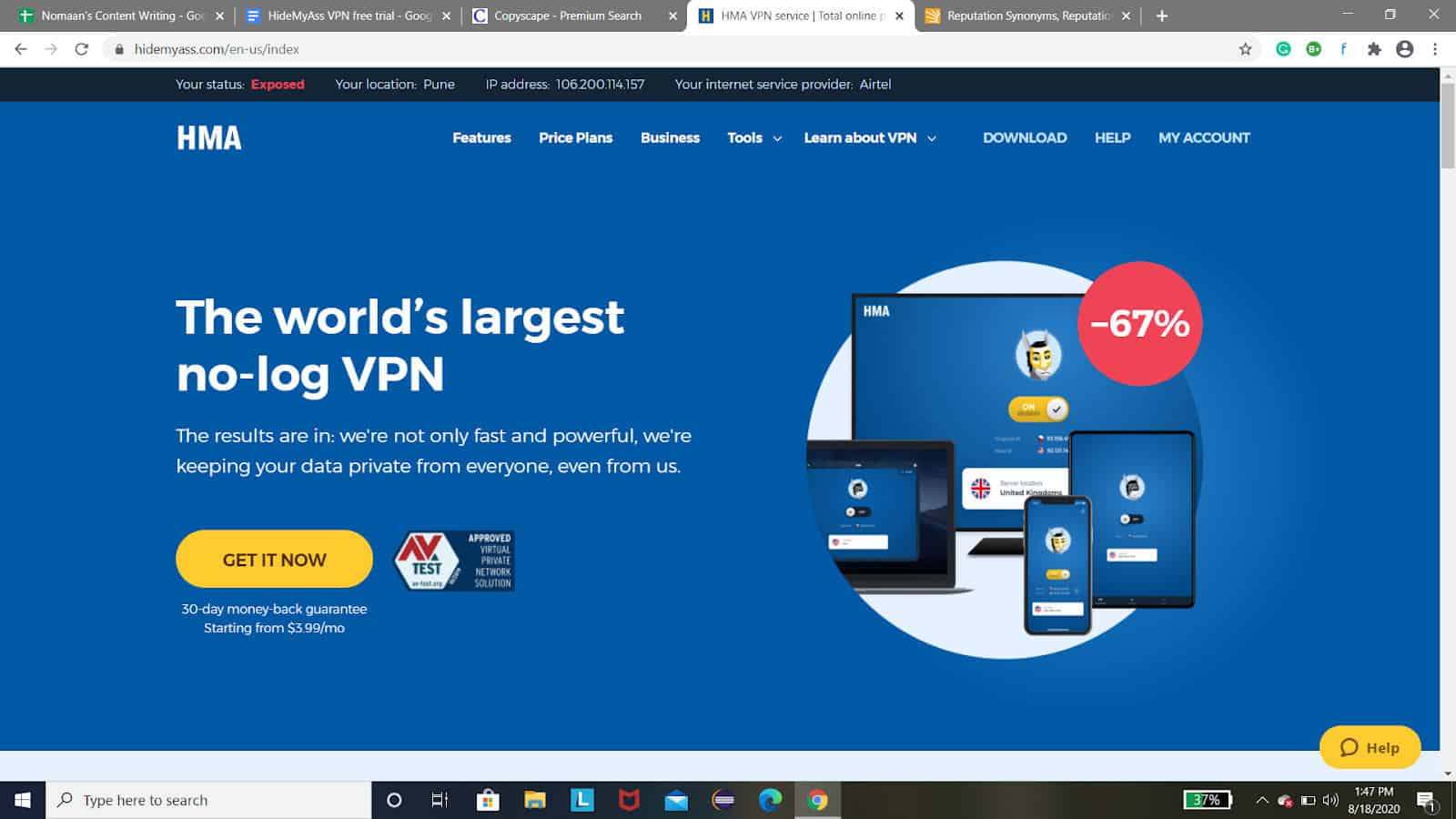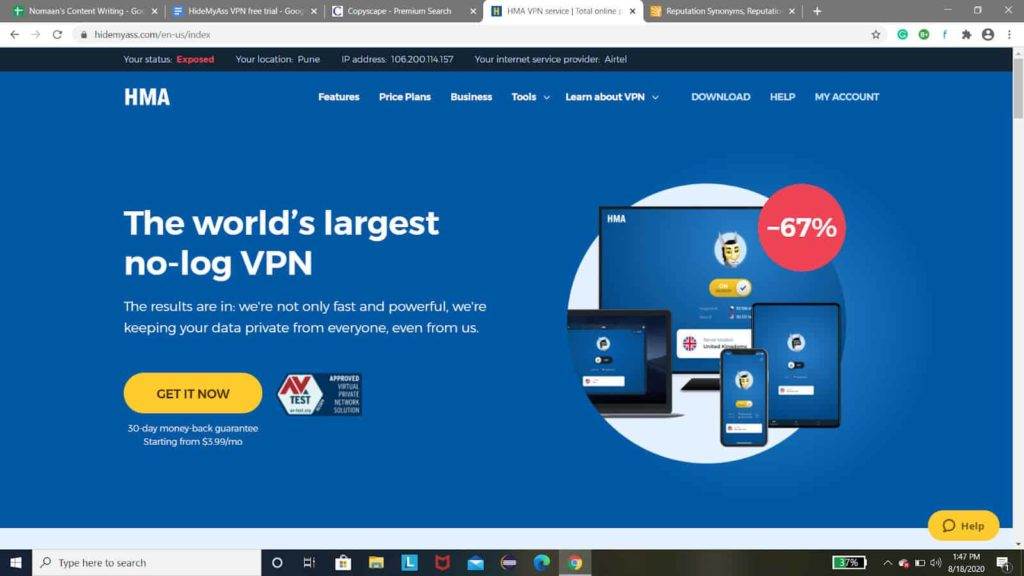 2. Claim your free trial:
Once you are on the plan and pricing page, scroll down through all the features of HideMyAss and get to the pricing tab.
Now click on 'Activate Now.'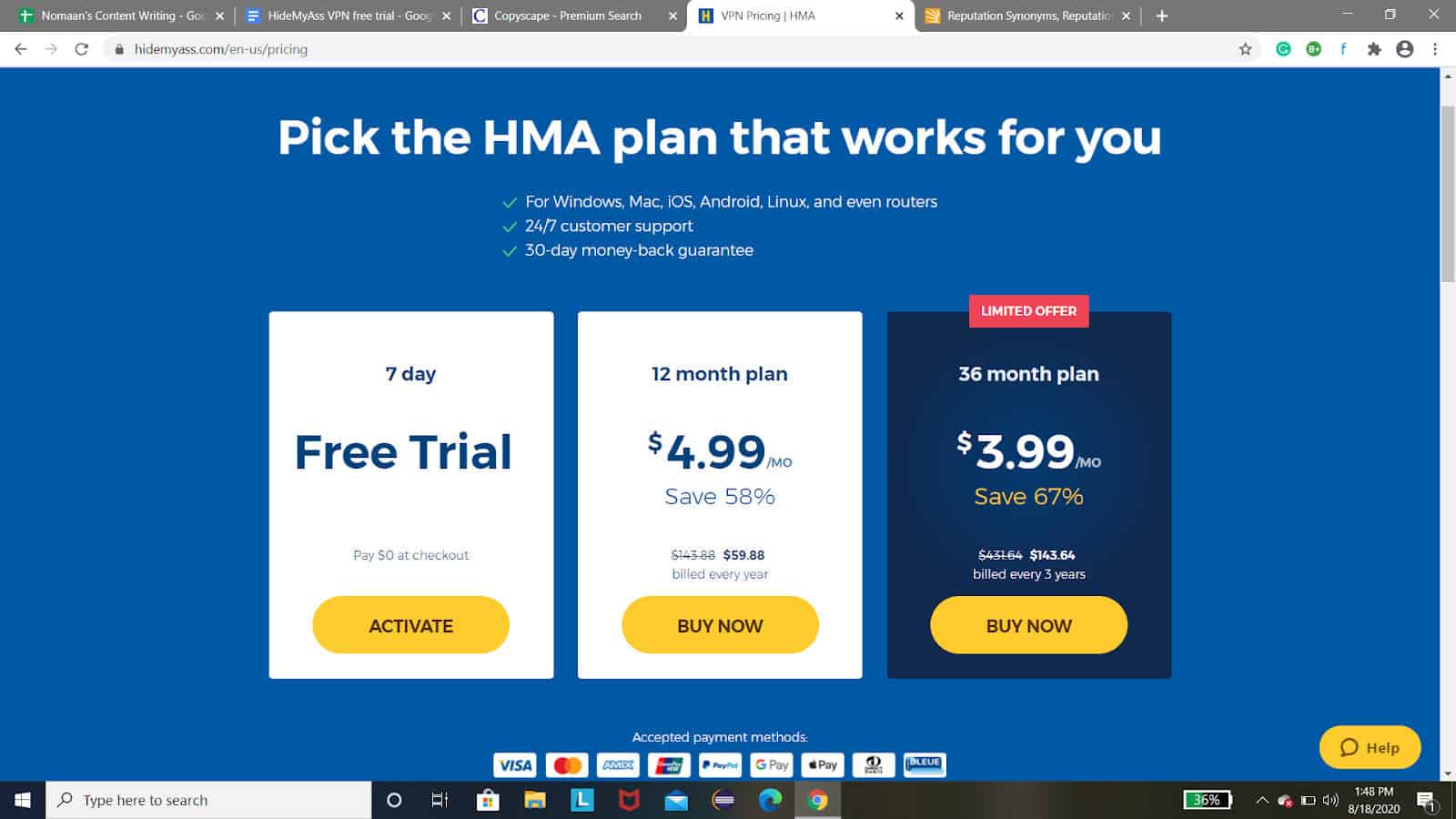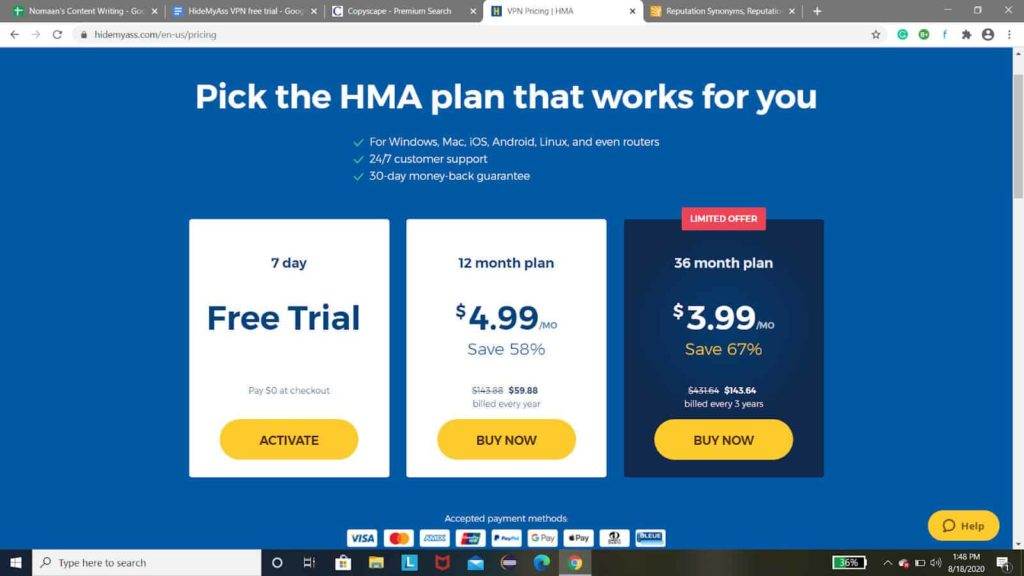 3. Select your Payment options:
Post clicking on this tab; you will be taken to a payment page where you are supposed to select your payment option and as well as fill in the required payment details.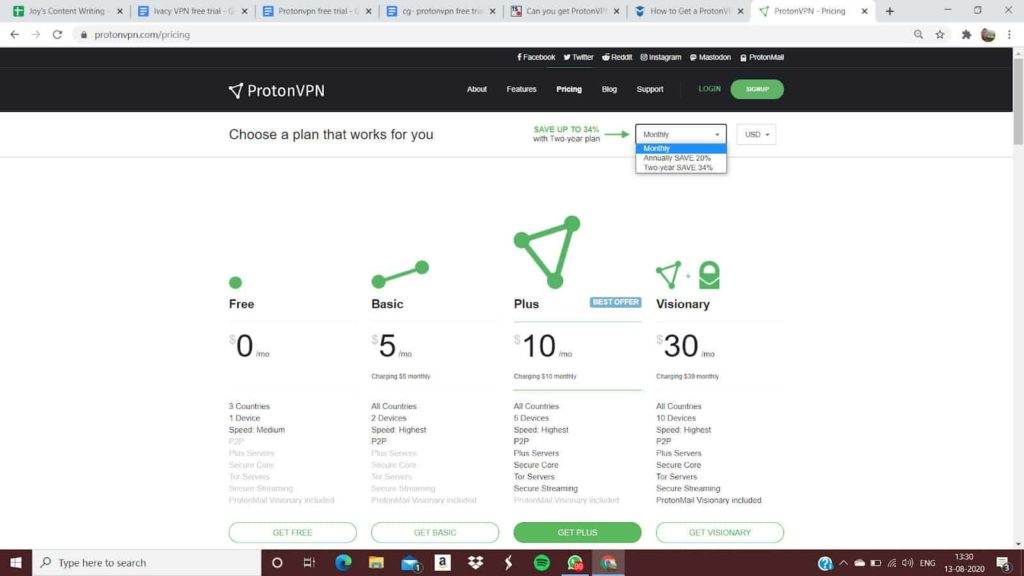 4. Enter your details:
Once you have filled in your details, hit 'Place Order.' Don't worry about getting charged as the bar present on the right-hand side will have all frequent questions regarding payment.
Now you are supposed to set up your user credentials that are your ID and Password.
5. Download HMA:
Once you have created your account, now download HideMyAss on your device. HideMyAss is compatible with all devices irrespective of its Operating System.
Once you have downloaded HideMyAss on your device, move on, and enter your login details.
Now head on to your mail, and you'll find a response mail mentioning 'Your HMA! Pro VPN `License Key is now active.'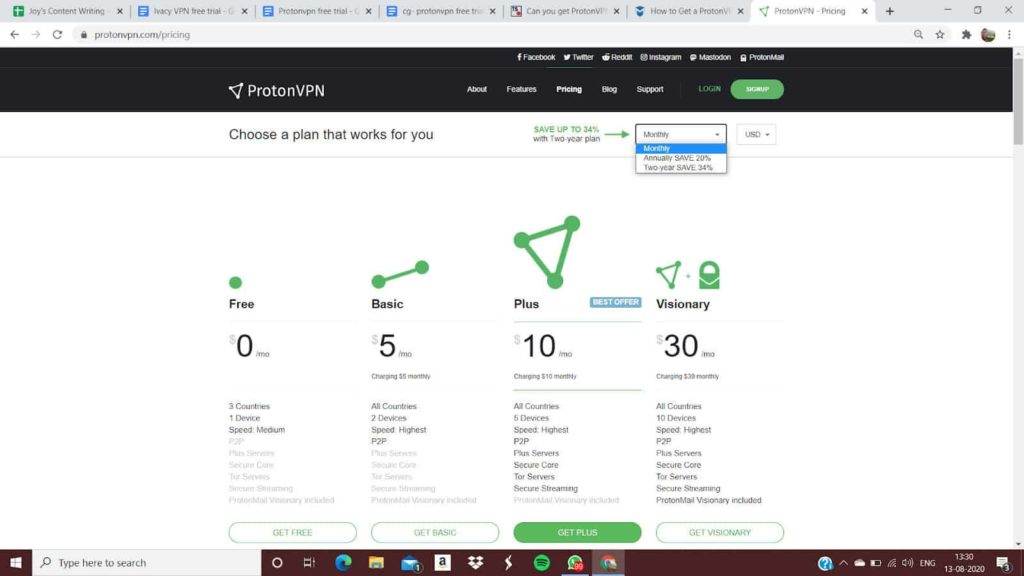 6. Cancellation:
As we have already mentioned before, HideMyAss will bill you when your 7-day trial period ends.
If you want to avoid getting yourself charged, it is an ideal idea to cancel your subscription so that you don't skip it before your seven days trial period ends.
Cancelling won't modify your services. It will just evade you from being invoiced when your trial period ends.
To eliminate your subscription, go to your HideMyAss account and click 'Cancel Subscription' below your license.
A title bar will pop on your screen for your confirmation. Just click 'Yes, cancel.'
After you've cancelled your plan, make sure that the part of your license that says 'Auto-renewal' has changed to 'OFF.'
HideMyAss: Overview.
HideMyAss VPN service grants "total privacy and protection," plus along with that, it gives the latest and the greatest OpenVPN protocol and encryption alternatives.
It grants you to give you your desired streaming sites like Netflix.
Its affordability and ease of usability are what attracts more and more clients day by day.
One can blindly rely on HideMyAss completely in terms of literally hiding you and delivering you the service that you are actually looking for.
You can claim HideMyAss free trial by just following the simple steps provided to you in this article, and once you are self-satisfied with the services, you can buy the HideMyAss subscription plan.
Features:
Stable Server speed: HideMyAss does a fantastic job when it comes to the speed of the server. No one likes a slow, laggy, and irregular network connection. HideMyAss has done impeccably well in engineering the speed protocols because its speed delivers it very well and is non-negotiable.
To test this out, we ran a few tests to verify what HideMyAss claims is true or not. We used speed.net to test the speed of the server at different locations.
United States Server (New York)
Ping: 113ms
Download: 58.98 Mbps
Upload: 30.38 Mbps
Europe Server (Amsterdam)
Ping: 41ms
Download: 63.34 Mbps
Upload: 50.12 Mbps
Asia Server (Hong Kong)
Ping: 284ms
Download: 19.25 Mbps
Upload: 13.09 Mbps
United Kingdom Server (London)
Ping: 45ms
Download: 64.42 Mbps
Upload: 43.30 Mbps
HideMyAss VPN is pretty conventional, in fact. They're not the fastest, but the United States, Europe, and the United Kingdom servers were all pretty steady, which is a good symbol of overall performance across their other servers.
Accidentally, Asia one tanked and pulled them down a bit. Nevertheless, if you have a ~75% possibility at getting the US, EU, or UK speeds, you'd be happy.
2. Diversity of servers: HMA has settled its servers in 6 continents. That makes it 940+ servers located at 280 distinct locations across 190 countries.
 While choosing a VPN service for yourself, one must always check the server location and its ratio of the server of location.
In this case, HideMyAss does the best job of not only prominently deciding servers but also their positioning them very wisely so the user can endure best and speed connections.
Before you connect to any server, HideMyAss VPN shows you the server and its ping, so you are well aware of everything.
HideMyAss also has an amazing model that is called Instant mode that comes with your free trial, where you get connected to the fastest server automatically once you start your VPN.
3. Multiple devices and connections supported: HideMyAss permits you to connect multiple devices concurrently without any blockage.
One Subscription of HideMyAss is good enough for five devices.
You can not only connect your PC and mobile device but also your Firestick and Wi-Fi router along with it so that you can guard your entire LAN network.
4. Leak Protection: HideMyAss VPN carries built-in security against IPv4, IPv6, and other DNS leaks. HideMyAss uses its self owned no log HideMyAss Domain Name servers to manage all of your Domain Name Server requests, which keeps you private and encrypted and shields you from nasty malware and phishing sites.
5. No logging policy: HideMyAss does not log your authentic IP address, your exercise over the internet, or even precisely how much data you're broadcasting across our servers — ensuring you remain entirely indistinguishable when you use our service.
6. Military Grade encryptions: HideMyAss uses only the most powerful encryption standard: 256-bit AES.
On Windows devices and Android devices, HideMyAss has executed it with the OpenVPN protocol in Galois Counter Mode, with 4096-bit RSA cryptosystems for handshakes, verified with SHA256 cryptographic hash functions.
On Apple devices, HideMyAss has implemented it with IKEv2/IPsec, designed on Apple's self-owned stack, to assure the best adaptability.
7. Kill Switch: It is the best security feature that should be added to every VPN according to us. Kill is a smart feature that protects you from Cyberattacks.
The kill switches are basically programmed in a manner to hide the client's internet activity as soon as the client is disconnected from his VPN network so that you are not exposed, and once your connection is rebuilt with your VPN service, you can again get back on track without any restrictions.
8. Customer support: The support staff of HideMyAss is exceptional. They have a simplification for all your needs. HideMyAss has hired expert engineers for your aid, which are available 24/7 around the cloak.
You can get to the customer support team by transferring them a mail and reading the blogs drafted by the developers themselves so that they can bridge the customer's gap to the developer.
How to avail the HideMyAss free trial on iOS & Android?
It is a pretty hassle-free task to get a HideMyAss VPN unpaid trial on your iOS or Android device, and you can easily follow out the free trial activation steps mentioned above and follow the same for your device to activate it.
However, the only differencing factor would be, instead of going to the official website to download the app, you can directly visit the Play Store for Android users and the Apple store for the iOS users to download the app.
Once the app is downloaded, use your user credentials to start your free trial.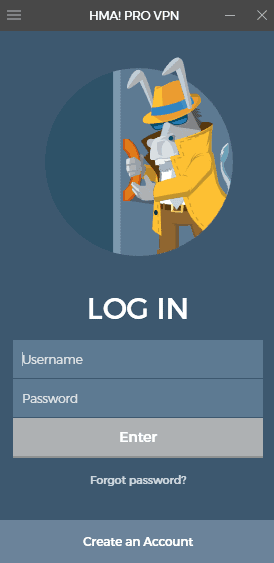 Once the app is downloaded, use your user credentials to start your free trial.
How much does HideMyAss cost?
Price is constantly an important factor when picking a VPN service. HideMyAss is a premium VPN provider, which is defined through its pricing.
It's your call if paying a few more is worth your bucks for their top-notch protection and good reliability.
We have done a complete break down of the prices of HideMyAss
Three Year plan 3.99$/ mo where you save up to 67%.
Annual plan: 4.99$/mo where you save up to 58%.
All these plans are charged every month and provide you 30 days money-back guarantee with it.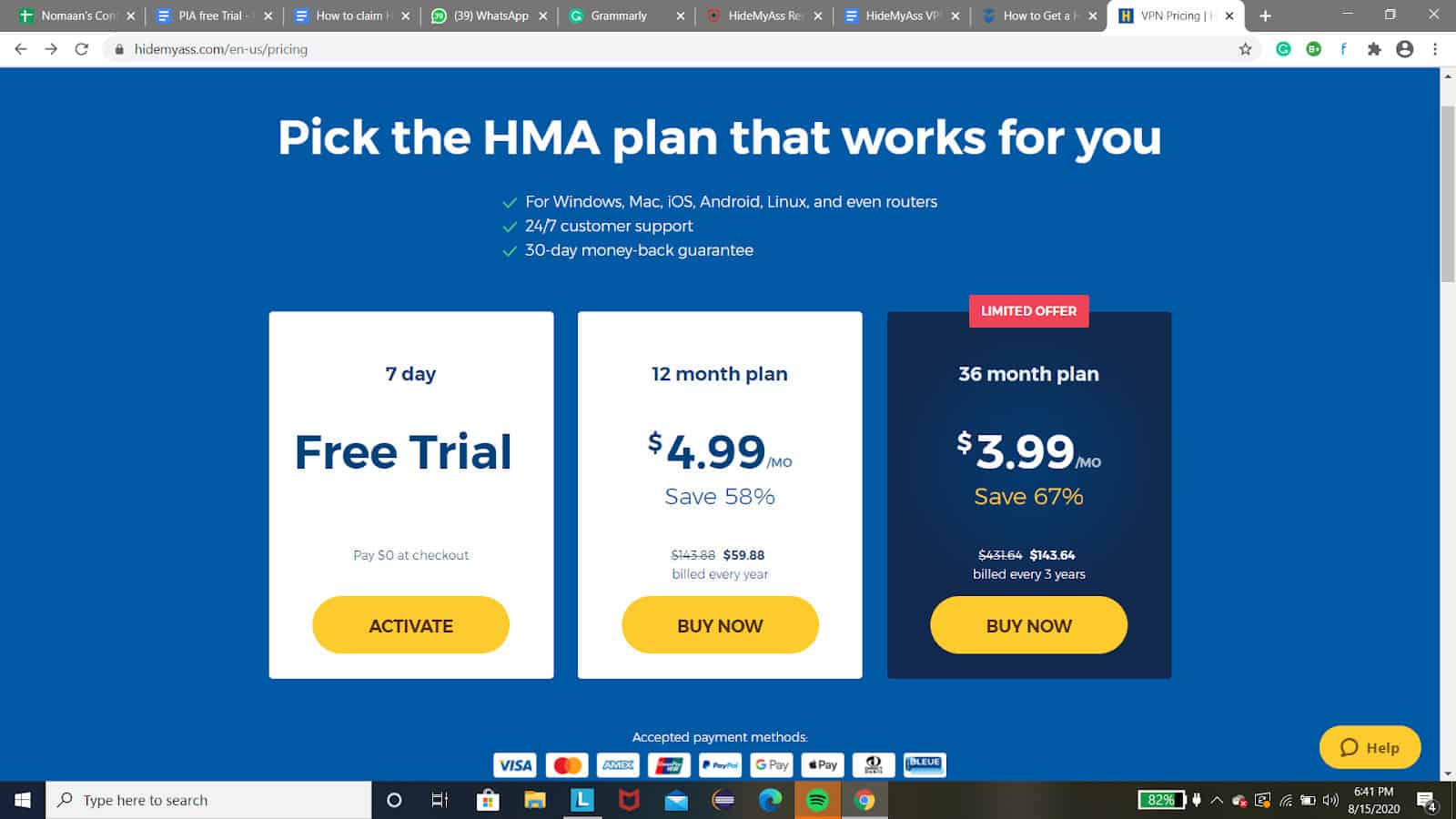 FAQs
Does HideMyAss VPN have a free plan?
Yes, HideMyAss VPN does not have a free plan, wherein you just have to list your credit card details, and that's it. You won't be imposed anything until you cancel your subscription.
Does Netflix work with HideMyAss?

Yes, when you are connected to HideMyAss VPN, Netflix United States will work without any confinements. In fact, HideMyAss has a separate server for it
Final thoughts about HideMyAss.
HideMyAss is the most premium VPNs in the trade. Despite that, it still permits users to try it out for free. Besides offering a 7-day free trial for Android and iOS, HideMyAss also sponsors a 30-day money-back guarantee on all of its plans.
If you already have a privilege to HideMyAss free login details and want to buy it ultimately, I recommend you go for the most popular three years subscription plan, which costs just 3.99$.
If you are planning to buy HideMyAss, we would advise you to buy it because of all the premium aids you get. One cannot rethink it.
Do share your insights about the free trial of HideMyAss in the comment subdivision below.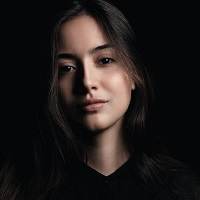 Tristan is a cybersecurity expert with over 10 years of experience in the industry. He specializes in virtual private networks (VPNs) and has helped numerous organizations and individuals secure their online activities through the use of VPN technology.