Are you looking forward to purchasing Trust.Zone VPN?
Well, you might need a guide.
Trust.Zone claims to be a truly Anonymous VPN. But what's the reality only users know.
In this post, I've added how to buy, configure, and properly use the VPN in a step-to-step guide. I've also disclosed some detailed insights and features of Trust.Zone. So, do read the complete review before buying a subscription.
Let's get started.
Trust Zone VPN Review : In a Nutshell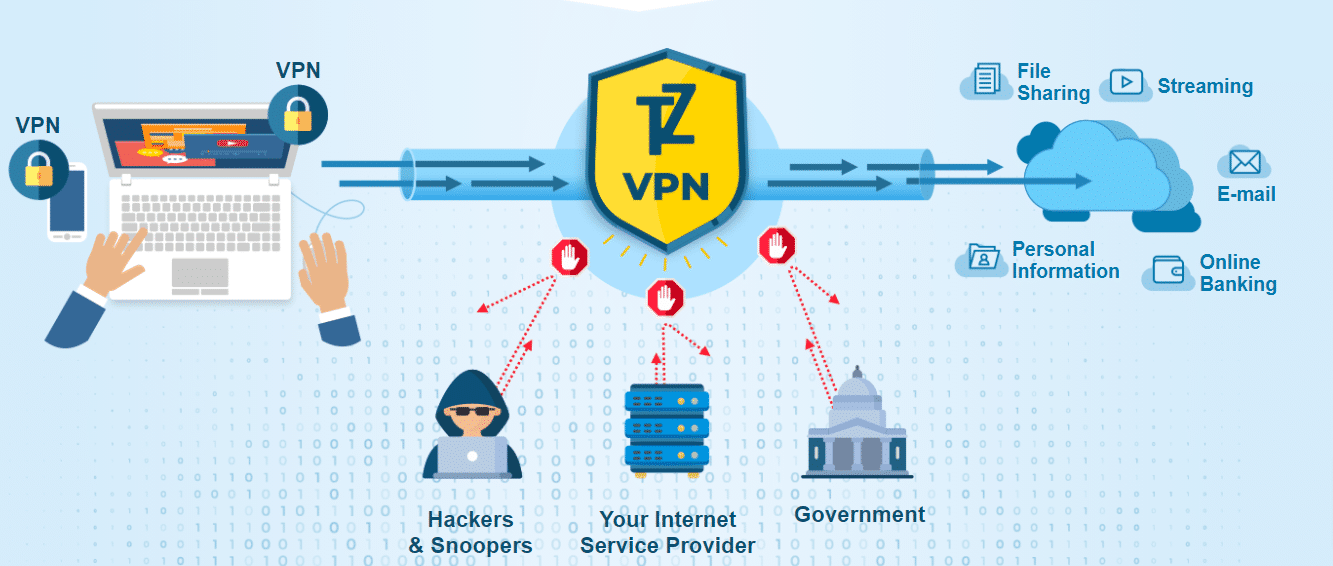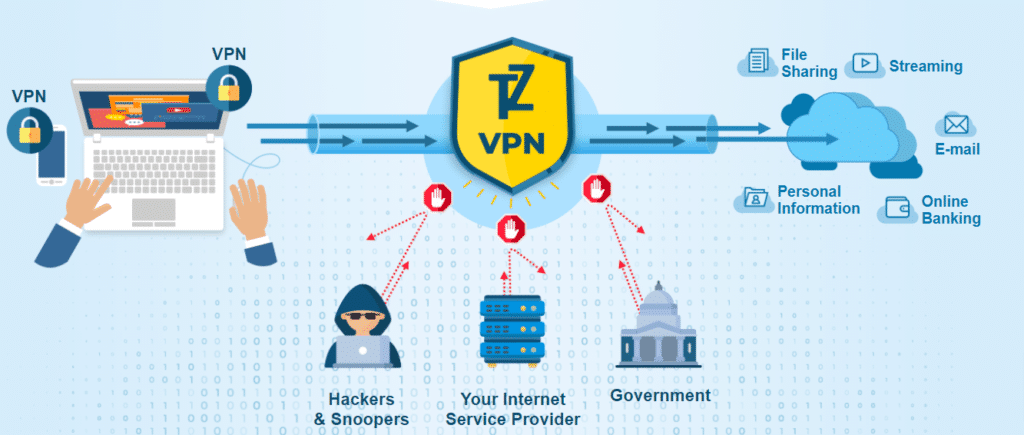 Trust.Zone is one of the finest VPNs available on the internet. If you care about your privacy then you should use VPN before using any website on the internet. Most of the users are just looking for a VPN to get access to more content on Netflix which is geo-blocked by Netflix.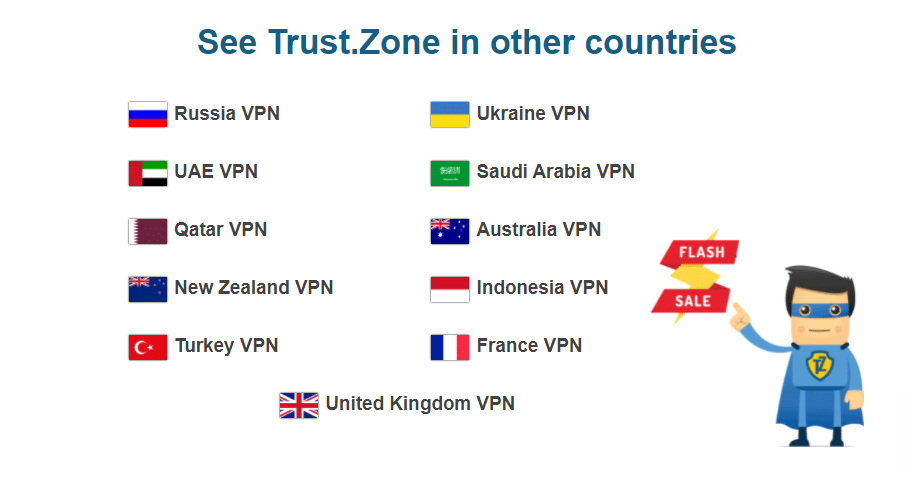 With Trust.Zone you can access any blocked website. Trust.zone offers tremendous speed with over 200 servers in more than 90 countries. The best feature about this VPN is that it offers double encryption which basically means you're using a double VPN. This extra layer of security makes it one of a kind. The awesome part is that it doesn't ask for any user information from you.


The services of Trust.Zone are transparent. They also mentioned that their servers do not save any log files on their system in their privacy policy. The usage data is completely anonymous and it is not connected with your real IP or public IP address.
How to Buy Trust.Zone VPN?
Trust.Zone offers simple and variable buying options. Once you visit their official website, you'll see crystal clear buying options. Every step is straightforward and optional. Anyone can choose and customize their plans according to their availability.
Follow these steps to buy a subscription.
Step 1. Visit the official website of Trust.Zone or click here to redirect to their website.
Step 2. Go to the Prices section from the top right corner.
Step 3. Select a subscription plan. You can choose monthly or yearly plans.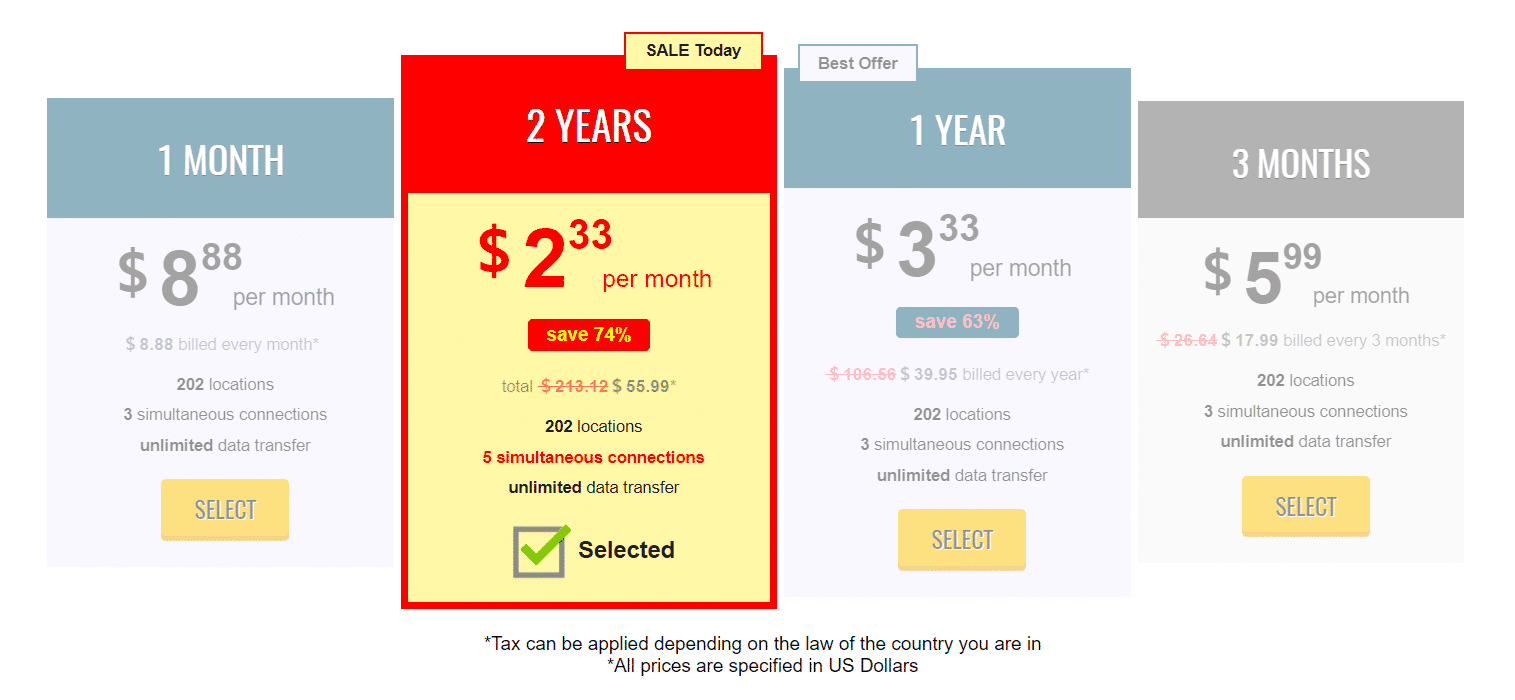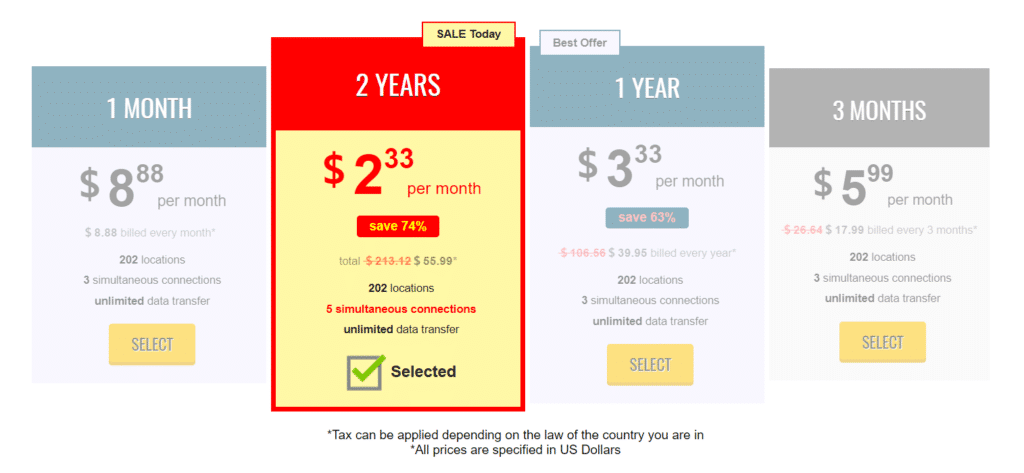 Step 4. If you want to customize your VPN plan, you can add extra features such as Dedicated IP Addresses, DDoS Protection, Additional Simultaneous Connections, etc. Adding extra features to your plan will cost you money. (This step is completely optional)


Step 5. Once your plan is fully customized according to your need, select your payment method. There are plenty of payment methods including Bitcoin and Cryptocurrencies.

Step 6. If you've got any coupon codes, click on Apply Coupon. Paste your discount coupon.

Step 7. Now, you can see your final billing. Check the Terms & Conditions and click on Buy Now.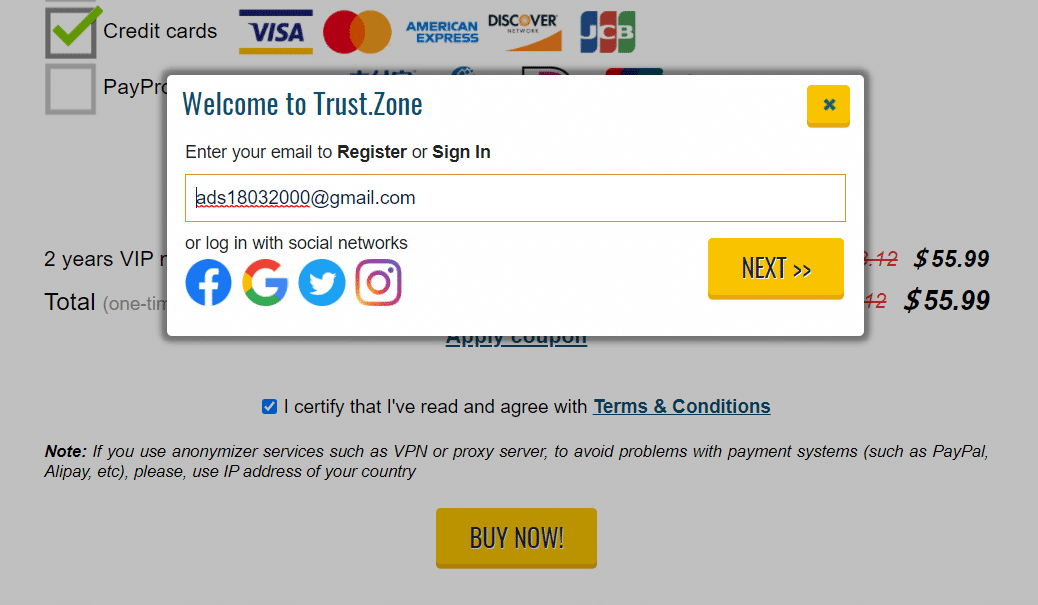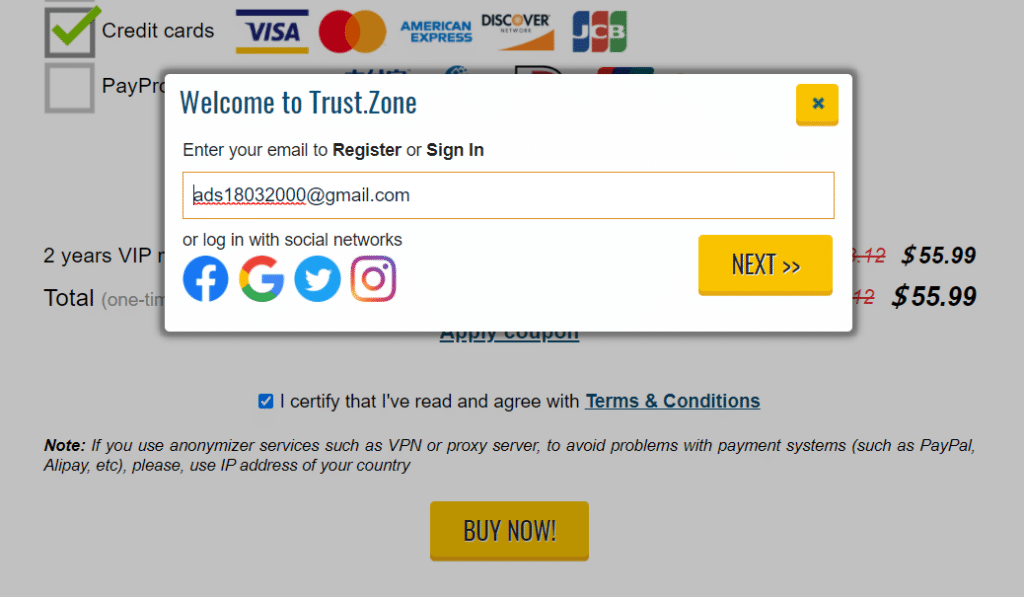 Step 8. After that, a small window will open. Here you have to go through the registration process. Put in your email ID and create a password. Fill the Captcha and again check the terms & conditions. Click on Register.
Step 9. After registration, you'll proceed to checkout. Redirecting to the checkout page can take some time, so be patient.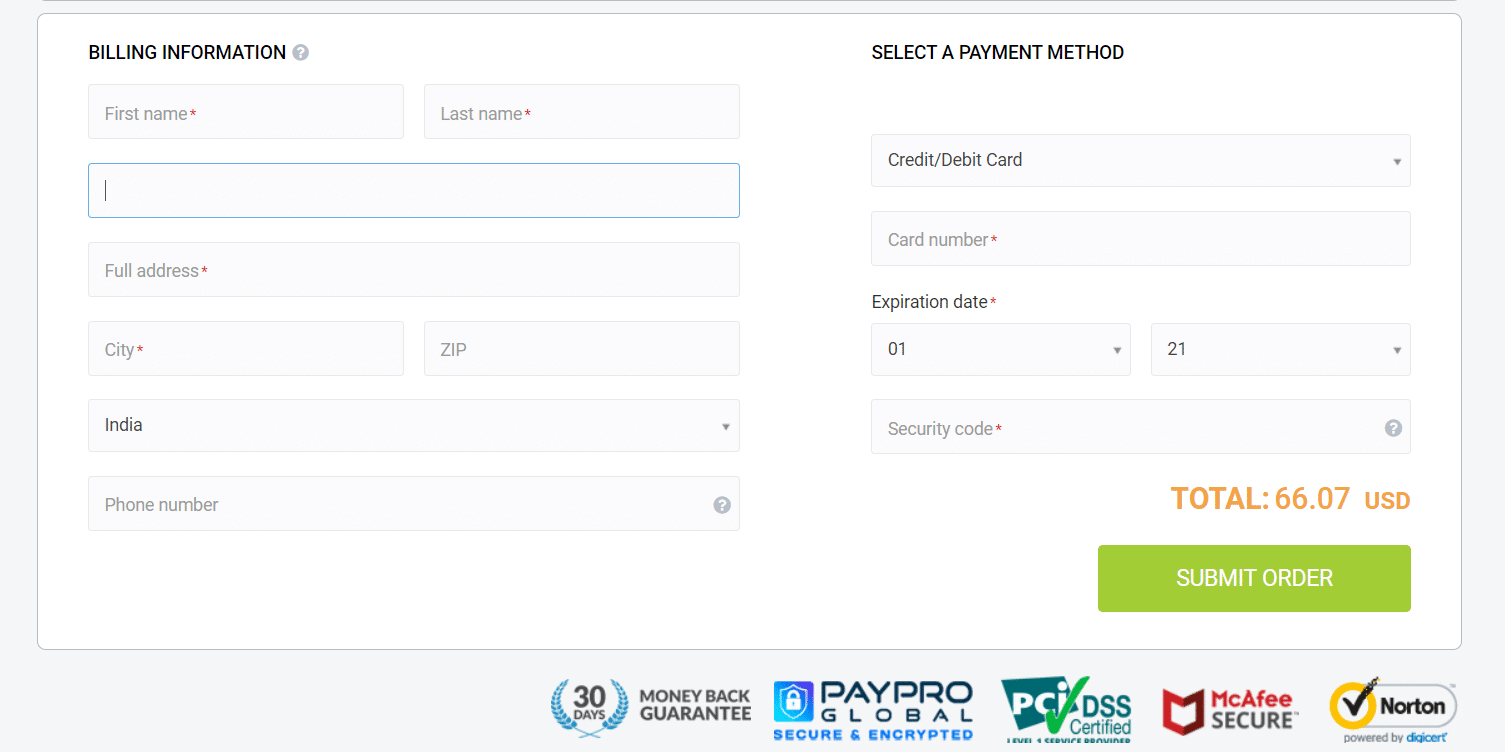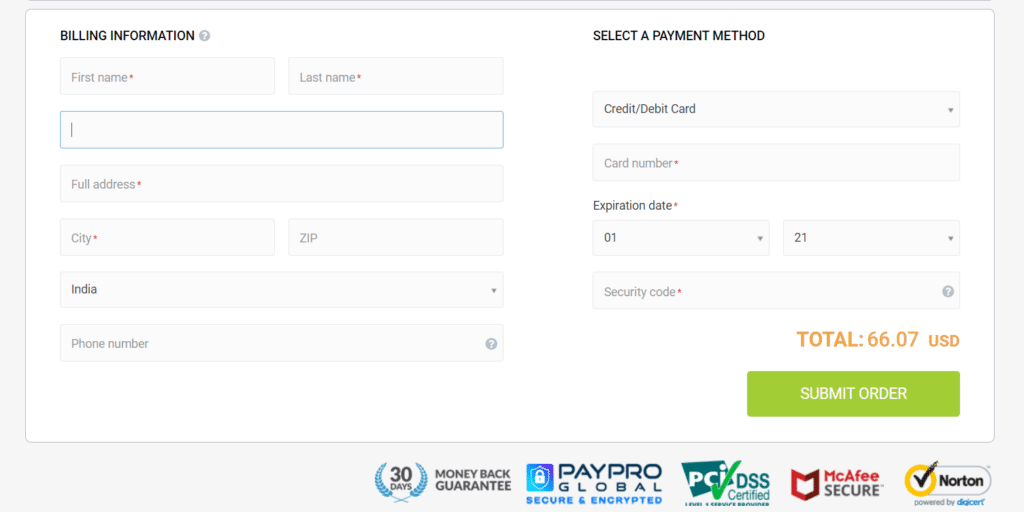 Step 10. Fill up your credit card or cryptocurrency details as you selected your payment method then click on 'Submit Order' to finish the order. (GST will also apply with your order)
How to install Trust.Zone VPN?
Before setting up Trust.Zone VPN, you need to install the Setup.exe file. You can download the .exe file from the Download section from their official website. Once the file is downloaded, follow these steps and start the installation process.
Step 1. Go to the download section and find the .exe file.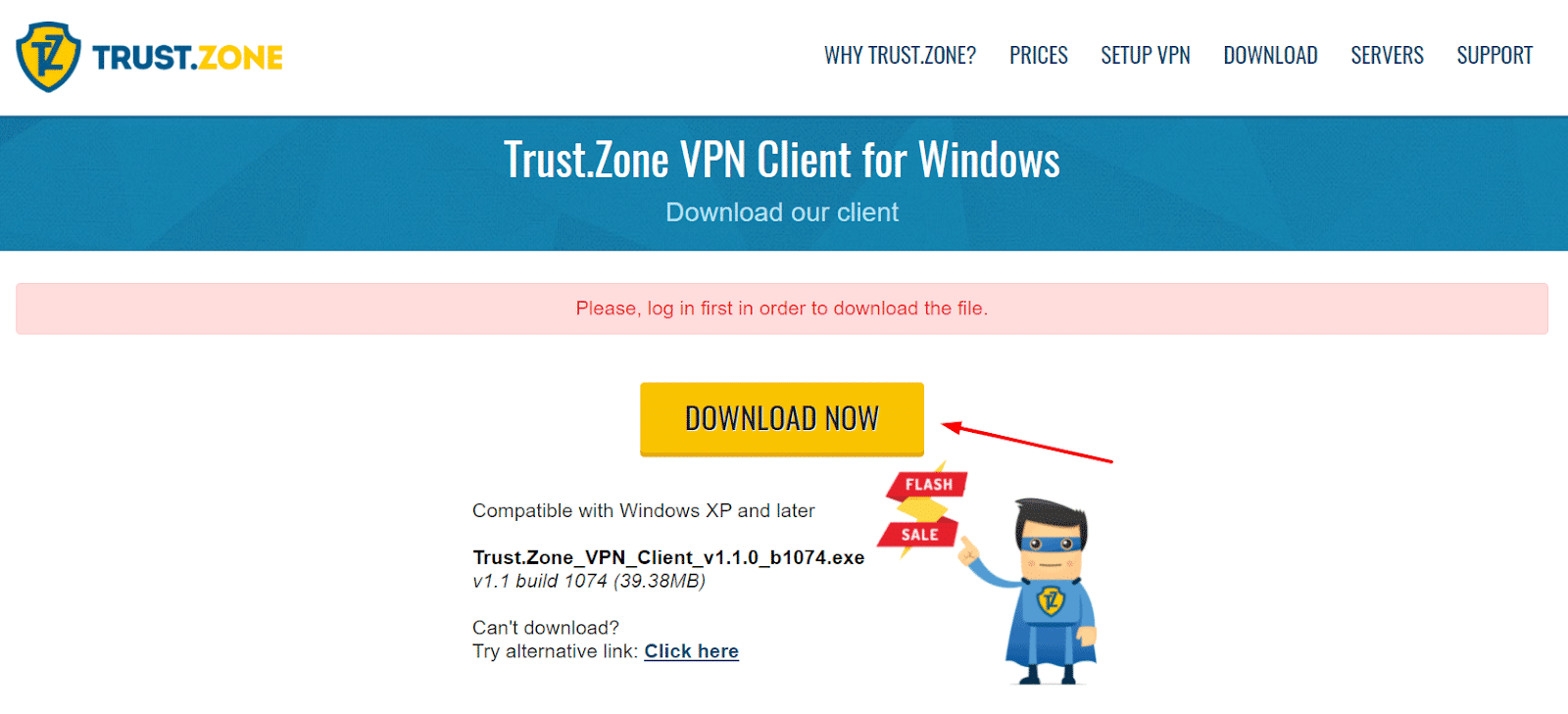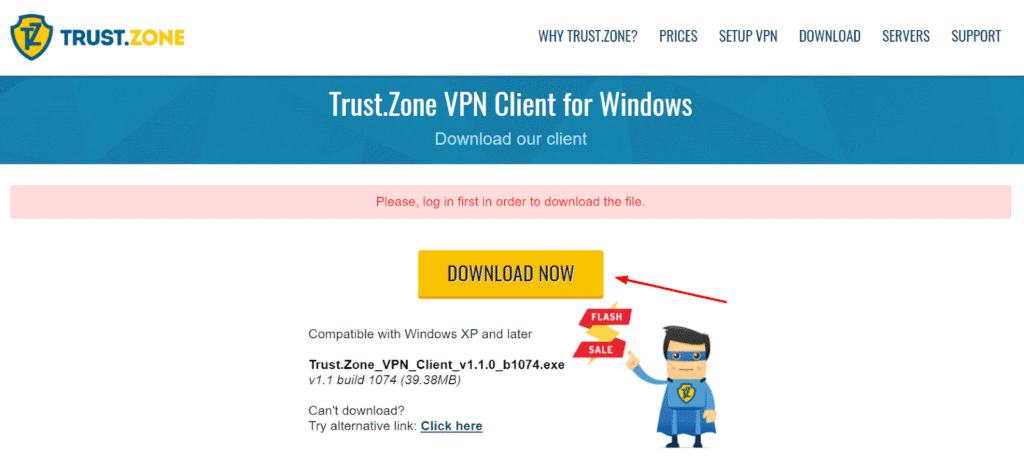 Step 2. Right-click on the file and choose Run as Administrator. Then click on Next.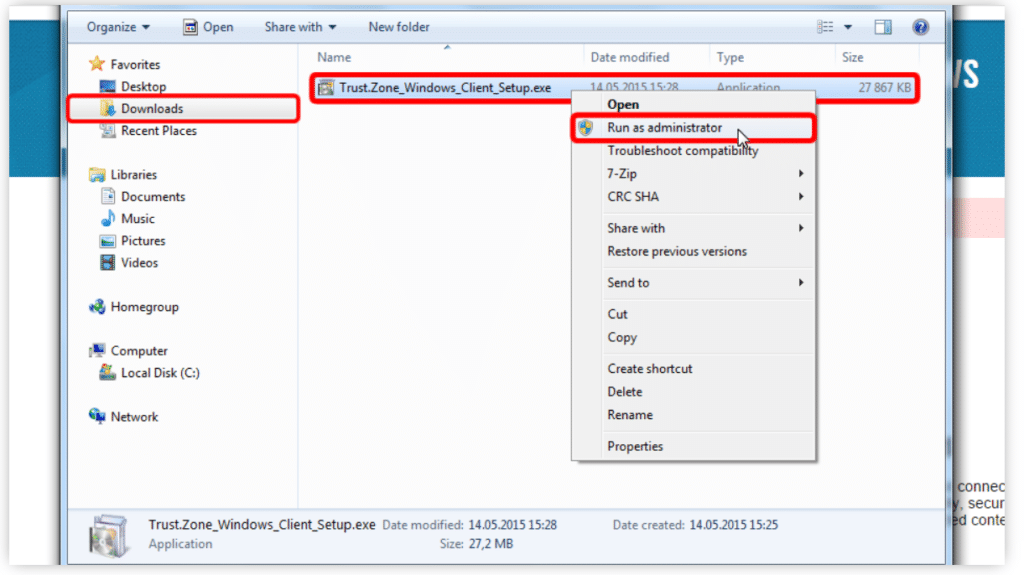 Step 3. Keep clicking Next until you find the Finish to complete the setup wizard.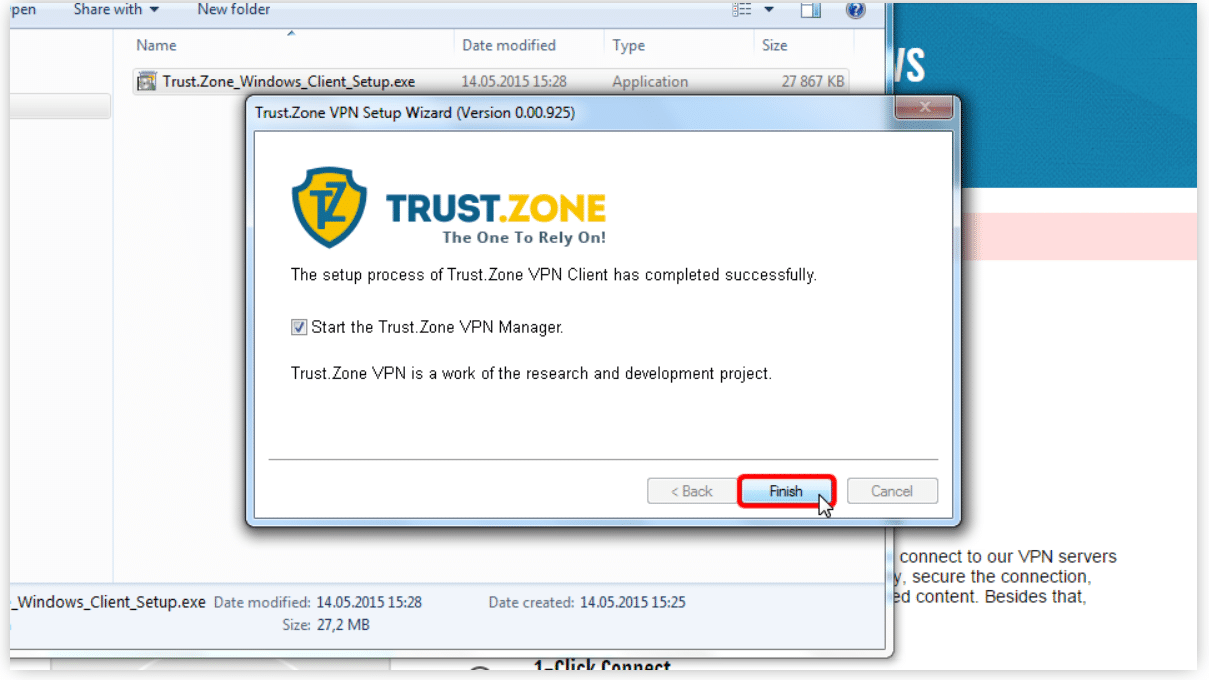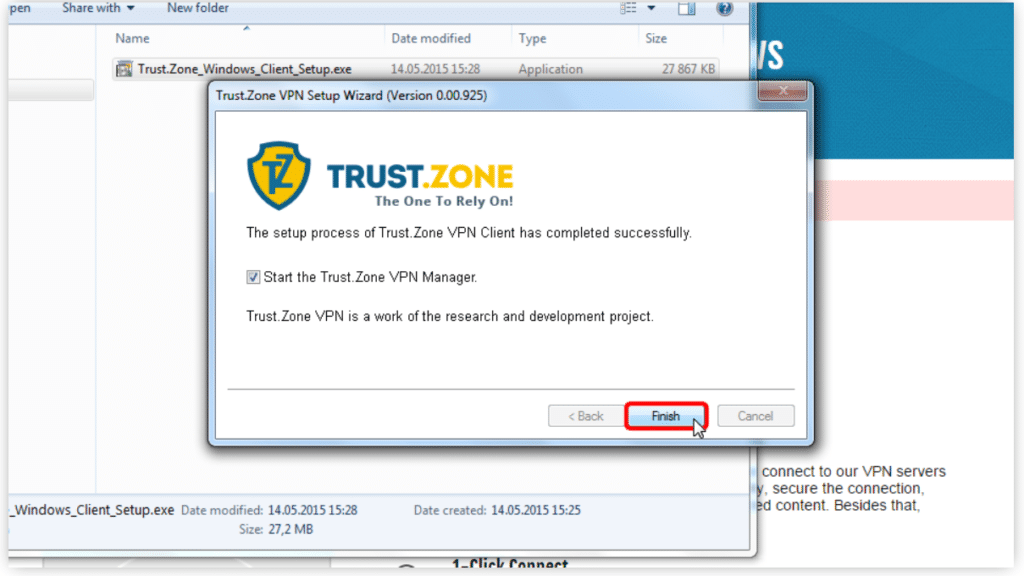 Step 4. When the installation process is completed, Windows will ask you to select the location for the network. Choose Public Network for best results.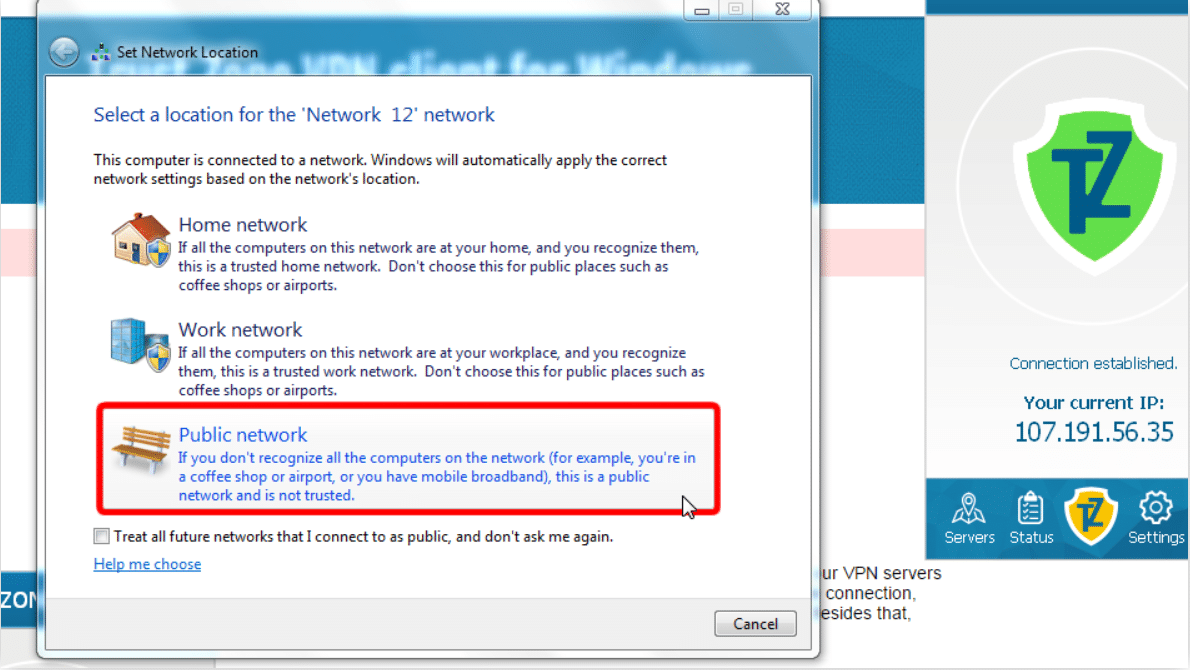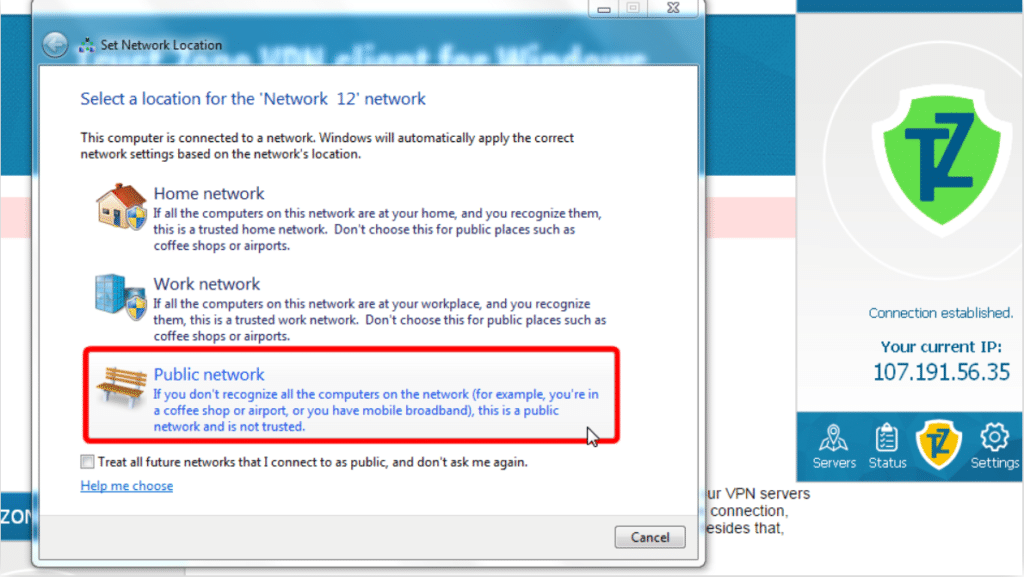 Step 5. Click on the Close button to close the dialog window.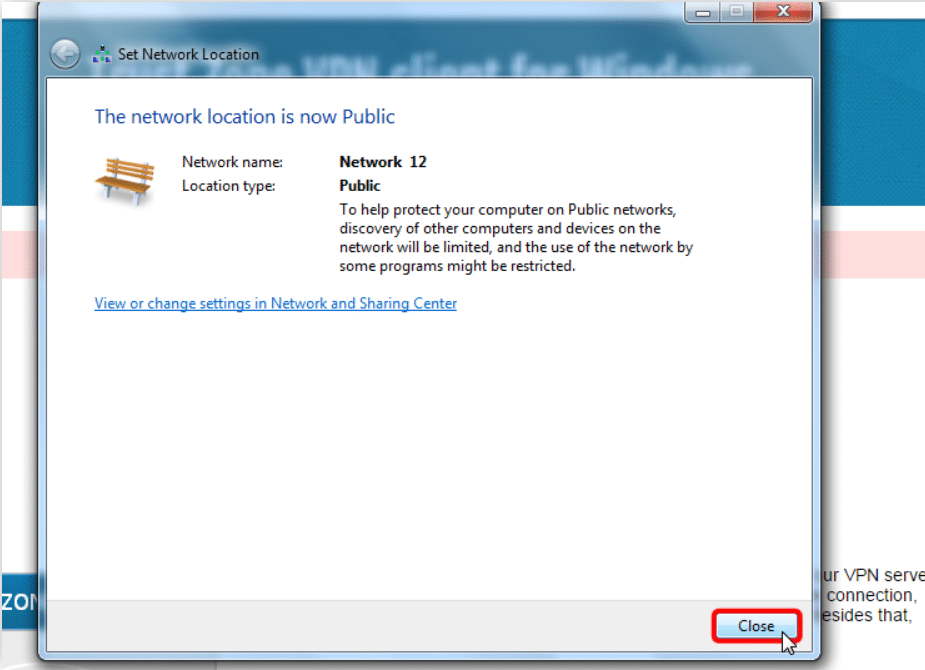 After installing Trust.Zone, follow these steps to connect a server.
Step 1. Open the Trust.Zone VPN from the shortcut menu.
Step 2. In order to get the servers list, click on Servers from the bottom right.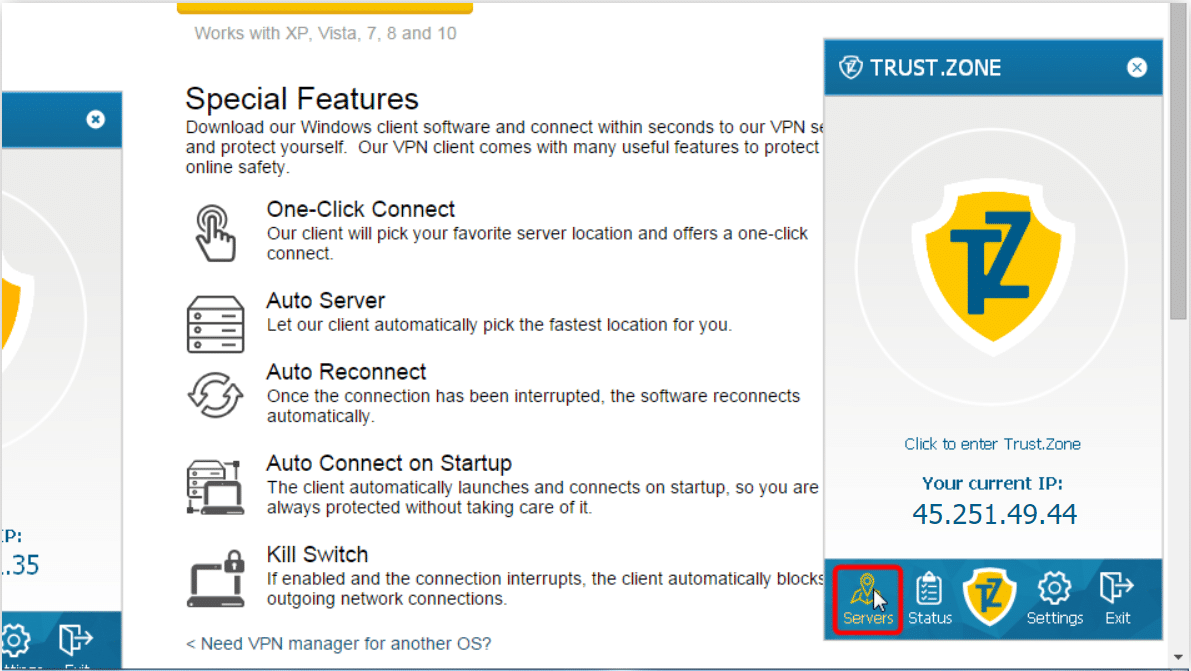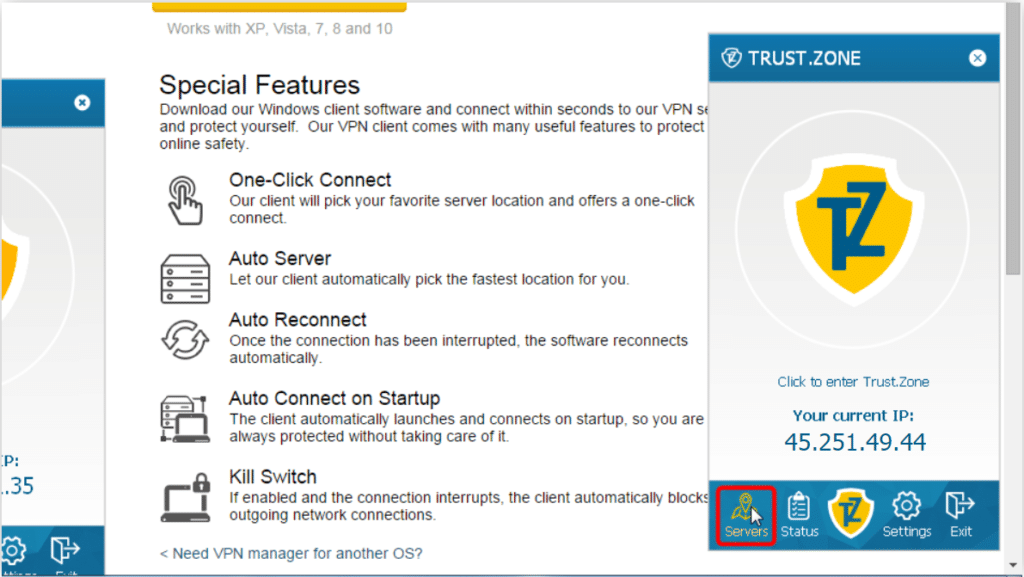 Step 3. You'll see dozens of servers available for your location. Select the fastest server and click on Connect.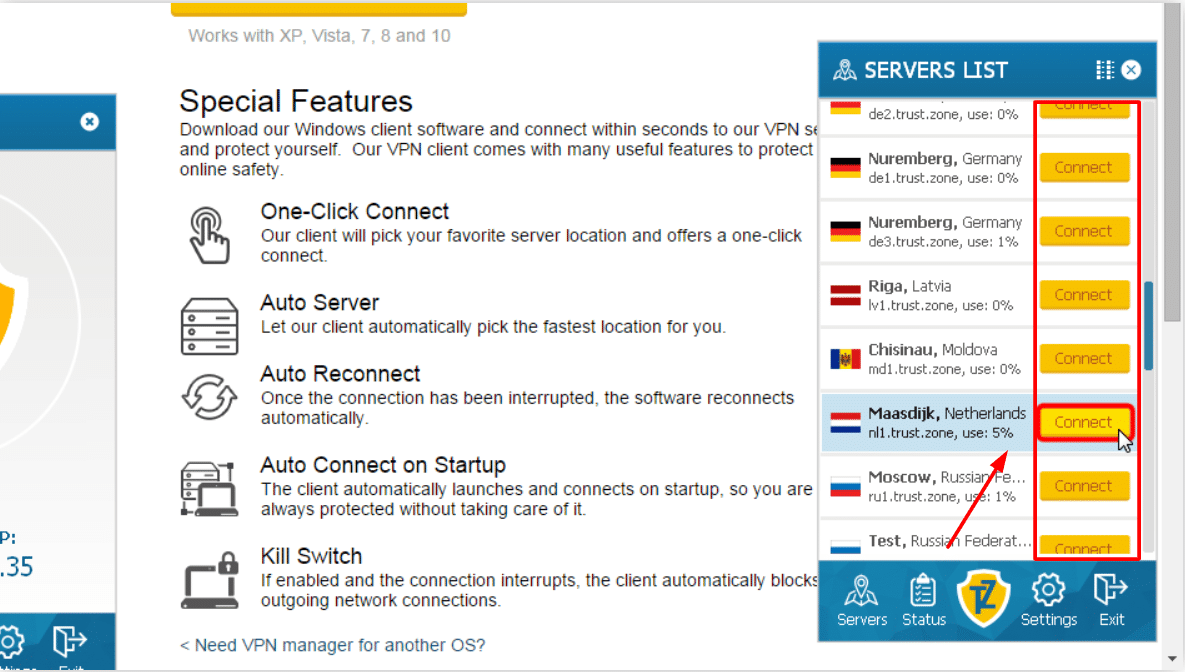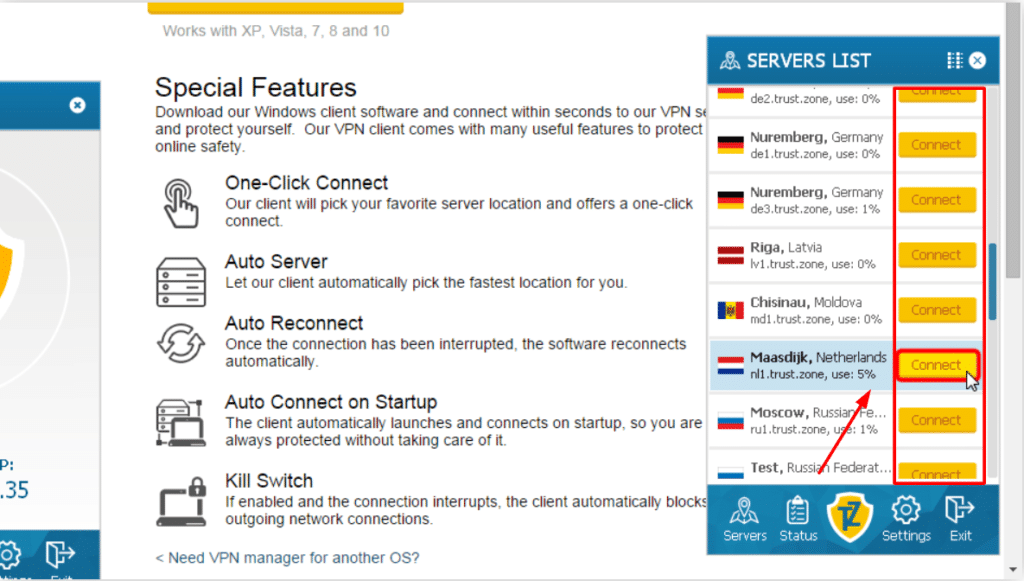 Step 4. It will take a few seconds to authenticate the connection process.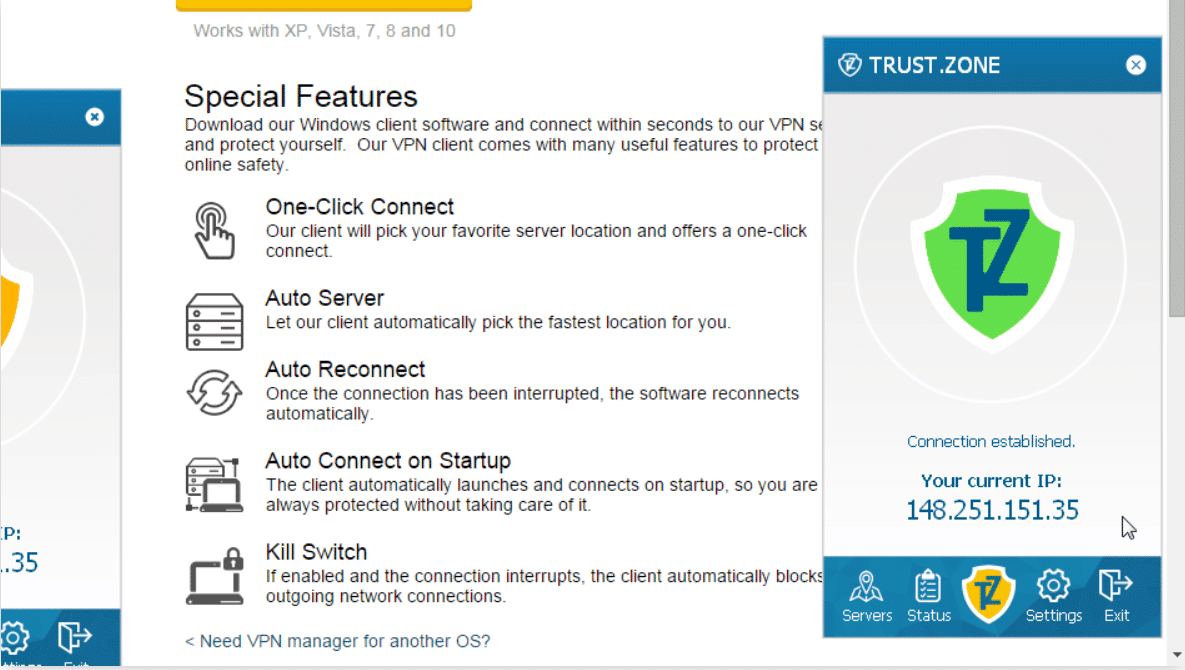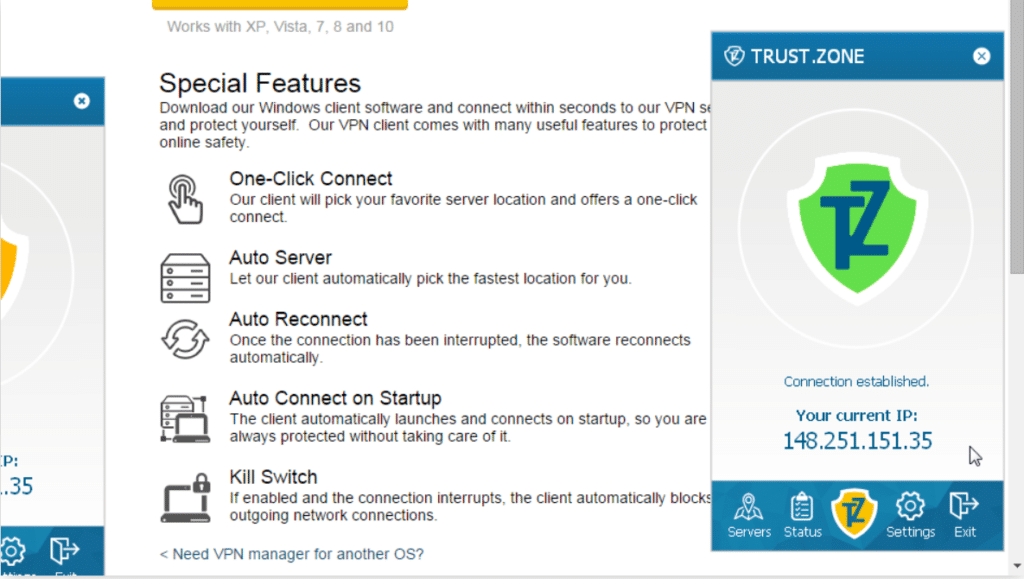 Step 5. When the Trust.Zone icon turns green, you'll be connected to the server you chose. The VPN will establish your current IP address seven-sea far from your location.
How to set up the Trust.Zone VPN connection for Windows?
Here's the manual to configure the VPN connection for Windows. Just follow these steps.
Step 1. Find the Network from the system tray and right-click on it. Then click on the 'Open Network and Sharing Center'. If you're using the updated version of Windows 10, you can find Network and Sharing Center from the Network Status from the main menu.
Step 2. Click on the 'Set up a new connection or network' from the Network and Sharing Center section.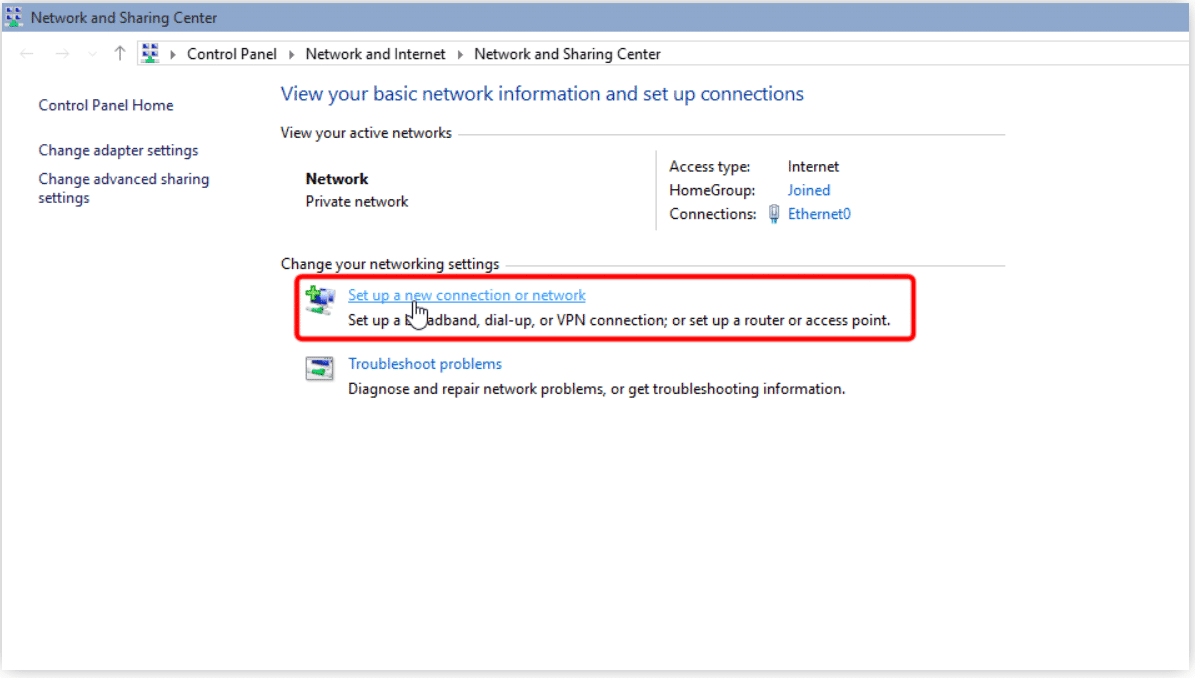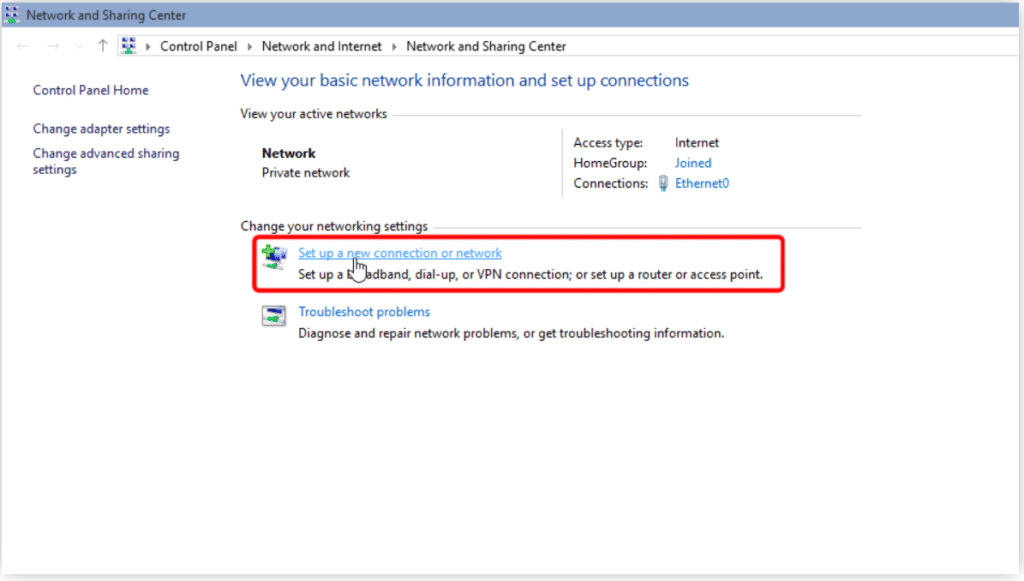 Step 3. Choose the connection option as Connect to a workplace and click on Next.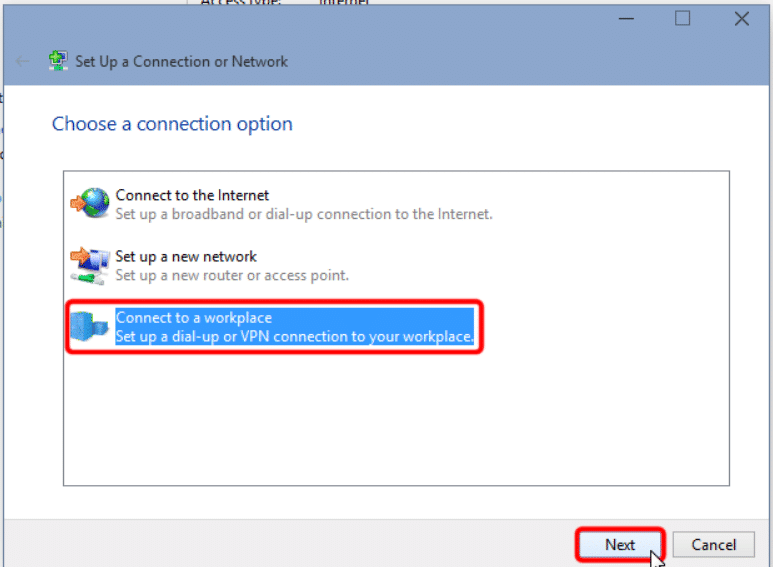 Step 4. It will ask you "how do you want to connect?" You have to click on Use my Internet Connection (VPN)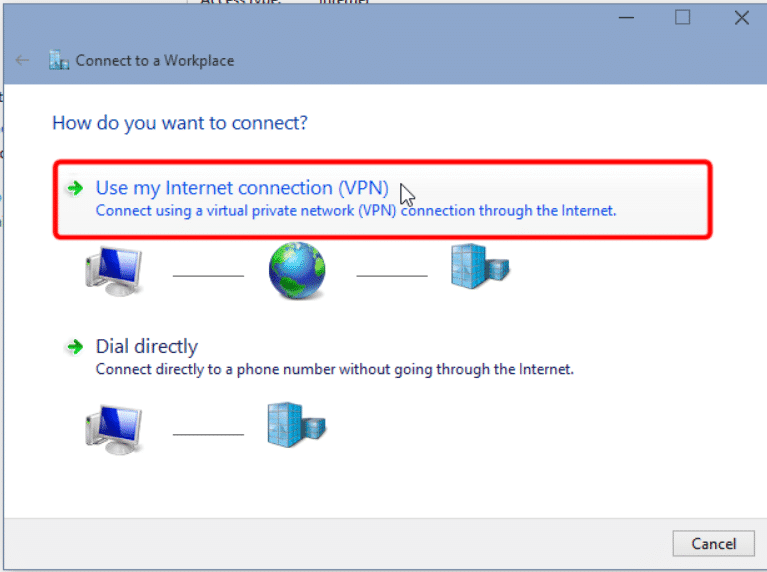 Step 5. Fill up the values as given below
Internet address: vpn.trust.zone
Destination name: Trust.Zone-VPN
Then check the option Remember my credentials and click on Create.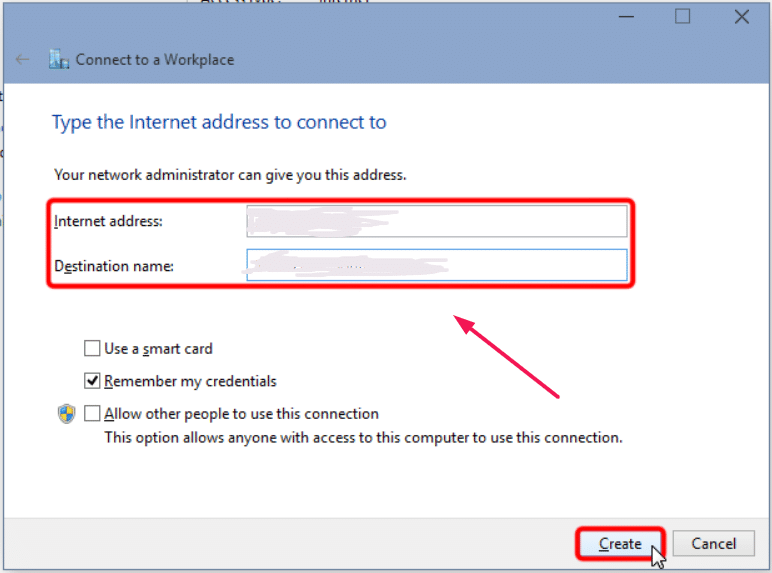 Step 6. Go back to Network and Sharing Center and click on the change adapter settings.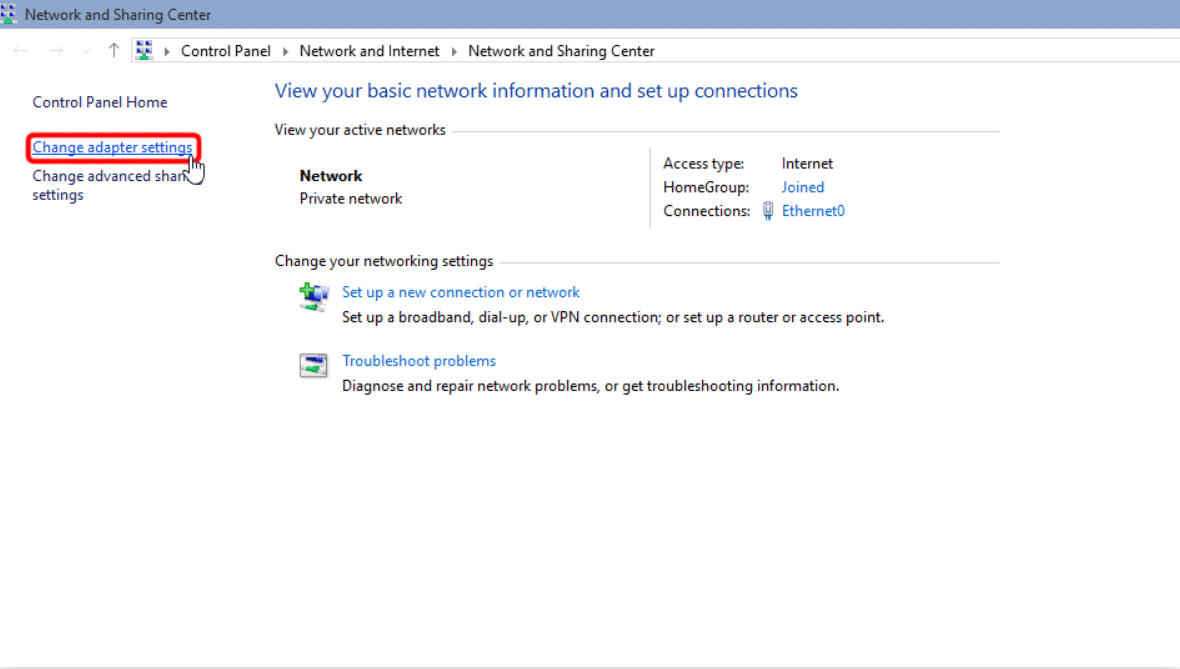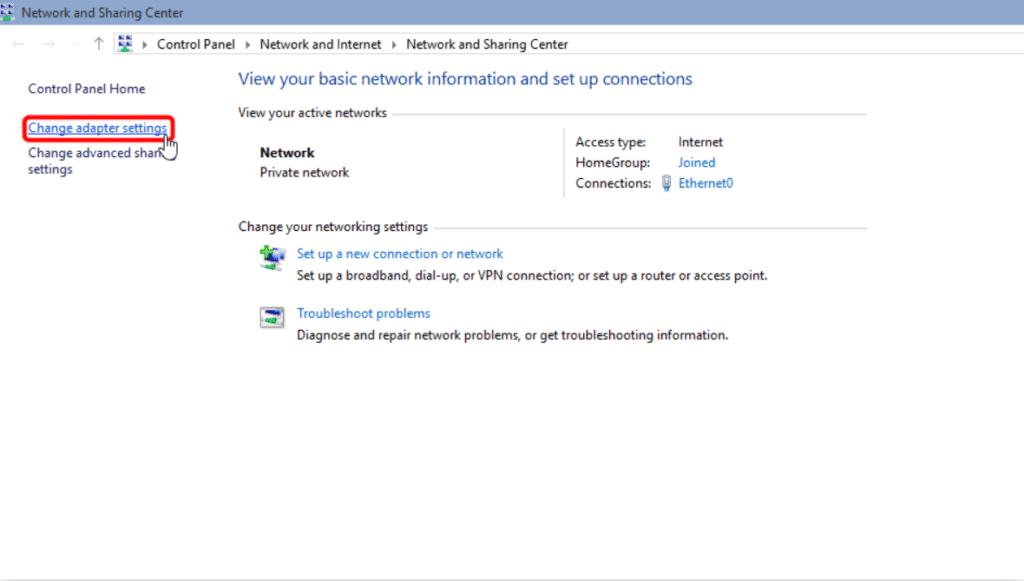 Step 7. Right-click on the Trust.Zone VPN and select Properties.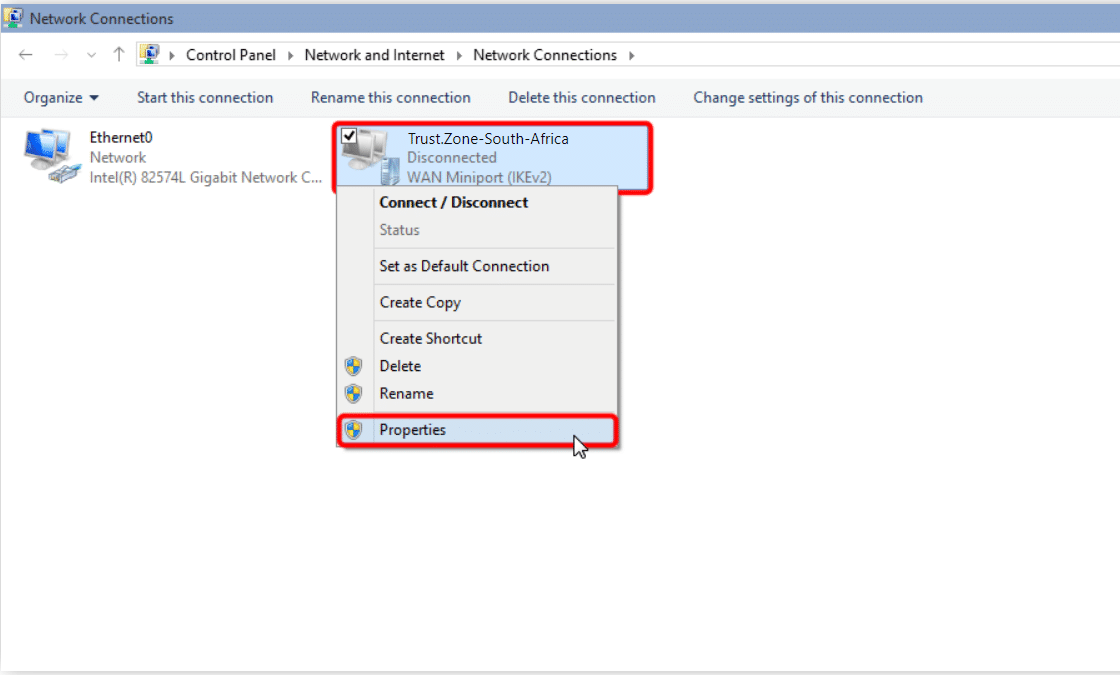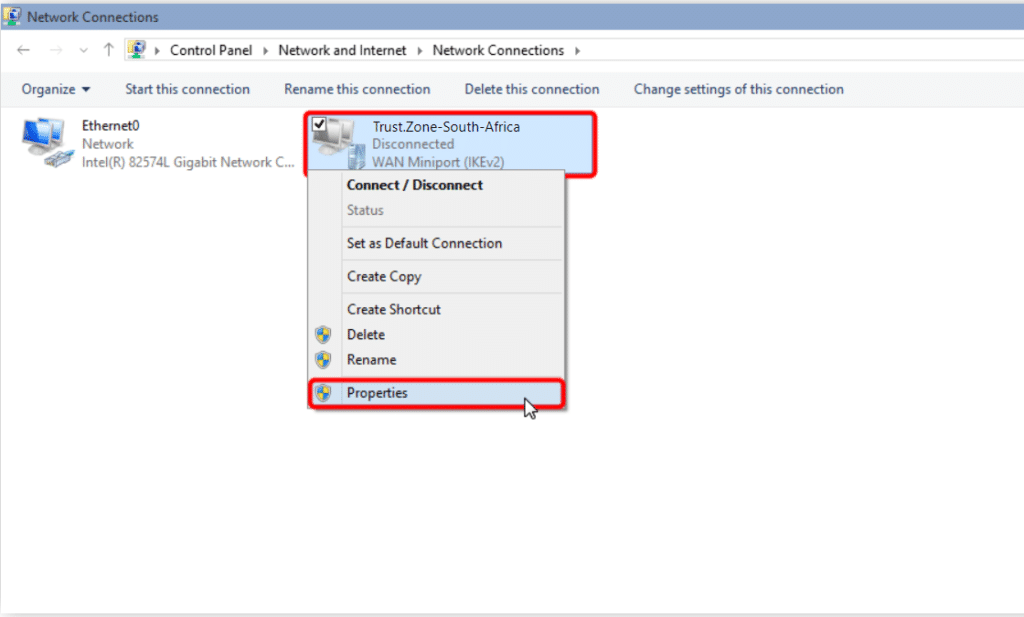 Step 8. Go to the Security tab and select 'L2TP/IPsec'. In this tab, check to Allow these protocols and MS-CHAP v2. Then click OK.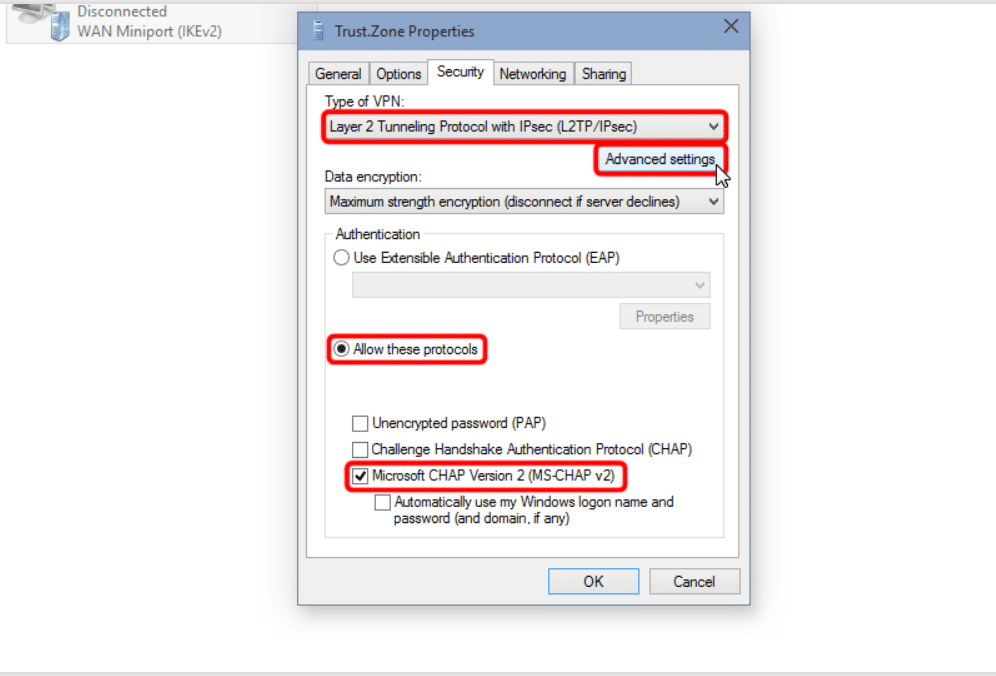 Step 9. Now go back to the main page and find Network & Internet from the taskbar.
Step 10. Go to the VPN tab and click on Trust.Zone-VPN. Then click on Connect.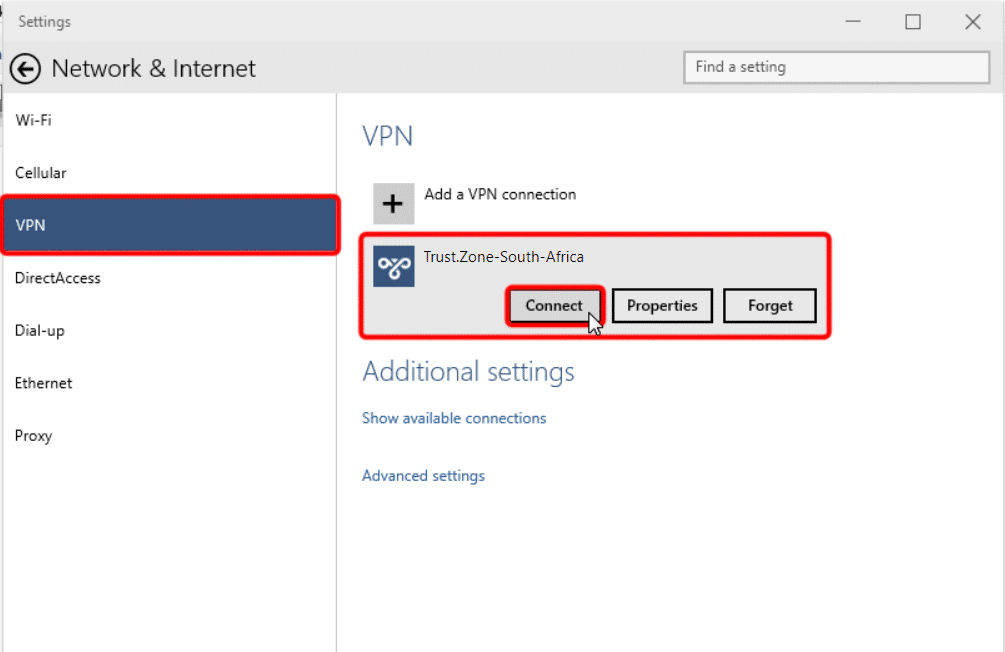 Step 11. Fill up your login credential and click on OK. Now it will show Connected.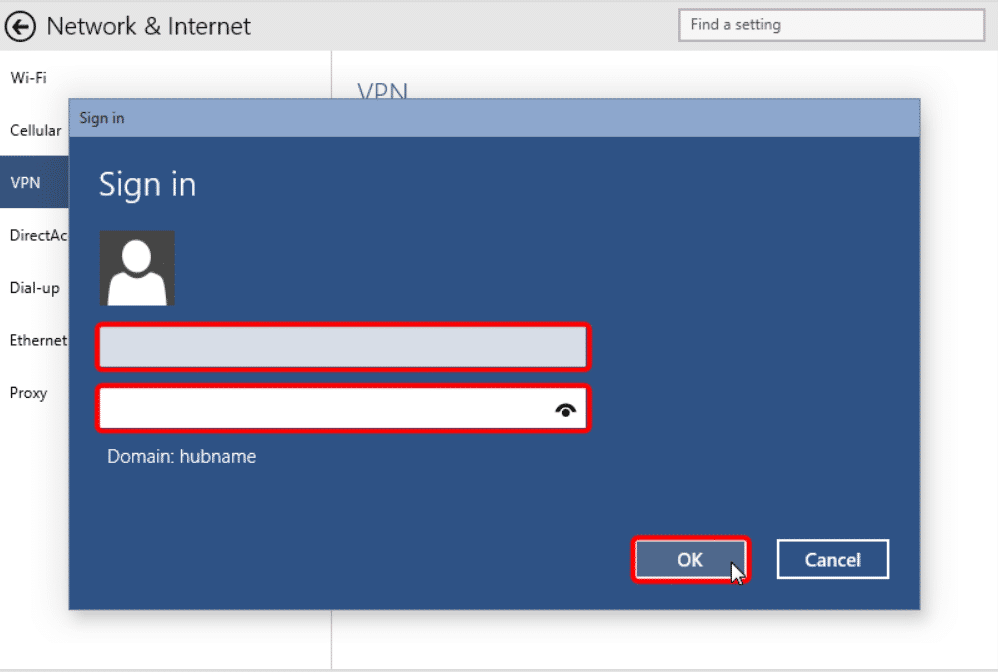 To check the connection status of your network, you can see it from the official website of Trust.Zone.
Is Trust.Zone Safe?
User safety is necessary when it comes to using a VPN. And Trust.Zone got top-notch security along with the service. It hides your IP address and gives you a new one that is far away from your location.
Trust.Zone encrypts all routes of your traffic and keeps your identity anonymous. Even your internet service provider (ISP) can't see what you're downloading or surfing on the internet. They don't store logs or personal details of their users. So nobody can get access to your server or network.
Free Trials
Apart from the paid service, Trust.Zone offers a 3-day free trial. Free Test offers 156 locations with 1 GB data transfer for one connection. You don't have to add your card details to test the free trial.
This is how you can grab the free trial offer.
Step 1. Click on the Prices section from Trust.Zone's official website.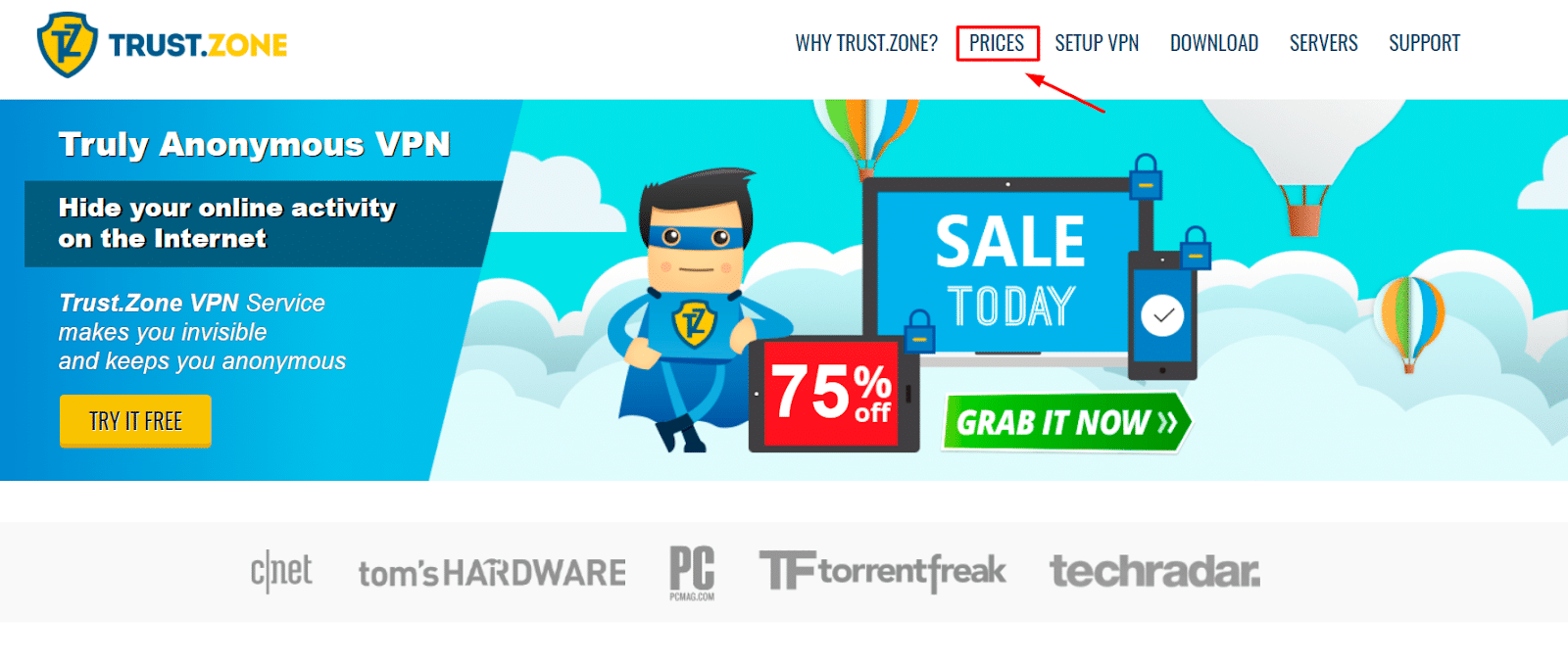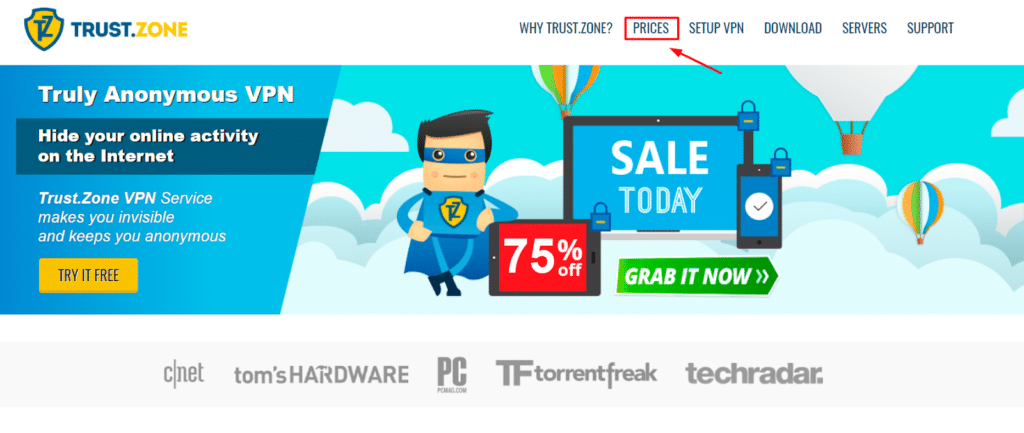 Step 2. Select the Free Test from the subscription plan.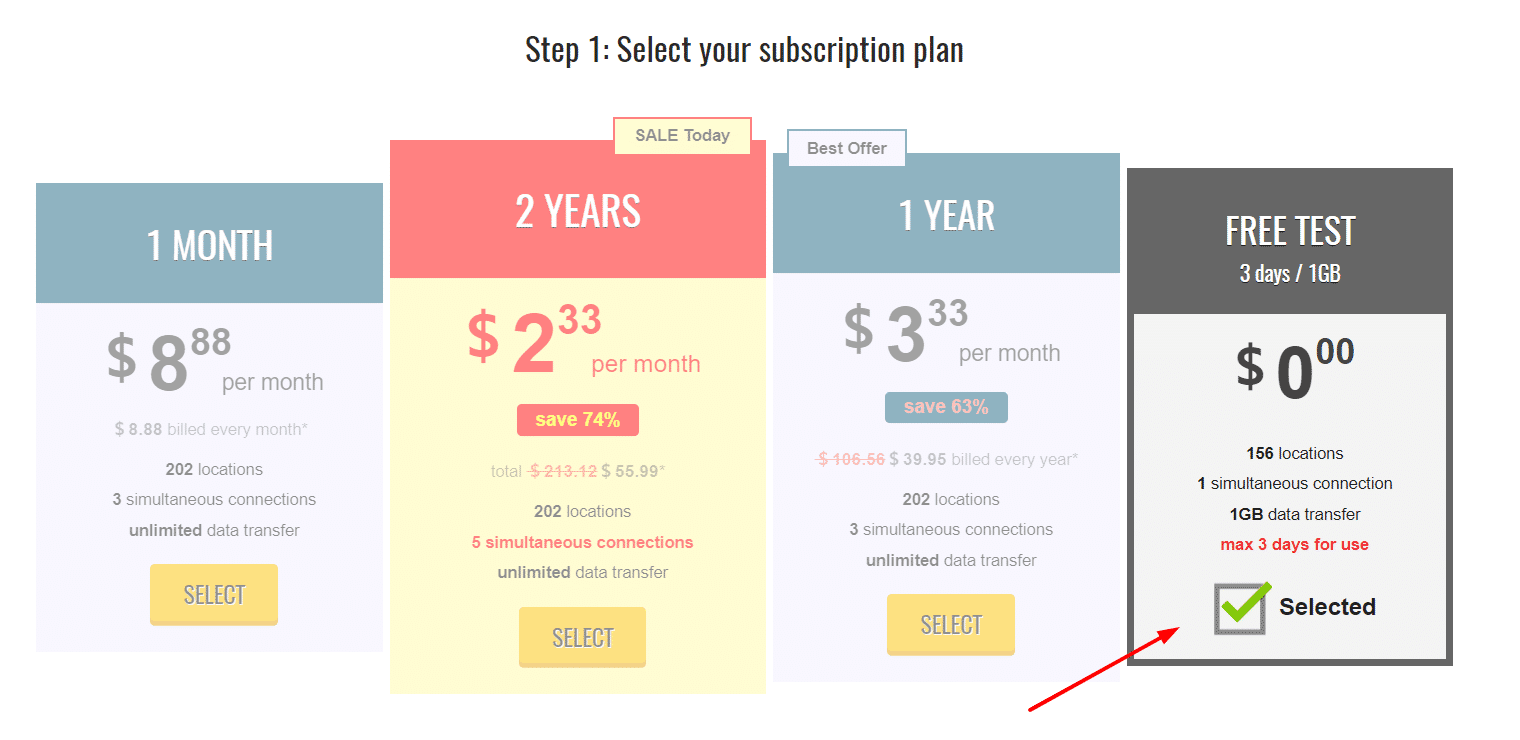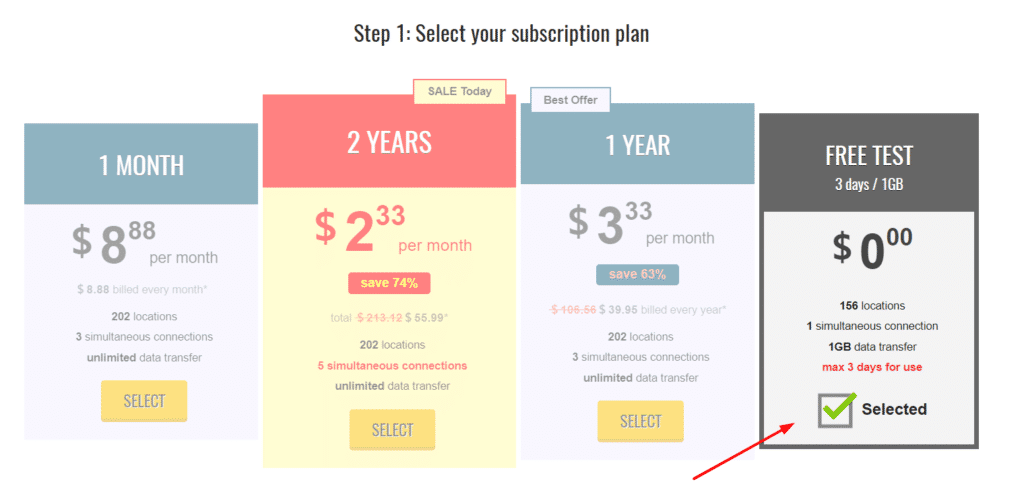 Step 3. Click on the Terms & Conditions.


Step 4. Now, click on Get Now and wait a few seconds.
Step 5. You have to register or sign in your email. Create a password and click on Register. A confirmation link will be sent to your email.

Step 6. Open the email sent by Trust.Zone and click on the confirmation email. Then the free test is ready to use.


You can see the time of the free trial ending on that email. This is the best way to check the VPN service before buying a subscription plan.
Note: Free Test is a one-time service. You can try it only once on a device.
Does Trust.Zone work with streaming and torrent sites?
Trust.Zone works well with most of the live streaming sites. You can also use the VPN to open the restricted streaming sites. Another guaranteed way is buy trust zone dedicated IP address for streaming purpose.
On the other hand, torrent sites work well on Trust.Zone VPN. Using this VPN, you can download your favorite shows, movies, videos, games, and many other things with the fastest network.
Privacy Policy
Trust.Zone is a privacy service and its primary goal is to maximize your privacy. The only information they collect is the user's email address. They take information about the user's email to use as an identifier. So users can log in and receive further notifications about offers and subscriptions.
The payment is done by third-party processors. They store specific information about your payments. Trust.Zone doesn't save your personal payment details. You can track the processor's policy during the payment process.
Your account, password, and other private details are stored in an encrypted format. It keeps you safe from unauthorized access. Their terms & conditions make sure you can't do any illegal file-sharing or activity that goes against military protocols. Even they don't allow a customer who is legally compelled to do so.
Speed Test
I've tested the speed of the Trust.Zone VPN on my Windows and Mac. About downloading speed, it performed much better on Windows compared to Mac. With the VPN, the downloading speed of Windows was ten times better than Mac with a slowdown rate of 13-14%.
The same happens with the uploading speed. The slowdown rate was between 12-13% with the VPN. Talking about latency, it slowed down between 35 to 53% on Mac but it was better on Windows.
Overall the VPN worked well on both Windows and Mac. Just remember the fact, using a VPN always slows the speed by some rates. But compared to other VPNs it was better than most.
Server Locations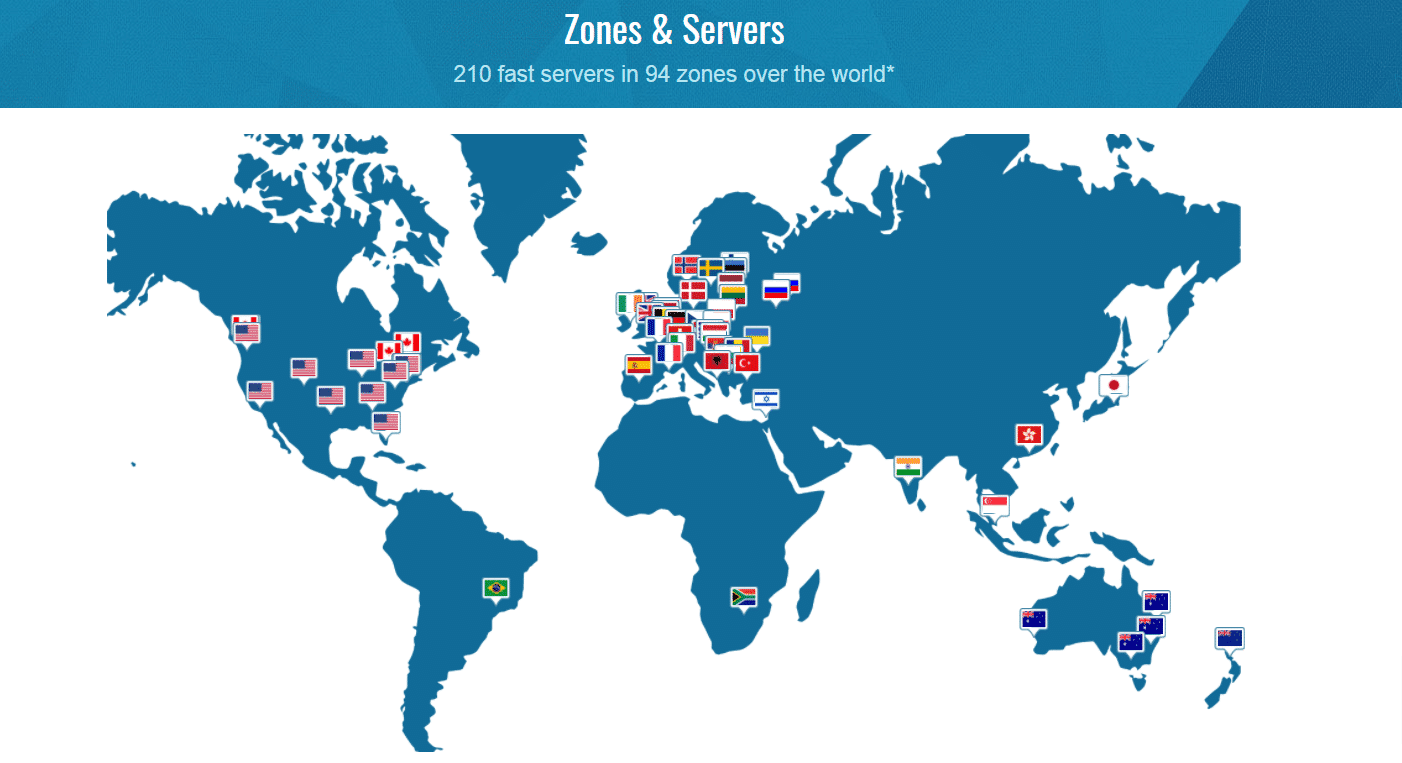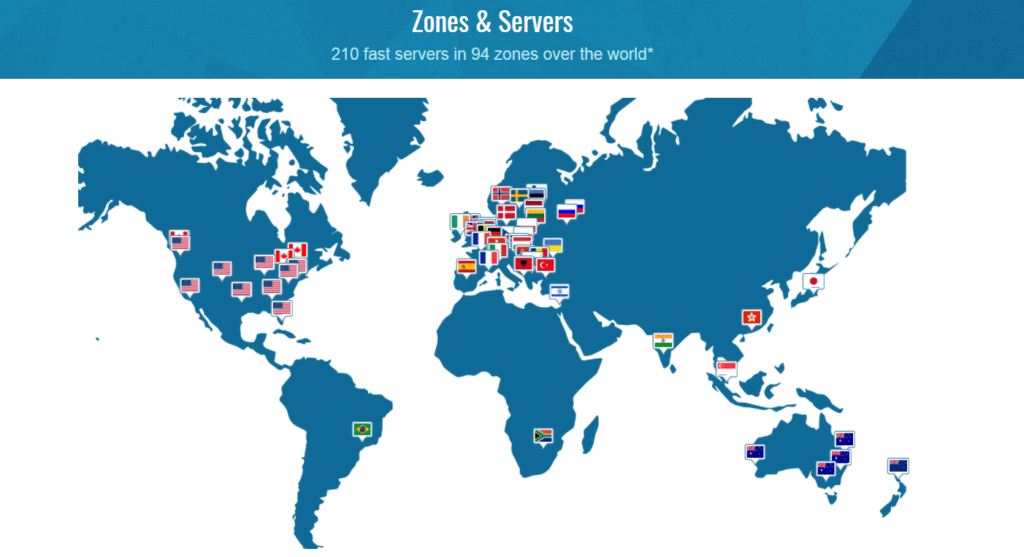 Trust.Zone currently offers 202 working servers across 94 zones worldwide. All the servers are combined into Geo-Zones that provide users a better connection, stability, and speed. Users can connect servers closer to their locations or a server with the best network. If somehow it disconnected due to unavailability or any reason, the VPN will reconnect to a better server in the same Geo-Zone.
I can say that Trust.Zone does offer some best servers with better speed. But compared to other VPNs, it lags in numbers. Some other top VPNs offer more servers in many Geo-Zones. Still, you'll get a top-notch service if you're located in a nearby Geo-Zone.
Supported Platforms & Devices

Trust.Zone currently supports major platforms Windows, Linux, Mac, Android, and iOS. You can easily install and sign-up on any device. At present, it supports the following operating systems.
Windows: Windows 10, 8, Vista, XP
Apple: Mac OS X, iPhone, iPad (iOS13)
Android: KitKat (4.4), Lollipop (5.0), Marshmallow (6), Nougat (7), Oreo (8), Pie (9)
Linux: Ubuntu, Ubuntu 16, Manjaro, Linux Mint 17.1
Trust.Zone doesn't have an app for the Apple Store. So users can use OpenVPN instead of Trust.Zone. It is also reliable and offers the same features as Trust.Zone.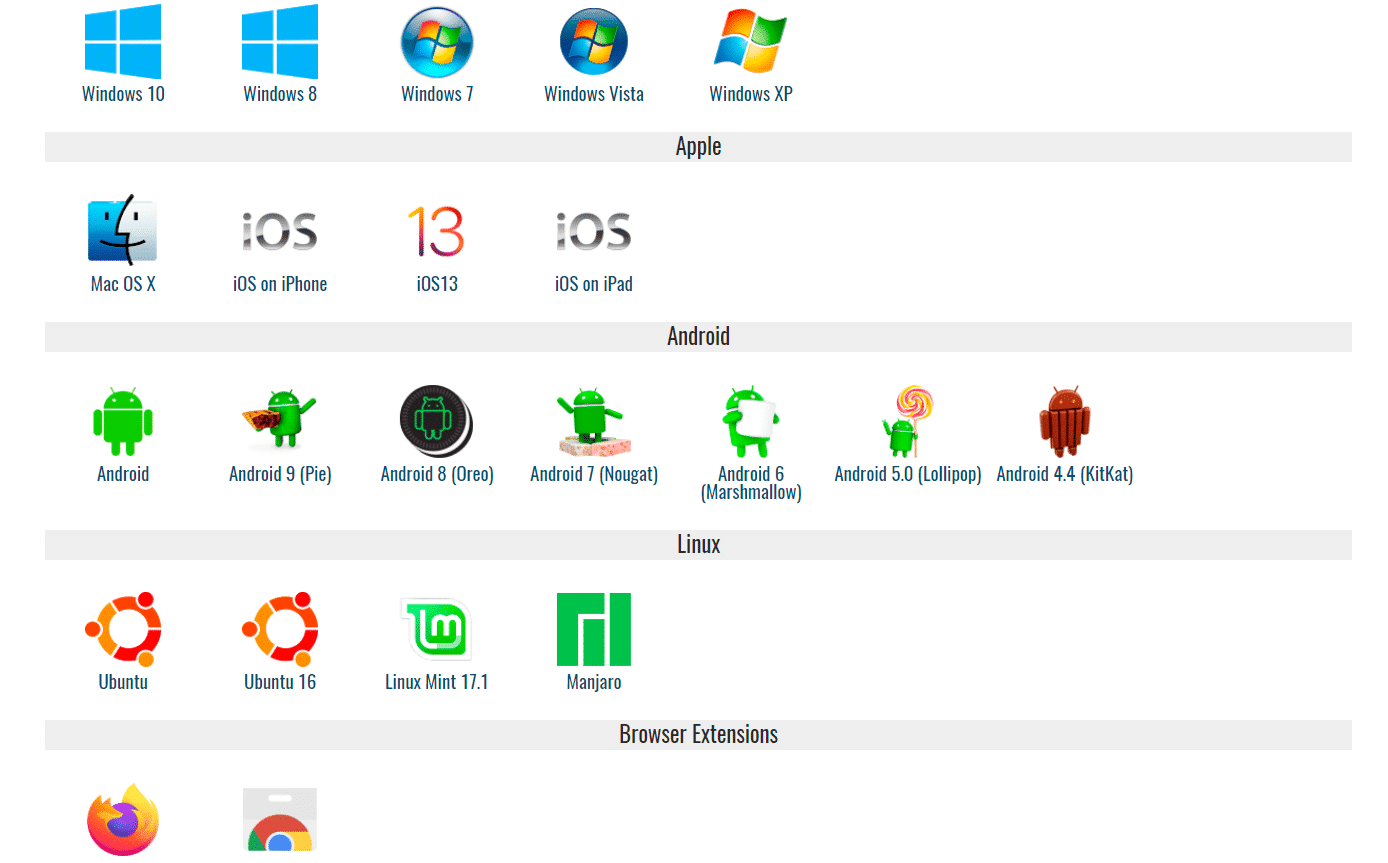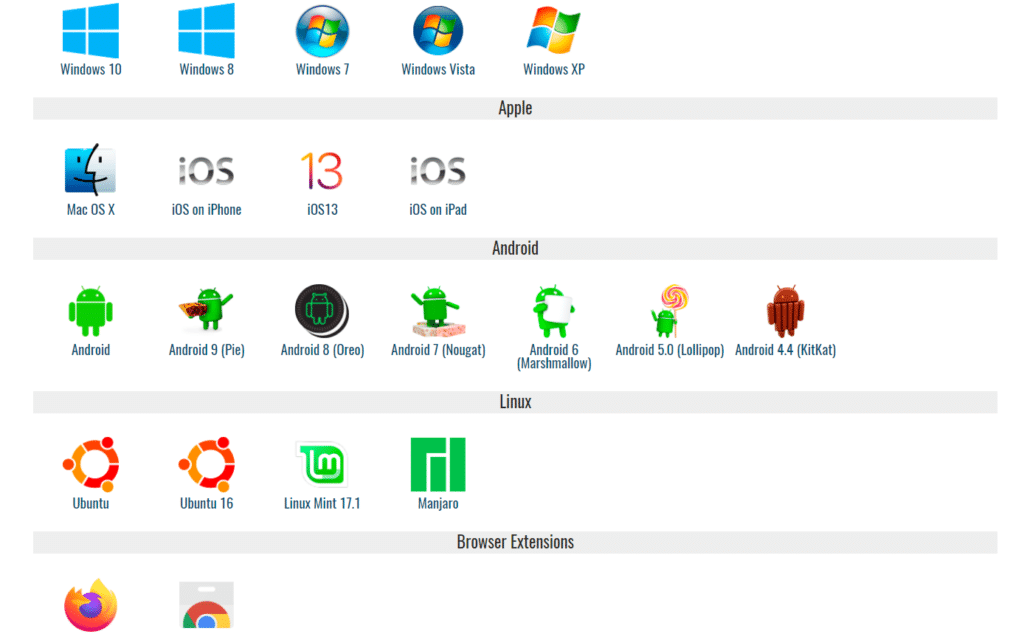 It works best with Mozilla and Chrome browser extensions. Apart from that, it also supports routers, Xbox, Smart TV, and PlayStation.
Trust.Zone Censorship
Online Censorship can cut out many communication services and illegal websites due to national security, military secrets, or stopping anti-religious works. The government strictly orders its citizens to use regular communication services that can be easily tracked.
Many VPN services offer to overcome censorship but it is hard to breach the security or break the protocols with a VPN. Trust.Zone does offer censorship but with a limit. You can open restricted websites with this VPN. Since its tunneling service isn't that great, you can't break government security protocols with it. Still, you can use it to stay completely anonymous.
Trust.Zone Encryption
Encryption is the main element of a VPN that turns your data into code. It helps the VPN to hide the traffic and is only delivered to the recipient. Here how Trust.Zone encryption encrypts your data.
AES-256
This is an industry-standard encryption that is measured in bits. 256-bits method, the main prop of Trust.Zone is mostly used for encryption and decryption. This is a double VPN process that encrypts web traffic twice.
RSA-4096
It is a multi-factor authentication process that makes sure the traffic goes to the right person, the one who is using the VPN. It can be simple as OTP or can be complicated as biometrics, depending on your configuration.
IPSec
IPSec is a great way to secure internet communications. It can be used in two methods: Tunneling or Encryption. You can use it to automatically encrypt the data packet itself. Or manually put the whole data packet in tunneling mode.
Trust.Zone Pricing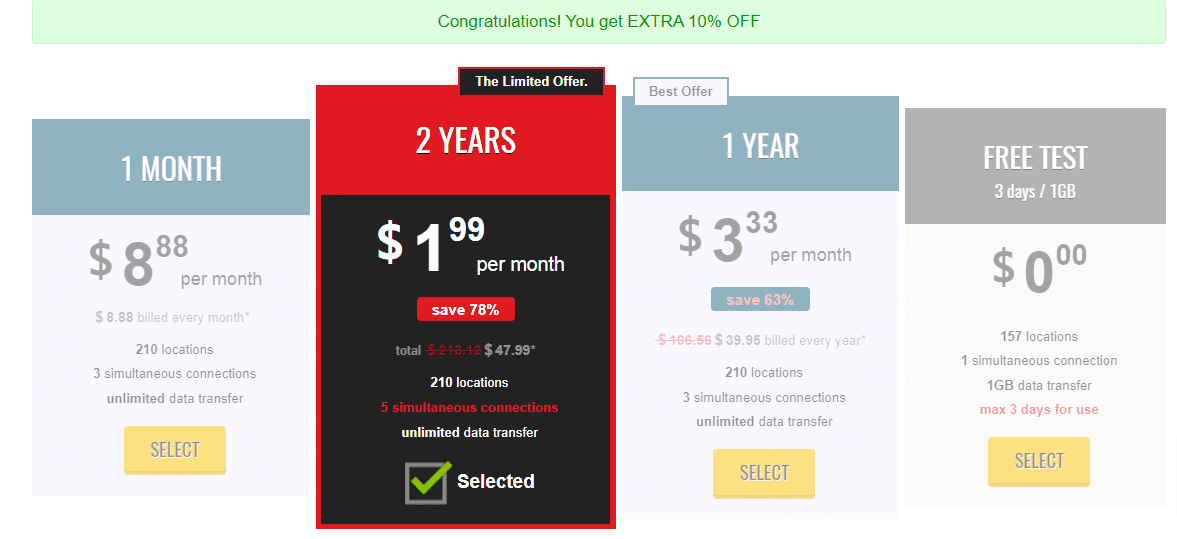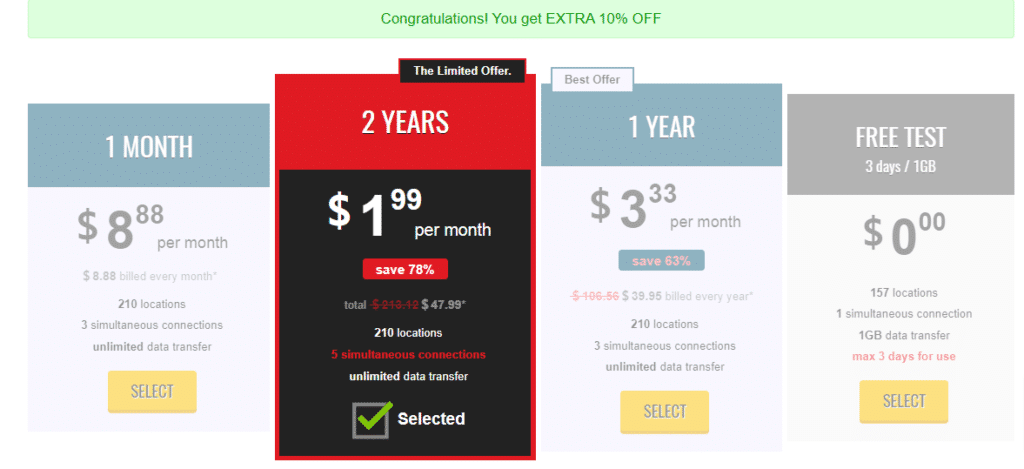 There are basically three pricing plans available on Trust.zone along with a free plan for three days.
1. 1 Month Plan: This plan costs $8.88/month. There is no limit to data transfer. Servers are available from 202 locations. You can use the VPN on 3 devices at once.
2. 1 Year Plan: This plan will cost you $39..95 at $3.33/month. All the features are similar to a monthly plan. You get a huge discount with this plan.
3. 2 Year Plan: The 2 Year plan costs you a total of $55.99 at $2.33/month. All the features are similar to the 1-year plan, but you can use this VPN on 5 devices at once.
4. 3 Year Plan: Trust.Zone also offers a 3-year plan in their FLASH SALE. You can purchase this offer with a promo code which leads you to only $1.91/month. The services are similar to a 2-year plan.
You can choose the payment method to Bitcoin and other cryptocurrencies for an extra 10% discount.
Customer Support
Talking about customer support, Trust.Zone doesn't have many reviews from customers. But in some reviews, customers were complaining about their late response. They take more than a day to respond to your mail. And they don't have a live chatting service.
However, you can create a new ticket from their Support section. You can select the department that is troubling you and attach files of evidence. They may take some time but they will respond and your problem will be resolved.
Pros and Cons of Trust.Zone VPN?
Pros
It offers 200+ servers in 95+ zones/countries
outside 14-eyes surveillance alliance
It's Support Warrant Canary
The plans are extremely affordable. Yearly plans cost only $2.33/month.
Unlimited data transfer
It has a kill switch that doesn't leak your IP address when you lose your connection.
Strong encryption with AES-256 and RSA-4096.
Allows opening restricted live streaming websites and torrent sites.
Extra 10% off if you make payment with Bitcoin and other cryptocurrencies.
Offers a 3-day free trial
Wireguard secure VPN tunnel with super secure network
Cons
No split tunneling

Live Chat Support Not Available

Working hours are not 24 hours
Conclusion
Well, that's a wrap on Trust.Zone review. There are many famous VPN services available on the internet but the Trust.Zone is one of a kind. It is transparent about its privacy policy. It also doesn't store any user data.
Although it has fewer servers compared to other popular VPNs. Still, it offers amazing speed, security, and an affordable pricing plan. Additionally, it offers a free test plan to new users which most of the VPNs don't.
Trust Zone Review FAQs
How to connect Trust.Zone VPN?
Windows users can use Trust.Zone's client app that can be downloaded from their website. However, their website contains every setup detail for different devices.
Which type of internet connection is better for Trust.Zone?
PC users can use Trust.Zone with any type of internet connection such as Ethernet, cable, DSL, etc. Mobile users can also use public WiFi to use the VPN.
What is Kill Switch in Trust.Zone?
If you somehow disconnected or lost connection to Trust.Zone, Kill Switch automatically shuts down your activity. So your data won't leak after a lost connection.
How Trust.Zone helps you become anonymous?
You can be easily caught if you open any website directly. But if you're using Trust.Zone VPN, you'll be getting your traffic in encryption. Even your ISP can't track your activity. 
Does Trust.Zone VPN slows down the internet?
If you're using any VPN, you might face a slow down in your internet connection. So does Trust.Zone. But compared to other VPNs, its slowdown rate is quite low (11-15%). 
Can I set up Trust.zone on the router?
Yes, you can set up Trust.Zone on the router. Just go to the setup page on Trust.Zone and select from the router type. There are 4 types available: DD-WRT,  Roqos core VPN router, Tomato, and Asus merlin.
Does Trust Zone Support WireGuard protocol?
Yes! trust Zone does support modern wrireguard protocol with fast, modern secure VPN tunnel We are glad to share with our readers.for more information about wireguard kindly check out trust zone guidelines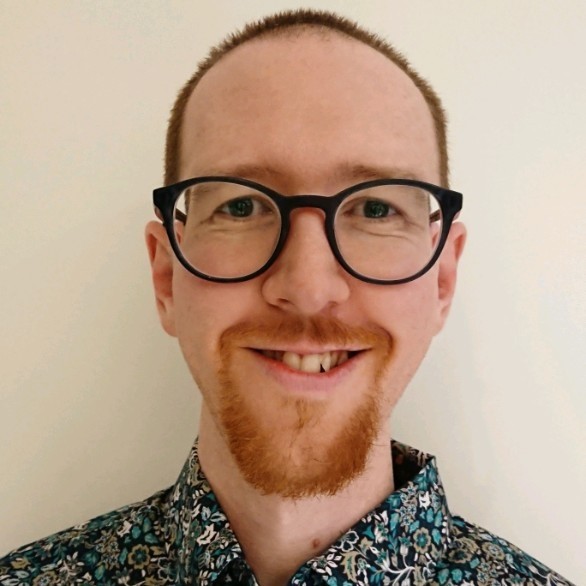 Tristan is a cybersecurity expert with over 10 years of experience in the industry. He specializes in virtual private networks (VPNs) and has helped numerous organizations and individuals secure their online activities through the use of VPN technology.