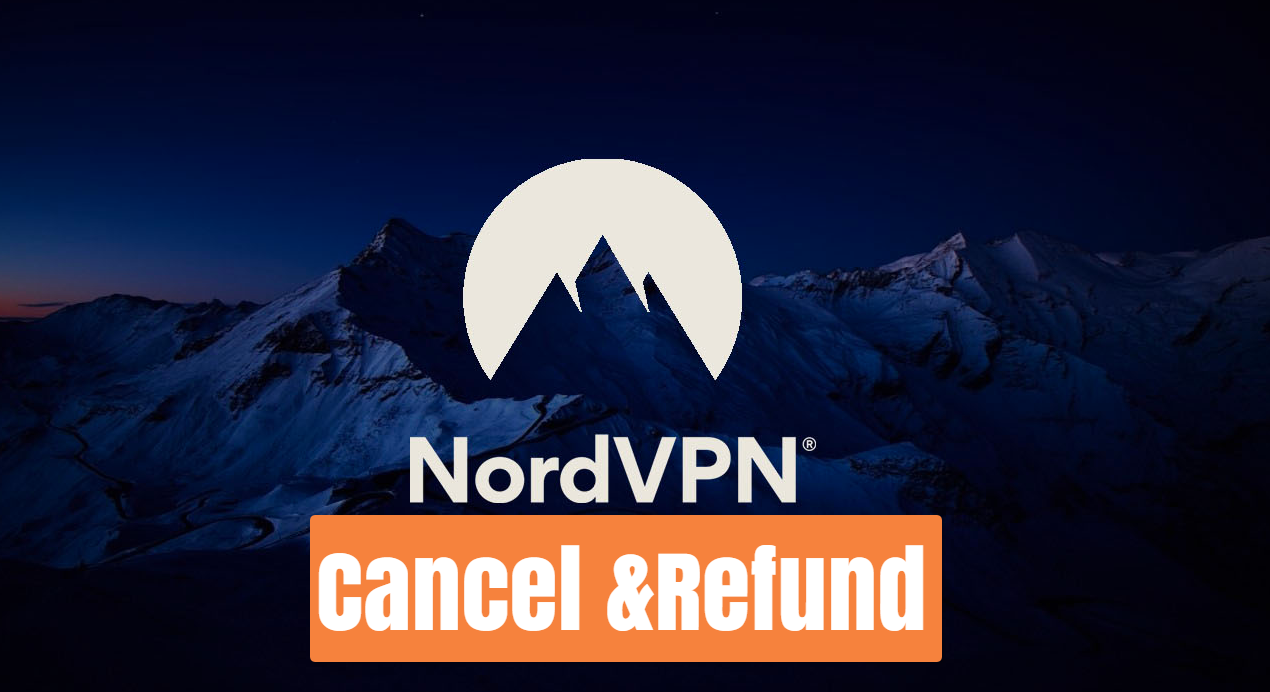 Affiliate Disclosure: Some links here may earn us a commission at no extra cost to you. We only endorse products we trust. We don't receive payment for positive reviews
In the ever-evolving landscape of online privacy and security, VPNs, or Virtual Private Networks, have become an essential tool for internet users. While NordVPN often comes highly recommended for its robust feature set and performance, it might not always be the perfect fit for everyone.
Whether it's due to latency issues on far-off servers or simply the desire to explore other options, you might find yourself wanting to cancel your NordVPN subscription.
In this comprehensive guide, we'll not only detail how you can seamlessly cancel your subscription and request a refund but also explore five potential NordVPN alternatives that might better align with your online needs. Let's dive in!
Why You Might Want To Cancel
In the realm of VPNs, NordVPN shines bright. It consistently excels in speed tests and ranks high on the list of the best VPNs, providing reliable security at a cost significantly lower than its high-end competitor, ExpressVPN. With user-friendly apps available for virtually all platforms, NordVPN typically performs seamlessly in the background.
However, the journey through cyberspace is not always smooth sailing. Many NordVPN users encounter latency issues when connecting to distant servers, leading to a sluggish internet experience. While NordVPN offers an affordable long-term plan, some may find cheaper alternatives more attractive. Hence, canceling NordVPN might be the next step for you.
A Step-By-Step Guide to Canceling Your NordVPN Subscription
If you've decided to terminate your NordVPN subscription, there are a few crucial things to consider. The process involves disabling the automatic payments, and if applicable, applying for a refund on your subscription. So, without further ado, let's guide you through this procedure.
If You Paid with a Credit Card or PayPal
Especially if you've subscribed via your credit card or PayPal, it's as easy as pie. Let me guide you through the process. Ready? Let's do this!
First off, remember your subscription renews automatically each month if you've used your credit card or PayPal. Thus, your first mission is to shut down this auto-renewal function. Here's how you go about it:
Surf to NordVPN's Login Page
Begin your journey by heading to NordVPN's website. Up on the top-right corner, you'll spot the "log in" option eagerly waiting for your click. Go on, give it a click.
Enter the NordVPN Universe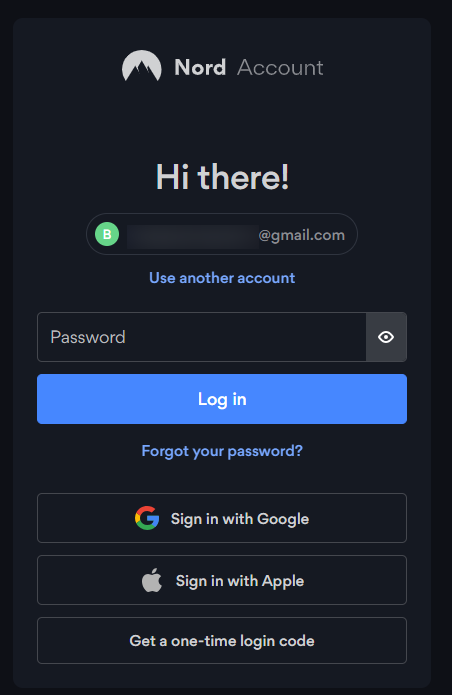 Now's the time to let them know it's you! Key in your username or email address. Don't forget your password. Now, with all the confidence of a seasoned surfer, hit that "log in" button.
Explore the Billing Section

Once you've successfully infiltrated the system, a menu will greet you on the left side of the screen. Find the "billing" option and give it a hearty click. Now, venture forth to the "subscriptions" tab.
Tweak the Auto-renewal Settings

Ah, the subscriptions section! You'll notice that the auto-renewal is currently set to 'active.' Not for long, though! To amend this, click on "manage," the magical button that will take you to the auto-renewal settings.
Terminate Auto-Renewal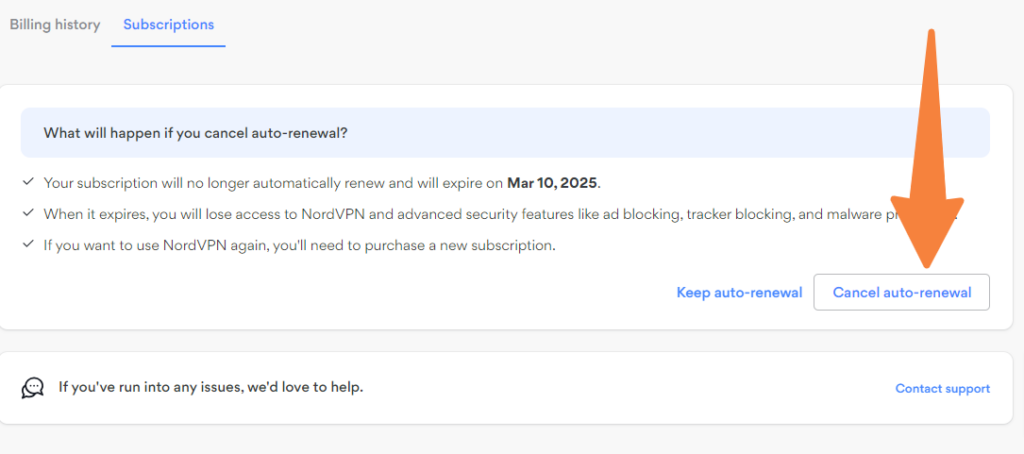 And here we are, the final step! In the auto-renewal settings, find the "cancel auto-renewal" button and click it with gusto! After a suspenseful few seconds, you'll find yourself back in the billing section. Here, you can check and rejoice that automatic payments are now a thing of the past.
How to Cancel NordVPN & Request a Refund Through Live Chat
Seeking to end your NordVPN subscription? Rest assured, you're not alone in this. VPN services don't always meet our specific needs, and that's perfectly okay. Whether it's because you found a more cost-effective alternative, had issues with server speeds, or simply don't require the service anymore, we're here to guide you through the process.
In this guide, we're delving into the steps to cancel your NordVPN account and request a refund via their 24/7 live chat service. Yes, you read that right: NordVPN has a round-the-clock live chat service to assist you at any hour.
Here's how to go about it:
Sign In to Your NordVPN Account
To start, navigate to the NordVPN website. Click on 'Log In' located at the top right corner of the webpage. Next, input your email address and password to access your account. Remember, it's not possible to cancel your account within the NordVPN app, so this step is crucial.
Initiate a Live Chat
On your account dashboard, you'll find a chat icon situated at the bottom right corner. Click on it to initiate a chat. When the chatbot prompts you about your query, simply type in "live chat". From the list of options that appear, select 'Billing'. This step is significant as it directs you to the department in charge of cancellations and refunds.
Connect with a Live Agent
First, you'll need to provide an email address. Once you've entered your email, a live agent will connect with you. Usually, it takes less than a minute for an agent to join the chat.
Explain Your Reason for Canceling
At this point, the agent will ask you why you're canceling your NordVPN account. It's perfectly acceptable to say something as simple as "the VPN service wasn't for me." They may inquire if you had any specific problems, but this is mainly for their service improvement efforts. Be aware that they might propose a new offer in a bid to retain you. However, if you're resolute in your decision, politely decline by saying "no thanks."
Wait for Cancellation Confirmation
Once you've communicated your intent, the agent will process your request. They'll confirm the cancellation of your NordVPN account and advise you on when to expect your refund. Typically, this process takes between 5-10 business days. Remember, there's no need to separately cancel automatic payments if you've canceled your account and requested a refund via live chat; it's all handled at once.
And there you have it! With these five simple steps, you can effectively cancel your NordVPN subscription and request a refund right from the comfort of your home, at any time. Customer convenience is at the core of NordVPN's operations, making the entire process a breeze.
If You Paid via the App Store or Google Play Store
NordVPN also accommodates subscriptions through the Apple App Store or Google Play Store. If you subscribed using one of these platforms, you would need to cancel your subscription through the respective store.
1. Open Your Device's App Store: Launch the App Store on your iOS device, or the Play Store if you're an Android user.
2. Head Over to Subscription Settings: For iOS users, tap your profile icon located in the top right and then select "subscriptions." Android users should tap their profile icon, select "payments and subscriptions," and then click "subscriptions."
3. Cancel the NordVPN Subscription: Once you've reached the subscriptions page, select NordVPN and follow the instructions to cancel your subscription. Remember, your subscription will remain active until the last day of the current cycle.
If You Paid with Cryptocurrencies
The process of canceling a subscription made via cryptocurrencies is blissfully straightforward. Cryptocurrency payments via CoinGate do not auto-renew. As such, you simply stop paying for the next month, and voila – you've effectively canceled your subscription!
Getting a Refund on Your NordVPN Subscription
So, you've reached this step in the cancellation journey. Maybe you've found a better deal elsewhere, or perhaps NordVPN didn't live up to your expectations. Whatever the reason, we're here to assist. NordVPN offers a safety net in the form of a 30-day money-back guarantee, which means you can get a full refund if you decide to cancel within that timeframe.
Understanding the NordVPN Refund Policy
Just like any company, NordVPN has specific guidelines surrounding its refund policy. A central part of their policy is their 30-day money-back guarantee. This policy was instituted to allow users to experience the service risk-free for the first month. It's essentially a safety net for new users who are on the fence about committing to the VPN service long-term.
However, remember, the refund is only valid if you cancel your subscription within the first 30 days of signing up. If you've passed this timeframe, you won't be eligible for a refund.
How to Request a Refund
1. Contact NordVPN's Customer Support: To start the refund process, you need to contact NordVPN's customer support. You can do this through live chat or email. We recommend the live chat for quicker responses.
2. Explain Your Reasons: You'll be asked to provide a reason for the refund request. This isn't an attempt to dissuade you but a part of NordVPN's commitment to improving its services. You don't need to provide an elaborate explanation; a brief summary of why you're unsatisfied will suffice.
3. Wait for Confirmation: After you've explained your reason for canceling, the customer service representative will process your request. This process usually doesn't take long, and you'll receive a confirmation once it's done.
4. Check Your Bank Statement: You should see the refund in your bank account within one to two weeks, depending on your bank's processing time. If the refund isn't visible after two weeks, reach out to NordVPN's customer service again to follow up.
Things to Remember
While the refund process is straightforward, there are a few things to bear in mind:
If you've signed up for NordVPN through the Apple App Store or Google Play Store, the refund process will be different. You'll need to contact Apple or Google customer service instead, as they handle the transactions.
Cryptocurrency payments are typically non-refundable due to the nature of blockchain transactions. It's always best to double-check with NordVPN's customer support for your particular payment method.
The 30-day refund policy only applies to the first purchase. Renewals or second-time purchases are not eligible for refunds.
NordVPN Alternatives Deals for 2023
ExpressVPN: Known for its robust security and excellent speed, ExpressVPN offers a 49% discount when subscribing to its 12-month plan, including three extra months free.
Surfshark: Surfshark is a budget-friendly VPN with robust features. It provides an 81% discount on its 24-month plan, making it highly affordable for long-term usage.
CyberGhost: With a strong focus on privacy and an easy-to-use interface, CyberGhost offers a 79% discount on their 3-year plan, including three extra months free.
Private Internet Access (PIA): Known for its large server network and advanced privacy features, PIA offers a 77% discount on its 3-year plan, which includes two months free.
Hotspot Shield: Hotspot Shield, renowned for its speed, offers a 38% discount on its 1-year plan.
Remember, VPN offers are often updated and change frequently. I recommend visiting each provider's official website to check for the most current discounts and deals. Be sure to compare each VPN's features to ensure you find the best one that suits your needs.
Final Words
NordVPN has plenty to offer: secure internet access, impressive speeds, and user-friendly apps that make VPN usage a breeze. But, if it doesn't fulfill your needs and you wish to cancel, it's an easy task to accomplish.
If you're contemplating alternatives to NordVPN, Windscribe and Surfshark come highly recommended. They're slightly more affordable but deliver top-notch service. For those ready to indulge a bit, ExpressVPN might be your go-to choice.
We're curious: How long did you stick with NordVPN before deciding to move on? Was latency the primary issue, or was there another catalyst for your decision? Share your experiences in the comments below. We're always eager to hear your tech stories. Until next time, stay safe in the vast universe of cyberspace!
FAQs
How do I cancel my NordVPN subscription?
You can cancel your NordVPN subscription by logging into your NordVPN account on the website, navigating to the "Billing" section, and then turning off the auto-renewal option.
Can I get a refund after cancelling my NordVPN subscription?
Yes, NordVPN offers a 30-day money-back guarantee. If you cancel your subscription within 30 days of purchase, you are eligible for a full refund. You will need to reach out to NordVPN's customer support to initiate the refund process.
How long does it take for NordVPN to process a refund?
Once your cancellation request has been approved, it usually takes between 5 to 10 business days for the refund to be credited back to your account.
Can I cancel NordVPN anytime?
Yes, you can cancel your NordVPN subscription at any time. However, if you want to take advantage of the 30-day money-back guarantee, you need to cancel within 30 days of your purchase.
What are some alternatives to NordVPN?
Some popular alternatives to NordVPN include ExpressVPN, Surfshark, CyberGhost, Private Internet Access (PIA), and Hotspot Shield. Each of these VPN services offers a unique set of features and pricing plans, so it's important to choose the one that best fits your needs.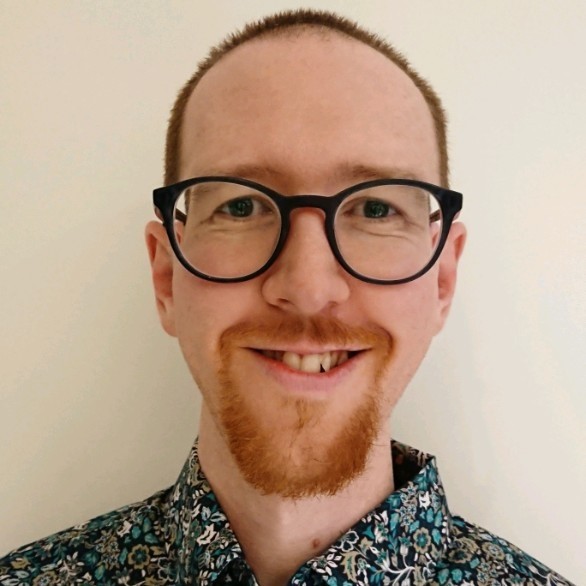 Tristan is a cybersecurity expert with over 10 years of experience in the industry. He specializes in virtual private networks (VPNs) and has helped numerous organizations and individuals secure their online activities through the use of VPN technology.