In today's digital age, online security is a pressing concern for users worldwide. With countless VPN options flooding the market, the decision-making process can be overwhelming, especially when some websites provide misleading information.
Among the most talked-about VPN services is TorGuard. While many claim to offer genuine insight into TorGuard's free trial, it's alarming how many platforms spread inaccurate details, leading users to take wrong turns in their quest for optimal online security.
Dive into the authentic world of TorGuard's 7-day free trial. Contrary to some claims, this trial does necessitate a subscription purchase for testing. With TorGuard, not only do you get a chance to experience one of the most underrated VPNs, but you also ensure your digital footprint remains concealed, providing peace of mind in an interconnected world.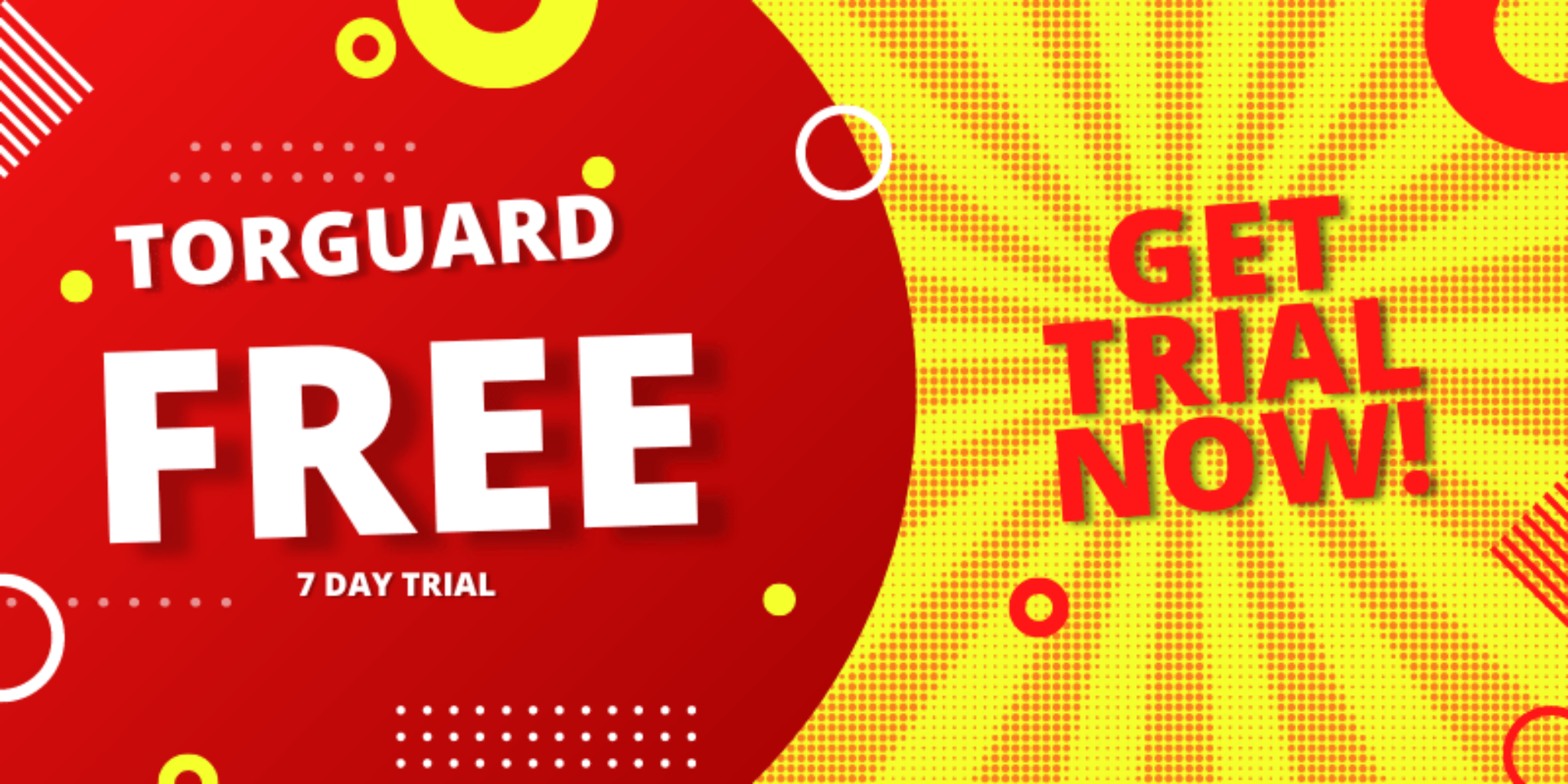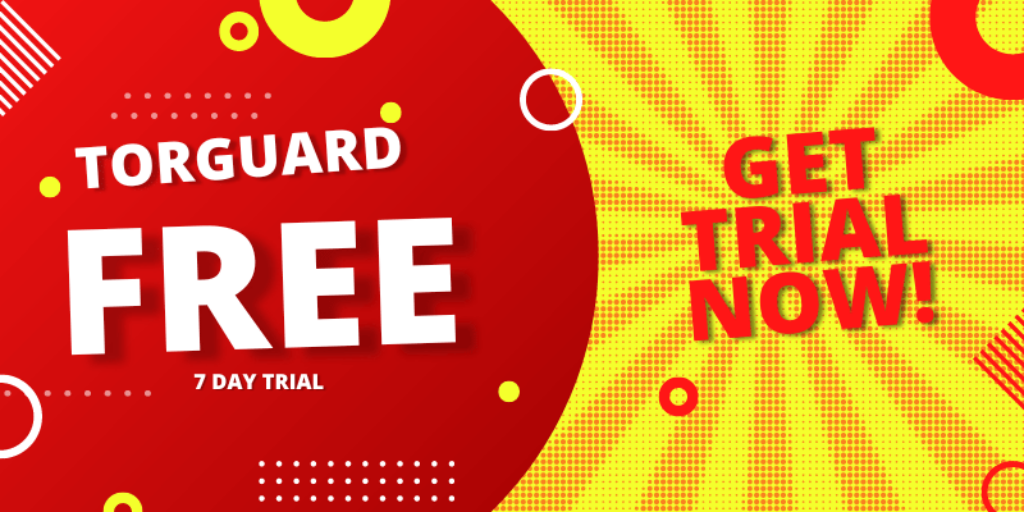 TorGuard Free Trial Overview
| Specification | Details |
| --- | --- |
| Credit Card Requirement | Yes |
| Trial Period | 7 Days |
| Refund Window | 7 Days |
| Subscription Price | $9.99/mo |
How to Get a Torguard Free Trial in 2023?
If you're interested in testing out TorGuard's services before committing, they offer a free 7-day trial. Here's a detailed step-by-step guide to help you navigate the process in 2023..
Access the Special Discount Page
Initiate the Trial Process
Once on the discount page, locate and click the "Get TorGuard Now" button. This will lead you to the product selection page.
Customize Your TorGuard Plan:
CHOOSE PRODUCT GROUP: Begin by selecting the product group that aligns with your needs. For the trial, it's recommended you select the standard VPN service, which should be the default selection.

CHOOSE YOUR PLAN: Various plans, like monthly, quarterly, and yearly, will be listed. For the free trial, choose the monthly option.

CHOOSE BILLING CYCLE: This should default to one month given you've selected a monthly plan in the previous step. Ensure it's set to one month.

AVAILABLE ADDONS: TorGuard may offer additional features that can be added to your plan, such as dedicated IPs or additional device licenses. For the free trial, you can skip these unless something specifically catches your eye.

Enter Account Details: Provide a valid email address and create a password. This will be your TorGuard account login details.

Choose a Payment Method: Even though you're opting for a free trial, TorGuard requires payment details to ensure a seamless transition if you decide to continue past the trial period. Rest assured, no charge will be made if you cancel before the 7-day trial ends
Complete the Checkout Process
Review all your selections to ensure they're accurate.
Once everything looks right, click on the "Checkout" button.
Follow any additional on-screen prompts, which might include entering your payment details or verifying your email address.
Download and Install TorGuard
After successfully registering, you will be prompted to download the TorGuard application suitable for your device (Windows, Mac, iOS, Android, etc.).
Install the application, log in using the email and password you provided during registration, and start enjoying your 7-day free trial.
Remember, if you decide not to continue with TorGuard after your trial, ensure you cancel before the 7-day period ends to avoid any charges.
Understanding the Limitations of the 7-day TorGuard Free Trial
Virtual Private Networks (VPNs) like TorGuard are essential tools that provide users with enhanced privacy, security, and freedom on the internet. While many VPNs offer free trials or money-back guarantees to entice users, it's crucial to understand the terms and conditions associated with these offers. In this blog, we'll deep-dive into the limitations of the 7-day TorGuard free trial in the USA.
01.
7-Day Window for Refunds
TorGuard, while offering a 7-day refund policy, is strict about its time frame. If you've decided that TorGuard isn't the right VPN for you, you need to act quickly. Remember, you must claim your refund within this 7-day window. If you exceed this period even by a day, you'll lose your eligibility for a refund. So, it's essential to thoroughly test the VPN's features, speed, and compatibility during this period to make an informed decision.
02.
Non-refundable Gift Cards
If you've used a gift card to purchase your TorGuard subscription, it's essential to know that these cannot be refunded. This might be a drawback for users who prefer purchasing with gift cards for additional anonymity or as a gifting option. Hence, if you're considering trialing the service with the security of the refund policy in mind, opt for other payment methods.
03.
Terms of Service Violation
Every VPN comes with a set of terms and conditions that users agree to when signing up. TorGuard is no exception. Any violations of these terms during your trial period will make you ineligible for a refund. This could include actions that may compromise the security of the network, illegal activities, or breaching other user policies set by the provider.
Always familiarize yourself with these terms before starting your trial to ensure you don't inadvertently forfeit your right to a refund.
04.
Payment Methods and Refunds
For those in the USA hoping to leverage the refund policy, it's recommended to purchase the subscription using a credit card. Since the refund policy does not cover gift cards and potentially other payment methods, a credit card remains the safest bet to ensure a smooth refund process.
How to Cancel Free Trial and Get a Refund
If you've decided that TorGuard isn't the right fit for your VPN needs and are within the refund period, follow these comprehensive steps to ensure a smooth cancellation and refund process.
First, visit TorGuard.net.
Locate the login area, typically found at the top right corner.
Enter your account credentials and log in to access your client area.
Navigate to Your Services
Once logged in, look for the menu bar at the top.
Hover over or click on the "Services" option.
In the dropdown menu, select "My Services."
Initiate the Cancellation Process
Find the specific service you wish to cancel in the list.
On the right side of your service, click on the "Manage" button.
In the dropdown or new page, select "Request Cancellation."
Remove Your Payment Details

To ensure you aren't charged again, you should remove any saved credit card details.
Follow the provided link or navigate to the payment details section.
Delete or remove your credit card information to cancel recurring payments.
To officially request your money back, it's a good practice to submit a support ticket.
Locate the support or help section, usually found in the menu or at the bottom of the page.
Click on "Submit a Support Ticket" or a similar option.
In your ticket, clearly mention your refund request, providing any relevant details like your account information or reason for cancellation.
After submitting your request, keep an eye on your email.
You should receive a confirmation email acknowledging your cancellation and refund request. If you don't get this email within a day or two, consider reaching out again or checking your spam/junk folder.
Monitor Your Bank Account
Once your refund is approved, it might take between 5-10 business days for the funds to reflect in your account.
Monitor your bank statements during this period to confirm the receipt of your refund.
Torguard Features
What Does TorGuard 7 Day Free Trial Include?
When you opt for the TorGuard's 7-day trial, you're essentially getting a premium experience without any restrictions. While some VPN services limit certain features during the trial, TorGuard offers full access. This means all server locations, all security protocols, and every other feature available to a regular subscriber is at your disposal. This complete access ensures that you can make an informed decision about the VPN's capabilities.
A common concern with VPNs is that they may slow down your internet connection. With TorGuard's trial, you won't experience any speed throttling. The company boasts high-speed servers ensuring that browsing, streaming, or downloading remains seamless. Moreover, there's no cap on bandwidth, so you can surf the web, stream movies, or download files without any restrictions during the trial period.
The choice of servers can make or break a VPN experience. With access to over 3,000 servers spread across 50+ countries, TorGuard provides flexibility and options. This extensive selection ensures that you can always find a server that offers optimal performance. Additionally, it allows you to bypass geographically restricted content, offering a more open and free internet experience.
Multiple Simultaneous Connections:
In the digital age, most people own multiple devices. TorGuard's trial recognizes this, allowing up to 8 simultaneous connections. This means you can secure your laptop, smartphone, tablet, and more, all at the same time. It's perfect for ensuring all your devices are protected, whether you're at home or on the move.
Advanced Encryption and Security Protocols
Security is the primary purpose of a VPN. TorGuard's trial showcases its commitment to this, offering AES-256 encryption coupled with SHA-512. These are industry-leading standards ensuring that your data remains private and safe. Furthermore, protocols like Stunnel and OpenVPN mean that you're getting a multi-layered security approach, protecting you from various threats.
Anonymity and IP Protection
Your IP address is like your digital fingerprint. With TorGuard's trial, your real IP address is masked, and you're given an anonymous one. This prevents websites, advertisers, and potential cyber threats from determining your real-world location and identity. It's a shield against tracking, targeted ads, and potential cyberattacks.
In regions or networks where VPN usage is restricted or blocked, TorGuard's Stealth VPN feature becomes invaluable. By disguising your VPN traffic as regular internet traffic, it becomes almost impossible for ISPs or network administrators to detect that you're using a VPN, ensuring your online freedom remains intact.
The TorGuard trial isn't just about the basics. It includes advanced features like port forwarding, which can be crucial for certain online activities. The ad-blocking and malware-blocking functionalities provide an added layer of security, ensuring a cleaner and safer browsing experience.
Good support can be the difference between a great VPN experience and a frustrating one. During your trial with TorGuard, their dedicated support team is available round the clock. Whether you have setup queries, performance concerns, or any other issues, their team is ready to assist.
Cross-Platform Compatibility
Digital ecosystems can be diverse. Whether you're a Windows enthusiast, a MacOS purist, an Android user, or an iOS aficionado, TorGuard has you covered. During the trial, you can download and test TorGuard on multiple platforms to see how it integrates into your digital life.
Exploring TorGuard Free Trial Alternatives
Top VPN Trials in 2023
Virtual Private Networks, or VPNs, have become essential tools for enhancing online privacy and security. One popular option on the market is TorGuard, which offers a 7-day free trial for users to test its capabilities. But what if you're looking for alternatives? This blog will highlight four major VPN free trials other than TorGuard available in the USA.
01.
ExpressVPN Free Trial
Duration: 30-day money-back guarantee.
ExpressVPN stands tall as one of the most trusted and efficient VPN services in the industry. While it doesn't offer a conventional free trial, its 30-day money-back guarantee serves the same purpose.
Users can fully experience its features, and if not satisfied, can get a complete refund within 30 days. ExpressVPN is renowned for its impressive server speeds, vast global network, and robust encryption, making it a top choice for many users.
Duration: 7-day free trial and a 30-day refund policy.
Surfshark has quickly risen in ranks due to its affordable plans and reliable performance. Similar to ExpressVPN, while Surfshark offers a 7-day free trial, users can also capitalize on its 30-day money-back guarantee. This means you get almost a month to test Surfshark's unblocking capabilities, speed, and unique features like CleanWeb, which blocks malicious content and ads.
Duration: 7-day free trial and a 30-day refund policy.
NordVPN is another heavyweight in the VPN world. The platform offers a 7-day free trial, allowing users to experience its features without restrictions. If you're looking for a long-term commitment, the 30-day refund policy provides added peace of mind.
With features like CyberSec, which offers an advanced level of threat protection, and a vast server network, NordVPN remains a favorite for many.
Duration: 31-day refund policy.
PureVPN extends a unique 31-day refund policy, which is a day more than most VPNs in the market. This allows ample time for users to test its features extensively.
PureVPN boasts a global network of servers and offers features like an Internet Kill Switch and split tunneling. Its versatility makes it suitable for various online tasks, from streaming to online gaming.
Conclusion on TorGuard Free Trial
TorGuard, a leading VPN provider, offers users a comprehensive suite of security and privacy features. Their 7-day trial showcases their confidence in the quality of their service. Although the trial is free, it's important for potential users to be aware that they need to purchase a subscription to access this trial, ensuring a commitment from those looking to test the platform.
Despite some websites potentially misleading users about the terms of the trial, comprehensive research indicates that TorGuard's trial, while conditional, provides users with a taste of its robust offerings, ranging from state-of-the-art encryption to bypassing geographically restricted content.
It's essential for users to understand the conditions of the trial fully and make informed decisions based on accurate information.
What is the duration of the TorGuard free trial?
TorGuard offers a 7-day free trial
Are all features accessible during the free trial?
Yes, during the trial period, you get access to all features and functionalities of TorGuard VPN.
How many devices can I connect simultaneously during the free trial?
During the trial, you can connect up to 8 devices simultaneously.
Can I access all server locations during the trial?
Yes, users can connect to any of the 3000+ servers in 50+ countries during the trial period.
What if I face any issues during my trial?
TorGuard offers 24/7 best-in-class support to assist you with any setup problems or other issues you might have during your trial.
Is my data and online activity kept private during the trial?
Absolutely. TorGuard maintains a strict "No Logs" policy, ensuring that your data, browsing history, and online activity remain private and secure during the trial and beyond.
What encryption methods does TorGuard use during the trial?
TorGuard uses state-of-the-art AES-256 encryption with SHA-512 alongside secure protocols like Stunnel, OpenVPN, WireGuard, and IKEv2 during the trial and regular subscription.
Are there any differences between the services offered during the free trial and the paid subscription?
The free trial offers the same full range of services and features as the paid subscription, allowing users to experience the complete benefits of TorGuard VPN.
Torguard
TorGuard VPN offers a 7-day free trial with advanced encryption, global server access, and privacy features. A subscription is required to test, with no charge if canceled within the trial period.
Torguard 7-day free trial
10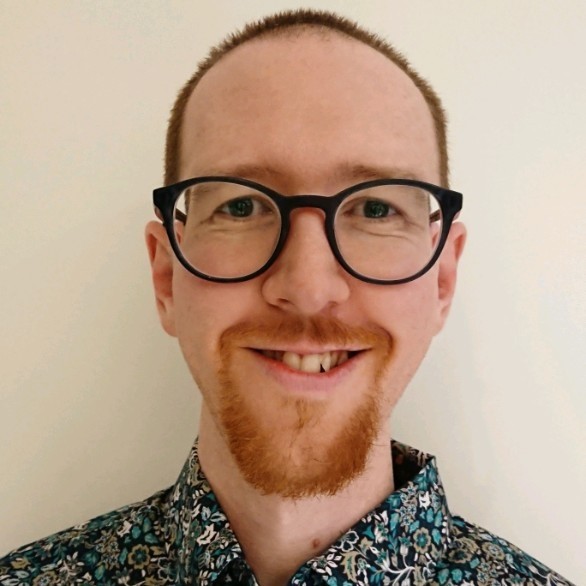 Tristan is a cybersecurity expert with over 10 years of experience in the industry. He specializes in virtual private networks (VPNs) and has helped numerous organizations and individuals secure their online activities through the use of VPN technology.

Torguard Free Trial Account Hack 2023 – Try FREE