Browsing the Internet is not as safe as most people assume it to be. There is a lot easier chance than you think it to be for someone keeping all the track of what you are doing on the Internet.
Be it the agencies or a bunch of hackers who are willing to hack into your personal life or rip off your privacy and confidential stuff. Also, on and off there have been various reports of different American agencies continuously keeping track of all of your data. Let us come back to the topic now.
Well, to secure your data and your privacy from everyone, VPN services are without doubt considered to be the best option. VPN services let you hide your identity from everyone so that you can browse anonymously without having to worry about leaving a clue about yourself and your identity.
A lot of people all over the world are switching to VPN services just to be on the safer side and secure their privacy from everyone. Also, VPN services are a great option to go for those who want to surf the Internet while staying completely anonymous.
Keeping this and various other things in mind about VPN services, I have decided to write a review of a very popular and widely used VPN service IronSocket. In this review, I am going to cover various aspects like its features, procedure of using, plans, pricing and so on and so forth. Now, relax and enjoy reading this IronSocket Review.
What is IronSocket?
It is one of the best and the most stable VPN service available on the Internet at the moment. Based in Hong Kong and launched in 2005, it is considered as the most secure VPN service as it is highly focused on users needs. IronSocket lets its users save their privacy, prevent identity thefts and secure their data from everyone. IronSocket offers a large number of different services to its users. If you are getting the feeling that someone is spying on your internet history and keeping track of your data then IronSocket is there for you, if there is an open Wi – Fi network around your area but you are too afraid to use it because of security issues about your identity then it is there for you.
It lets you stay anonymous so that you can peacefully browse through the Internet without having to worry about leaving any traces of your private stuff and identity. It protects your data from online thefts and hackers who are desperate to hack into your Internet records and use them against you. IronSocket is a VPN service, which puts your security to the top priority.
However, this basic introduction to IronSocket is not enough to let you know why IronSocket is considered as one of the best VPN services. So, let us have a look at some of the major reasons why you should choose IronSocket as your VPN service provider.
Why IronSocket?
IronSocket has turned out to be a comprehensive VPN service ever since the year it was launched which goes to long back in 2005. Since then, It has turned out to be one of the most stable VPN service and has grown tremendously throughout all these years. The reason behind the success of IronSocket among Internet users is its features and advantages. It offers some very amazing features compared to most other VPN services. So, check out some of the major features and advantages of using IronSocket below and see for yourself why it is so popular among Internet users.
High End Security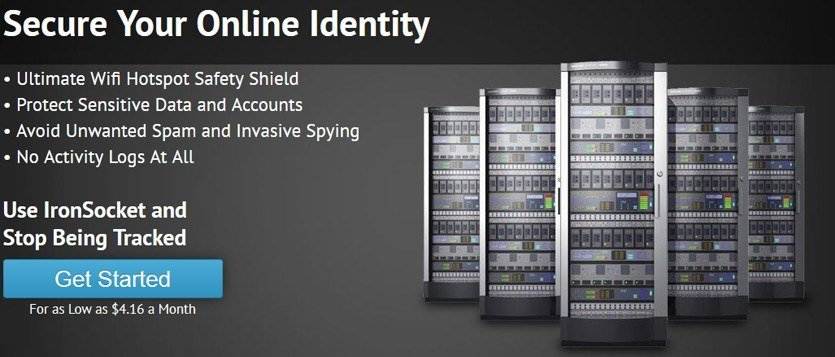 The main purpose of a VPN service is to protect your data from others and if it fails to deliver this promise then it is considered of no use. And you would be glad to know that not only IronSocket manages to deliver this but also sports very high end security features to protect your data and information from every possible threat. IronSocket supports all the major protocols and encryptions required to secure your data.
The protocols and encryptions that are supported by IronSocket include PPTP protocol which makes use of Microsoft's point-to-point encryption to serve users with the standard PPTP encryption security, L2TP protocol which is secured with the IPSec Protocol, OpenVPN which is also the main focus of the VPN service and it uses the OpenSSL library for providing encryption.
In addition, more support to the blowfish is given along with the 128 bit keys as well as the AES algorithm with 256 bit keys on some selected servers.
Also, it offers Peer-to-Peer file sharing on some of its servers, which is considered as one of the major factor to go for only this VPN service as not all of VPN services offer this feature.
Global Servers Location
IronSocket's global coverage is surprisingly huge. Its servers are located all over the world. IronSocket has over 50 servers in 36 nations across the world. You can choose any server from these 50 servers and connect. You will now be able to unblock country specific content and also you will have a browsing experience exactly similar to the citizens of that country.

These 50 servers that are located all over the world are in the countries Argentina, Australia, Brazil, Canada, Cyprus, Denmark, Egypt, France, Germany, Hong Kong, Iceland, India, Indonesia, Ireland, Italy, Japan, Luxembourg, Malaysia, Mexico, Netherlands, New Zealand, Norway, Panama, Philippines, Romania, Russia, Saudi Arabia, Singapore, Spain, Sweden, Switzerland, Taiwan, Thailand, Ukraine, United Kingdom and United States.
24/7 Customer Support
It offers 24-x 7-customer support service to its users. If you are having any sort of doubts or queries with your VPN service and anything related to it then you can always ask their customer support team for help. It is often seen that the customer support teams of other VPN service providers are either not always available or they are not as knowledgeable as they claim to be.
Some of the customer support teams of VPN services don't even know what they are talking about and if a serious problem occurs then try to ditch it by delaying through excuses. This is not the case with IronSocket; the customer support team is very skilled and knowledgeable. They will shortly be available after you ask for help and will try to look into your problems and solve them as soon as possible.
User Friendly Interface
IronSocket features a very sleek and user-friendly user interface. It is designed and developed in a very clean and simple manner. There are no fancy or annoying textures or hard to read fonts on the VPN service but rather very neat and easy to follow design.
Most VPN services fail to deliver a clean UI and leave their users with an annoying and bugged UI. Fortunately, IronSocket is not one of them.
High Speed
As you all know, VPN services are the best option to take care of your privacy and secure your information but one thing that most of the users complain about VPN services is that they slow down the speed of their Internet connection and it is very frustrating to browse the Internet this way.
I love to break it to you that IronSocket comes as the save once again here. It not only secures your information and helps you stay Anonymous but also lets you experience high speed Internet. If you have a good Internet connection but other VPN services seemed to slow down it then switch to IronSocket right away as it manages to provide security with blazing fast speed.
7 Day Money Back Guarantee
If you are not satisfied with IronSocket VPN service which is least likely to happen or want your refund for any reason then you can ask for your money and have it back.
IronSocket VPN service offers a 7-Day Money Back Guarantee so that you can sign up for the product without having the thought of your money going in vain.
How to get IronSocket VPN service?
Now that you know about the major features and advantages of using IronSocket VPN service, it is about time you would want to know how to sign up for this VPN service. Well, the procedure to buy IronSocket is not as hard as it seems. All you have to do to buy IronSocket VPN service is to go to the official website and then sign up for it.
Fill in the details and that's all. You will be offered a wide range of payment methods and you can choose to pay with the option that you are most comfortable with it. Most of the users ditch buying with credit cards as it hands out all the details to the product but it is all up to you.
IronSocket Plans and pricing details
As we stated in the intro, IronSocket is one of the best VPN services with very cheap and affordable price and packages. It offers three different plans or packages according to your needs and preferences.
You can opt for IronSocket as you VPN service provider with any of these three plans, with the first plan you have the choice of paying for one month for a mere price of $6.99, with the second plan which is for six straight months you have to pay only $35.99 and the third plan which offers one year of duration and costs $49.95.
Now, if you make up your mind and decide to use IronSocket for a whole year then the monthly cost of the service would be very low and you will have to pay just $4.16 which is a very reasonable price keeping the VPN service in mind. Talking about the features, all of these plans offer unlimited bandwidth, support for all the protocols listed, including DNS proxy and access to all the servers in the network.
They also offer a 7-day money back guarantee in case you are not satisfied with the service or it doesn't work for you.
IronSocket Supported Platforms
Unlike other VPN services, IronSocket offers its services on a very wide range of platforms. IronSocket supports and works with Android, OSX, Linux, Windows, iOs and Blackberry. Every plan offered by IronSocket allows you to use the VPN service in up to three devices at a time. You are very unlikely to face any bugs or issues if you use the VPN service even simultaneously on up to three devices at a time.
Nonetheless, if you do not own multiple gadgets and own only a single device then also you should go for IronSocket, as your identity is not as safe as it used to be now.
Final Verdict
Overall, IronSocket is a comprehensive VPN service at a very reasonable price. It's features make it one of the most stable and popular choice for a VPN service. At this moment, IronSocket is offering some very interesting deals and discount offers on its official website.
I highly recommend you to get IronSocket as your VPN service. You should hurry up and get your copy of IronSocket VPN service before the deals and discounts run out.
So, this was a review of IronSocket VPN service written by me. I tried to cover all the major aspects of IronSocket as promised in the introduction to the VPN service above. I hope that you liked this review and it was able to clear your doubts and queries about IronSocket VPN Service.
If you still have any sort of doubts or queries then feel free to leave them in the comments section below. Also, your suggestions and opinions mean a lot to us so take a moment to write them down in the comments box.
Do not forget to share this post and subscribe to our blog. Stay tuned for more such informative articles, review, overviews and latest updates.