Most internet users are looking for a faster connection. After all, there's nothing more frustrating than waiting for a page to load or a download to finish – and slow internet speeds are a real hassle when it comes to streaming media. Speedify offer internet users, whether mobile or on desktop, a way to boost their internet speed for a faster browsing experience. So is Speedify work and is it good value for money? That's what we're going to find out in this Speedify review.
Speedify 75% off yearly plans – Includes all future billings!
Please Rate Official Speedify Coupon Code:[ratings]
What Is Speedify?
Speedify is an application that works by combining all of your available internet connections into one stable, fast connection. This process is known as "channel bonding". Speedify will link together your WiFi, 3G/4G, DSL and any other connections you have available. The result is a faster and more reliable internet service.
Does Speedify Really Work?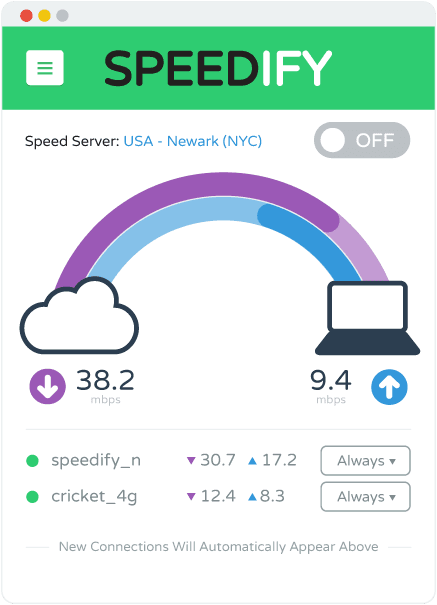 The short answer is: yes! Speedify really works, and users have reported being delighted with their faster and more reliable internet speeds. Once you've downloaded Speedify, it quickly gets to work on linking your connections together and combining them in the fastest and most efficient way.
Speedify is really useful for people struggling with a slow or unreliable internet connection, but who can't upgrade with their provider, or would rather not switch provider. Users can stay with their own provider, but enjoy much faster connections.
Speedify means less buffering, less waiting, and less frustration.
Affordable Options For Everyone
Speedify is an affordable solution. We particularly like that users can get up to 1GB of data usage for free every month. This is a great way to test out Speedify for yourself and see how good it is. If you like it, you can choose from a package of 50GB per month for just $19 each month, or unlimited usage for $21 each month.
As well as being affordable, Speedify often has their own great offers. At the time of this review for example, users could get the 50GB package for just $9 a month, or unlimited use for $49.99 per year.
Easy To Use
One of the things we love about Speedify is its simplicity. The sign up process is fast, and once sign up is complete, Speedify is available for instant download.
Setting Speedify up couldn't be easier, either. All users need to do is give the app permission to open a new VPN network, and then select their nearest server from the menu.
Once it's set up, Speedify runs seamlessly in the background and works to keep up a good connection with no need for input from the user. You'll forget it's there – but you will notice the faster internet speeds!
Protection From The Ground Up
Speedify works at the packet level, handling each data packet sent to your device from the internet. That means packets can be split between connections for the best possible distribution of data. It also means that should a packet be lost or corrupted, Speedify will take steps to work round the issue before you even realise there's a problem.
Speedify also compensates for downed connections by splitting the packets between the remaining connections, giving you seamless internet access even if a connection is lost.
Just One Drawback
There's only one real drawback to Speedify as far as we can see, and that's the fact that you can only run it on one device at a time. You're welcome to download Speedify for as many devices as you own, but only one of them can be connected. It isn't a big issue – most people only use one device at a time any way – but multiple simultaneous connections is one functionality we'd like to see Speedify add in the future.
Speedify is affordable, extremely user friendly, and reliable. If you're looking for faster and more stable internet, Speedify is the answer.